Playoffs: Salpointe girls sweep Tennis & Beach Volleyball at same venue
April 23, 2019 by Andy Morales, AZPreps365
---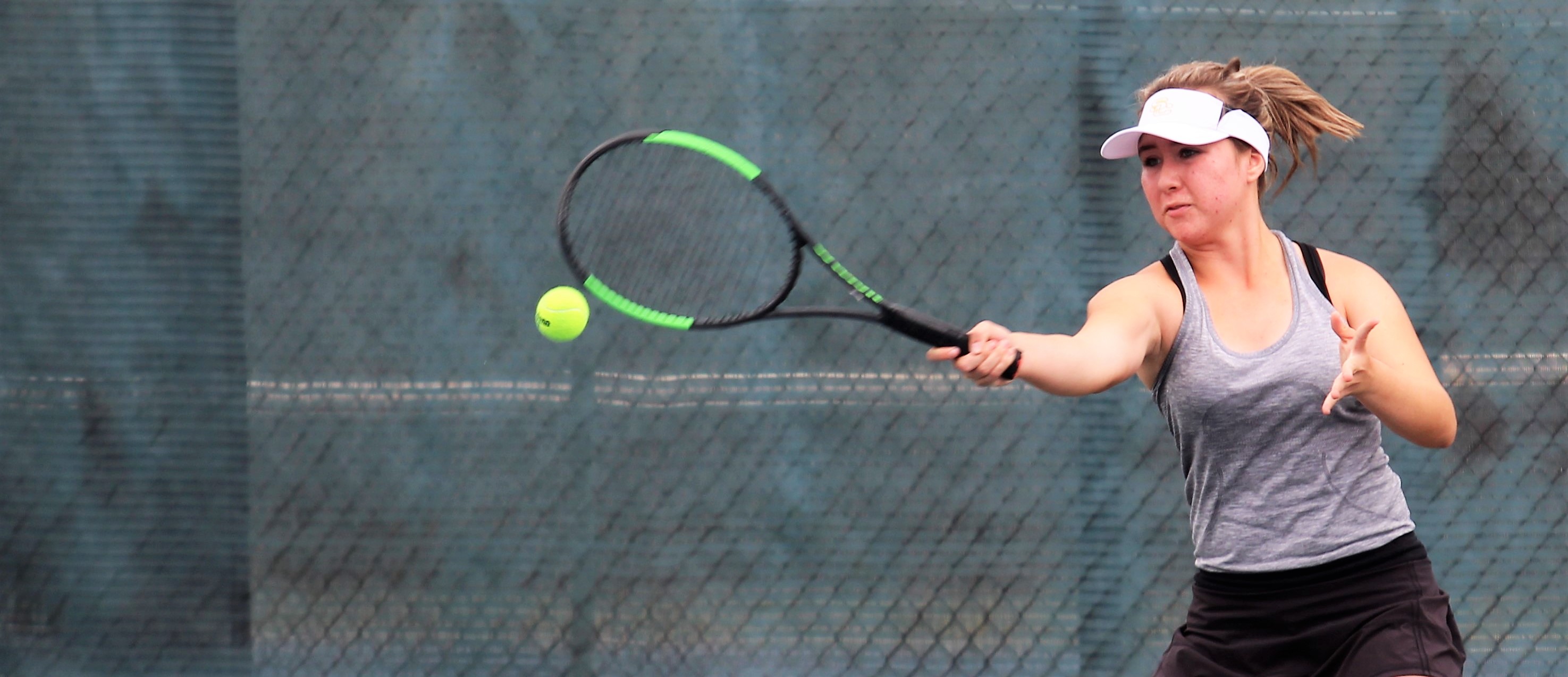 No. 4 Salpointe beat No. 13 Gila Ridge 5-0 on Tuesday at the Tucson Racquet Club to open up the spring playoff season. Salpointe (11-2) will host No. 5 Cactus Shadows (13-2) next Tuesday, April 30 in the quarterfinal round of the Division II playoffs.
Gila Ridge (11-4) made it to the first round of the state playoffs for the sixth year in a row and the future looks bright for the Hawks, especially with all six positions coming back as seniors next year including Danielle Monroe:
Gila Ridge junior Danielle Monroe talks state tennis #AZPreps365 pic.twitter.com/jo6yjfOpGe

— Andy Morales (@AZPreps365Andy) April 23, 2019
Salpointe standout Samantha Loving took second place in the D-II singles competition last year and the junior is seeded No. 6 this year which means a first-round bye with an afternoon match on Friday, April 26 at the Paseo Racquet Center:
@salpointeVB Samantha Loving state runner up going for it all again #azpreps365 pic.twitter.com/50kA0W8diy

— Andy Morales (@AndyMorales8) April 23, 2019
Salpointe 5, Gila Ridge 0
Samantha Loving over Nina Hook (6-1, 6-0)
Natalie Valcke over Taytem Taylor (6-2, 6-1)
Paulette Careaga over Danielle Monroe (6-2, 6-0)
Keeva Krueger over Kara Price (6-3, 6-1)
Emma Kinnison over Hannah Havins (6-3, 6-2)
FREE GILA RIDGE/SALPOINTE PHOTOS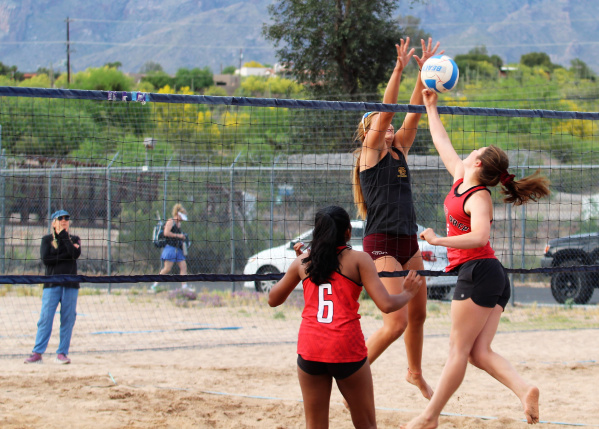 (Alex Parkhurst goes up for a block on Chandler Prep's Cassie Bronson/Andy Morales/AZPreps365.com)
Later at the Tucson Racquet Club, the Salpointe Beach Volleyball team beat Chandler Prep 5-0 in first round action in the Division II state playoffs. In a quick turnaround, No. 4 Salpointe (11-2) will host No. 12 Scottsdale Christian (9-4) Wednesday in the quarterfinal round.
Scottsdale Christian upset No. 5 Flagstaff 3-2 to set up the match with Salpointe. Ironically, Scottsdale Christian lost 3-2 to Flagstaff to end the regular season last Thursday.
Salpointe 5, Chandler Prep 0
5: Leyla Harris/Clarissa Norton over Mikeala Henricksen/Rachna Chilakamarii (21-18, 21-10)
3: Bianca DeVitis/Lexi Jones over Jessica Nicholls/Alyssa Fink (21-8, 21-13)
2: Miranda Uribe/Kat Scheppelmann over Olivia Cadien/Evi Yates (21-16, 21-17)
4: Marlee Ferber/Emily Killian over Cereena Olmedo/Ellie Unruh (21-9, 21-12)
1: Alex Parkhurst/Abby Russell over Cassie Bronson/Isabelle Miranda (21-9, 21-18)
---