Chandler High beach volleyball squad proud of diversity
April 24, 2019 by Jason Cake, Arizona State University
---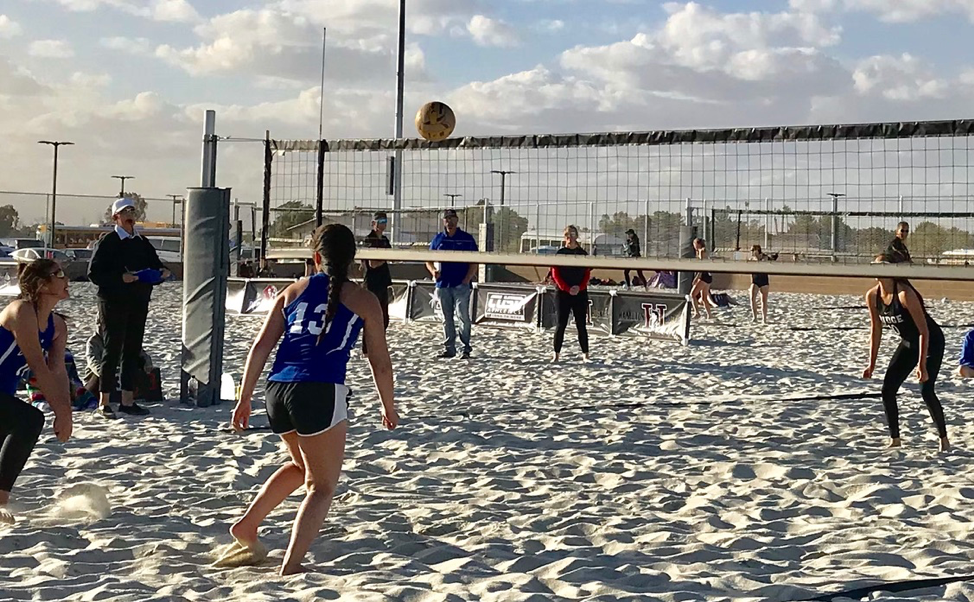 On February 16, 2018, director Ryan Coogler and Marvel Studios released "The Black Panther" to the delight of moviegoers everywhere. The blockbuster movie broke records as the highest grossing solo film of the Marvel Cinematic Universe.
The film is visually stunning and jam-packed with the requisite choreographed action associated with the superhero genre. However, its success ran deeper than exceptional cinematography and storytelling.
Coogler's vision created new heroes who represent an often-neglected portion of the population.
A quick internet search of the U.S. women's beach volleyball team and the AVP Tour reveals beach volleyball is lacking similar heroes at the highest levels of the sport.
The surprising lack of diversity echoes the lower levels of beach volleyball seen in the Valley.
Socio-economics and geography play a role in the lack of diversity in beach volleyball, but high school programs are a positive step in increasing diversity in the sport.
This is the case of the Chandler High beach volleyball team.
Chandler's beach volleyball team hosts a diverse collection of young women from different backgrounds and ethnicities with roots spanning from Vietnam to Hawaii.
"I think it represents our school and how diverse it is and where we come from," said senior captain Morgan Panlener. "I feel it is a good representation of the kind of people we are and how we include people and welcome everyone."
Success at the Olympic or professional level of any sport takes dedication, coaching, and hours of practice and repetition. Without an ocean or vibrant beach volleyball scene to compete in, women in the Valley of the Sun rely on high school participation and club teams to acquire the requisite skills to advance in the sport.
But, the high cost of club team fees, tournaments, uniforms and travel limit participation to families with the financial means to cover these expenses.
"It's very expensive," said sophomore Jess Ferguson. "It's a lot for your parents to deal with and not everyone has the chance to perform at that high level."
Arizona was the first state to institute beach volleyball as an official high school sport in 2012. Removing the financial requirement for players to participate opened the game to a new audience and allowed a more diverse group of students to be exposed to the sport.
From meager beginnings, Arizona high school beach volleyball has expanded to 64 teams in two divisions from Flagstaff to Tucson, increasing involvement across the state.
Chandler began its program three years ago, and today the women of the beach volleyball team feel a collective sense of comfort and belonging to their squad.
"We are able to bond more," said Panlener. "I know it's about winning, but it's also about being able to connect with your team. A major thing [for us] to be able to win our games is having fun."
"I feel like we are able to openly talk about our struggles, and it's not like we're going to be judged because we can all relate to it," said Ferguson.
Chandler head coach Allen Alexander, who also coaches at the club level, believes his team has a culture of inclusion that removes the clique mentality.
"Everyone feels like they all have an equal chance out here," said Alexander. "Like they're all one."
Chandler High is a shining example of the type of diversity that should be welcomed at every level of every sport -- a beautiful array of women who resemble the ethnicities of the different citizens of this nation.
Who knows, maybe the next T'Challa is playing beach volleyball at your local high school right now.
---