Morgan Smith embodies power and poise at play
April 25, 2019 by Erik Hansen, Arizona State University
---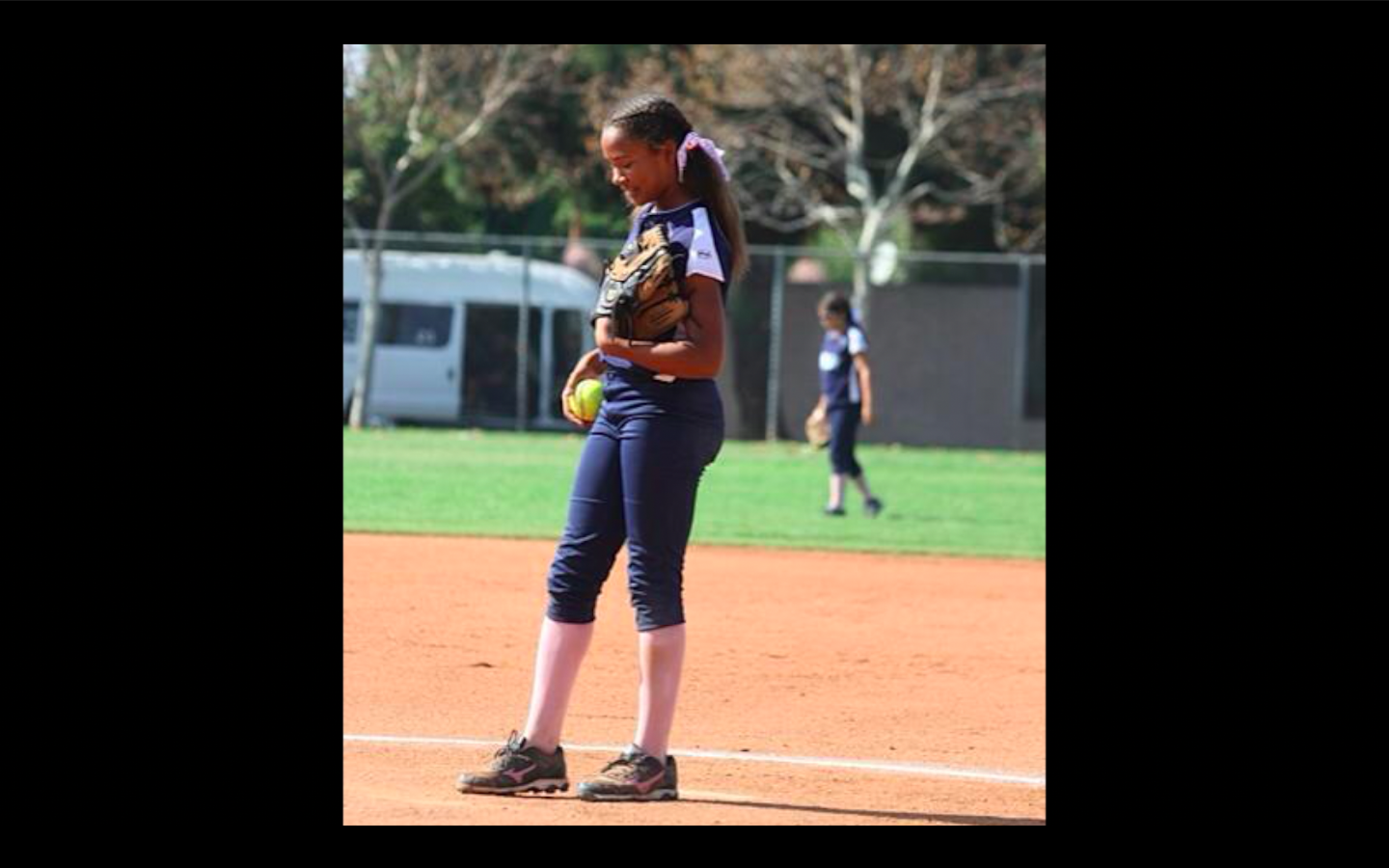 The commonality of the name Smith is no secret. Millions of people share the name but none invoke fear into a softball lineup quite like this Pinnacle Pioneer.
This season junior Morgan Smith is batting .523 and has an OPS of 1.635. Her pitching is just as impressive she has gone 11-0 with an ERA of .85. She committed to LSU even before she arrived at Pinnacle.
She is a dominant force in Valley softball, but she did not get her start in the Valley.
Smith is originally from Southern California where she and her brother, Grant, attended a private school.
Morgan was originally interested in gymnastics and her mom, Paige, says, "She was not interested in playing softball at all."
Morgan continued with gymnastics but her father, Kevin, saw her taking a different path.
"She wasn't going to be a little person when she grew up," says Kevin.
Paige and Kevin Smith are 5' 9" and 6' 4" respectively.
"We did it for as long as we could but also encouraged her to try other things," says Kevin.
It took her younger brother's involvement with sports to peak Morgan's interest.
"Our son came along and he started playing tee ball and Morgan saw the game and developed an interest in playing baseball," says Kevin.
The siblings bonded over a mutual interest.
"We had a batting cage by our house and we used to just go there," says Grant.
Now Morgan was focusing on softball.
"That was really a game changer for her in terms of what sport she was going to focus on," says Kevin.
Morgan started out behind but quickly caught up.
"There were some really good coaches that spent some time with her," says Paige.
She has played softball nonstop since she was 11.
Morgan's interest has remained consistent, but it was time for a change for her ZIP code.
Family had a factor in where the Smiths moved.
brother and sister-in-law had really been pushing for us to move here," says Paige.
Coming from a California private school, the Smith siblings found themselves in a different environment in Pinnacle.
There were now more students in one grade than the total number of students attending the private school.
The transition for the Smiths was not ideal.
"If I were their age and I was experiencing what they experienced, I could relate to how rough it was," says Kevin.
Then there was the pressure from the Pinnacle softball team to succeed.
"I went to go hit at one of the coach's houses and there was a couple of girls there," says Morgan, "They told me that we've lost two years in a row, and we're not trying to lose a third time."
The softball team was fully aware of the of recruit-worthy sophomore.
"We all knew she'd be a big impact to the team," says Pinnacle shortstop Emma Bullard.
The team had so much confidence in Morgan she was placed in the rotation with senior pitcher Marissa Schuld.
Schuld ended up AZCentral's Softball Player of the Year twice and was named FloSoftball's National Softball Player of the Year.
"I didn't have high expectations… I knew she was better than me," says Morgan.
In California Morgan thought about dropping pitching.
"I wanted to quit… my pitching was not good at all."
She thought, "I'm not really helping anybody."
But Morgan stuck with it and, with a few bumps in the road, helped the Pioneers become state champions for the first time last season.
She was a force at the plate and posted an OPS of 1.553, but equally impressive was her pitching. She led the team in wins and innings pitched.
"That season did give me a lot of confidence," Morgan says.
That confidence has translated to success this season. Morgan has nearly shaved three runs off her ERA and has cut her walks down to less than half that of last season.
Morgan has also taken pride in improving her effectiveness at the plate.
She is a power hitter, slugging over 1.000 the past two seasons.
"I've never been one that hits doubles and singles," Morgan says.
Pinnacle softball coach Bobby Peña emphasizes not getting his batters to pop up.
"Our real true focus is hitting line drives," he says.
Morgan has taken this to heart and although she has not hit as many balls out of the park, her batting average, slugging percentage, OPS and on-base percentage are all up from last season.
But Morgan is not into numbers.
"I do compete and I do want to be the best because I know it's something expected from me," Morgan says.
Pinnacle has won 10 of its last 11 and aims at a title-defending playoff run.
As the bigger high-stakes games appear over the horizon, Morgan is reminded of one thing.
"It's supposed to be fun," she says.
Her teammates feel that energy as well.
"She's really outgoing… our friendship means a lot to me," says senior outfielder Taylor Fawcett.
"It's fun to be around her," says Bullard.
Do not take the sound of laughter as a lack of focus though.
"She's very aware of what's going on in every game, she knows everybody's arm strength, she knows everybody's speed," says Peña.
With the playoffs creeping ever closer, Morgan will be looking again to prove how she is not just another Smith.
---