Unsung heroes pushed Centennial to a championship
April 25, 2019 by Cipriano Chayrez, Arizona State University
---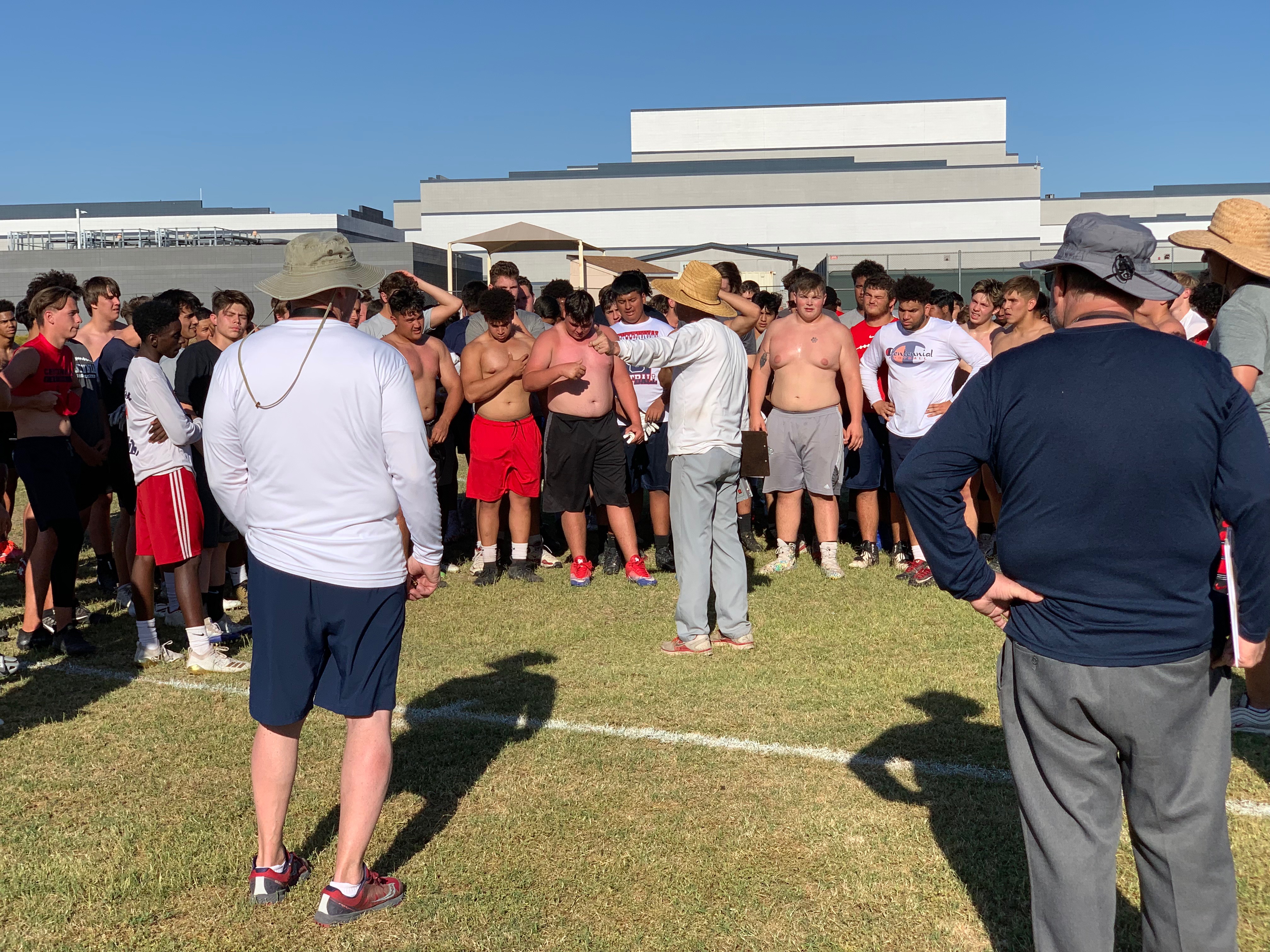 "There's an expression in football: 'Feed the studs, ignore the duds,'" Centennial football coach Richard Taylor said. "But I don't believe in that."
Because he doesn't, the Coyotes have been able to build a dominant program.
Since 2006, the Coyotes have been crowned state champions seven times, their latest state title coming this past season in a 60-7 victory against the only other undefeated team in 5A—Notre Dame Prep.
It was the team's fourth championship in five years, and fifth straight year of appearing in the state title game.
Over the years, Centennial has sent student-athletes to Division I programs to continue their athletic careers. But the "duds" helped make the difference for this year's team.
"We play teams that have four or five really good kids. But if that's all you got and the other kids [are not] bought into the program, they don't feel important, then I think you're going to lose."
Taylor has been coach at Centennial since the school's establishment in 1990.
During the first decade of the schools existence, however, Centennial football wasn't the force to be reckoned with it is today. Taylor insists his current style of coaching isn't any different than how he coached in the 90's.
"But no one cares about your philosophy when you're 4-6," Taylor said.
What turned this once mediocre program into the football juggernaut it is today? Taylor gives the credit not only to a talented and dedicated coaching staff, but also a team-first mentality instilled in his players' minds.
"It's all about the team, then it's about your teammates and yourself is always last," senior Tanner Durfee said
Durfee played linebacker in his final year at Centennial and was elected as a team captain. Despite not starting in his senior year, Durfee chose to lead by example when it came to having a team-first mindset.
"I wanted to really embrace that role even though I didn't start," Durfee said. "Even though I'm not playing I can still make a difference by making the team better."
Durfee played in any situation he was needed. Whether it was contributing on scout teams during practice or stepping up in a game as a reserve, he did it all without a complaint.
Another one of Durfee's teammates also knew the importance of contributing as a non-starter.
Senior quarterback Tyler Hovatter lost the starting job to junior Jonathan Morris, but instead of letting it discourage him, Hovatter took it as an opportunity.
"I saw myself as a mentor as well to [Morris]," Hovatter said. "I gave him little tips because he's still growing; he was a junior."
Hovatter also took time to break down film of the opposing quarterback Centennial would face, and imitated that quarterback in practice; right down to their mannerisms.
"I took it very seriously. It's a craft I mastered, I guess you can say," Hovatter said.
He got so good at his craft, he had meetings with his own wide receivers to make sure they were running the same routes and plays the opposing team's receivers were running.
"It is a commitment. If you're not committed, there's no point in doing it," Hovatter said.
Hovatter understood the bigger picture and preached the same thing his head coach has preached since the early days of the football program.
"Team, teammates, self. That's kind of the model at Centennial high school, and I really took that to heart," Hovatter said.
Longtime defensive line coach Hal Borhauer said Hovatter meant a lot to the team.
"Every week he was important to us," Borhauer said. "He simulated the quarterback of the other team so our defense could get a good look at that."
When his high school career was all said and done, Hovatter made it his goal to distinguish himself.
"I want to be the best backup quarterback Centennial has ever had," Hovatter said. "And I think I fulfilled that."
His brother, Josh Hovatter, is a junior going into his senior year. He also played a backup role as a center. Josh gave a lot of credit to his brother for the team's success last season.
"Our defense would not be able to have prepared the way that they did without him," Josh said. "If we play as a family, that changes everyone's perspective."
As for Tanner Durfee, Borhauer said the role he played was just as crucial.
"He was a captain. Even though he wasn't a starter, the kids respected him and took his leadership," Borhauer said.
There's one common belief at the core of Centennial football: without unity, there are no dynasties.
"Great teams are player-driven. The players are the ones that want to get to the championship game," Borhauer said. "The coach is just to help them reach their goal."
"You got to have those guys that are willing to work harder than most people would and get less recognition," Taylor said. "And when you get kids buying into that like these two guys, good things really happen."
Championships cannot be carried on the shoulders of just one. The winning culture at Centennial isn't something that was built overnight, but when everyone on a team starts to invest in the idea their contributions aren't in vain, incredible things can be accomplished.
"I tell the kids hard work pays off eventually. Not necessarily today," Taylor said. "You may not be recognized for your hard work today, but if you continuously do hard work and do what you're supposed to be doing, eventually you're going to succeed."
---