Freshman Smith thriving on Arcadia varsity beach volleyball team
April 26, 2019 by Kassy Resendiz, Arizona State University
---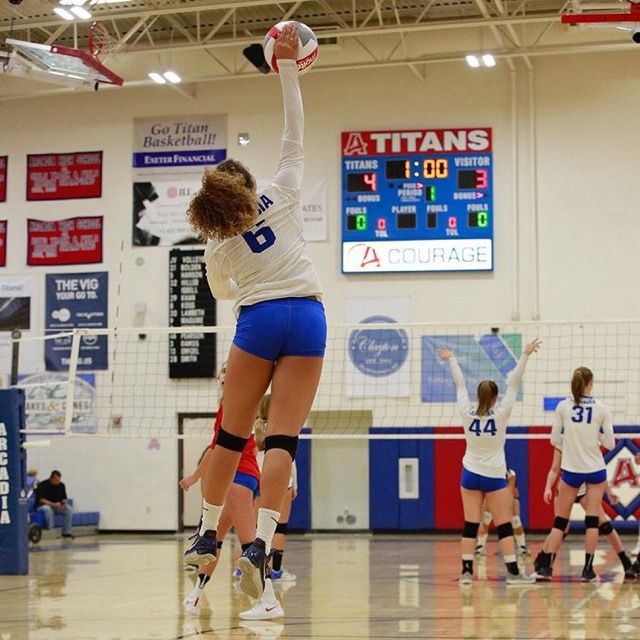 Ever thought what it would be like to join something you never found yourself interested in only to find it to be your new passion?
Meet Jaden Smith, a 14-year-old freshman from Arcadia High School in Phoenix. Smith was never fascinated by the idea of volleyball. As a small child, she was in gymnastics and dance but grew out of interest in both of them over the years.
Smith's mother recommended she try something out of her comfort zone such as volleyball. Smith was open to the idea, so she tried out for the volleyball team in sixth grade and instantly fell in love with the sport.
Not only did Smith fall in love with the sport but she excelled way more than she thought she would.
Smith has been playing indoor volleyball for only three years and just started playing beach volleyball this season. She has discovered it to be her true passion.
"It's relaxing and yet more competitive than indoor, but I love that you get 50 percent of the ball, and the adrenaline and excitement it brings to me," Smith said.
Smith plays four hours every day and says even after practice or a game she doesn't get tired of playing. She constantly wants to better her skills and increase her performance.
Smith loves working hard on her techniques as a player. She maps out the way she is going to play and how she thinks the game will go.
For example, "I need to turn my right shoulder in, I need to lower my platform and my hip."
Smith constantly tries to show coach Jackie Bunker her dedication to the team.
"I was very impressed right away in tryouts with the way Jaden played and used her techniques and constantly had positive energy," Bunker said. "I notice she works hard for what she wants."
Smith says that many of the players get into their own heads and get nervous before the competition, so she tries to keep the energy positive.
"I am the youngest on the team so even though no one is looking up to me, I appreciate my spot I'm working for and I can keep up at the same level as the older girls can," she said.
Smith says making varsity as a freshman was a huge confidence booster for her. She states her biggest challenges are her height and her age. She feels very short compared to the other indoor players and aims to work on her vertical jump, which is 29 inches at the moment.
Smith has battled with injury in the past and two years ago fractured her lower spine. She had to work hard during physical therapy to return to play. She still sometimes has pain when twisting her torso in certain ways, so she has to be cautious of her pain and listen to how her body is feeling.
She also works a lot on conditioning and strength training to decrease her pain as well as increase her performance.
The best advice her coach could give her is, "To never let people tell you differently. Always try for what you believe in. You have the ability to do what you desire and can always do what you love.
"I cannot imagine myself ever leaving volleyball. It is a lot to balance school work and my social life. However, I would not trade volleyball for the world and will always make sacrifices to become a better player."
---