The heart of a community
May 3, 2019 by Sarah Farrell, Arizona State University
---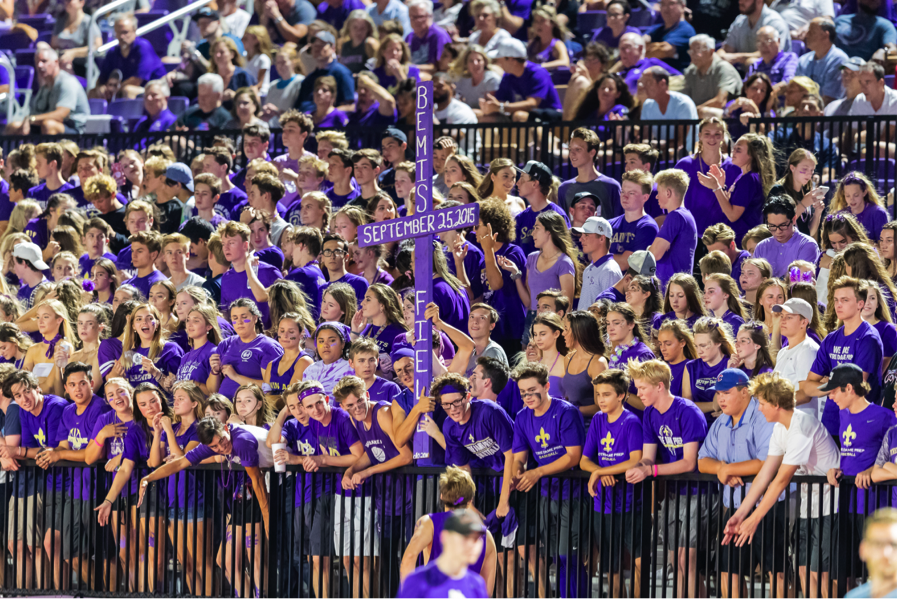 The temperatures hovered near 90 degrees as the Notre Dame Prep football team kicked off the 2018 season at Bemis Field against Sunnyslope High School. The players on the 60-man roster were not the only ones preparing to run out onto the field though. Hundreds of students packed in behind them, ready to kick off the season and carry out a Dog Pound tradition.
"You can see the excitement in their eyes," senior quarterback Jake Farrell said about running out onto the field with the Dog Pound, "and that makes us really excited and pumped up about the game. We don't just want to do it for ourselves. We want to do it for them. They come to support us, and we kind of feed off each other."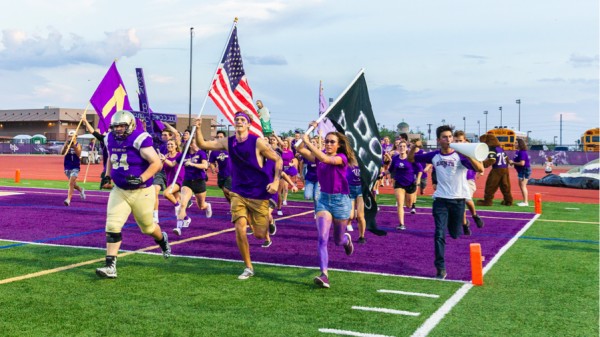 It is a Notre Dame Prep tradition for members of the Dog Pound to run onto the field after the football team before the first home game of every season. (Photo: Mike Harvey/Peak Image Photo)
A sea of purple flowed onto the field and into the stands as the Dog Pound prepared to show why they're considered one of the top high school student sections in Arizona. They came with flags, cheers, "Touchdown Jesus" – a plastic figurine that they bring to every football game – and endless school spirit. At this first home game of the season, there were enough students to fill the entire lower stands at Bemis Field – the ones directly above the home bench.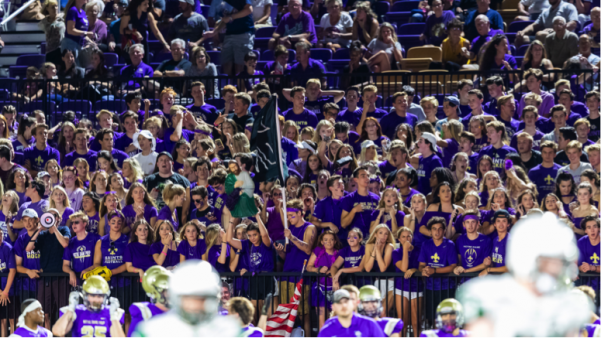 In the first home game of the 2018 football season, the Saints posted a 41-27 win over Sunnyslope High School. Hundreds of Dog Pound members packed the student section at Bemis Field. (Photo: Mike Harvey/Peak Image Photo)
While the players and coaches were locked in to the game on the field, the Dog Pound definitely made its presence felt. Early on, the Saints were down a few scores against Sunnyslope. Then they scored, and the Dog Pound got back into it. "We really fed off their energy," Farrell said, "and it really helped motivate us to get back in the game."
When there's a good play on the field, that's when you know they're there, head coach George Prelock said. They send up a roar that engulfs the field, and is so loud that it can even be heard at the apartment complex across the street.
The noise is a huge advantage for the Saints, Farrell said. There are times when it's so loud that the other team's offense can barely hear the plays being called.
"I lost my voice every Friday night," bragged senior Dog Pound leader Brendan Geesey. "My choir teacher hated me," fellow senior Dog Pound leader Zoe McCarthy added.
While the first game of the season always has a special buzz around it, that's not where the energy from the Dog Pound stops. Far from it.
The Dog Pound is the student-led spirit group at Notre Dame. The name comes from the school's mascot, a St. Bernard.
The group, which encompasses the entire student body of 900 students, is led by about 20 juniors and seniors each year, and makes up the student section at Notre Dame sporting events.
The Dog Pound organizes the weekly pep rallies and tailgates during the football season. They pick the themes for each varsity home game. And they even organize trips to travel and support the Saints on the road.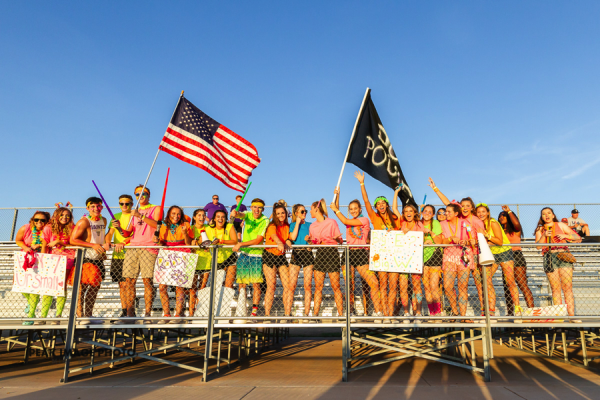 A few dozen students traveled to Betty H. Fairfax High School to cheer on the Saints in the first game of the 2018 season. During football season, Dog Pound members often travel to support the Saints. (Photo: Mike Harvey/Peak Image Photo)
The first game of the 2018 season was on the road against Betty H. Fairfax High School – almost an hour away from the Notre Dame campus inn north Scottsdale. A couple dozen Dog Pound members met at McCarthy's house and drove together to the game. They made signs and even painted the cars they rode in, she recalled.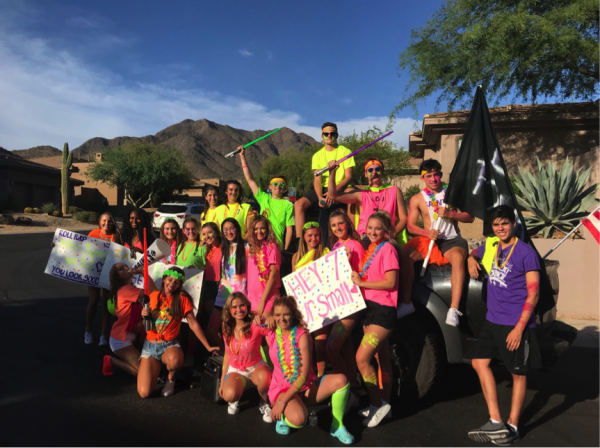 Dog Pound members gather at senior leader Zoe McCarthy's house before heading to the first game of the season. They dressed in a neon theme for the game. (Photo courtesy of @DogPoundNDP on Twitter)
According to Prelock, the Dog Pound really makes a difference and helps create a home-field advantage for the Saints. They fell in the inaugural game at Bemis Field in 2015 -- a 7-34 loss to Sunnyslope -- but since then the Saints have gone undefeated at home, with a 21-1 record since 2015. Prelock believes the Dog Pound is a big part of what makes Bemis Field a feared place for visiting teams.
"You know when it comes down to it," Prelock said, "we as a team, we're not playing as individuals. We're playing for each other. And we're playing for the community."
Dog Pound at other sports
Outside of the football season, the Dog Pound is also present at home games for other Notre Dame sports like soccer, basketball, lacrosse and ice hockey.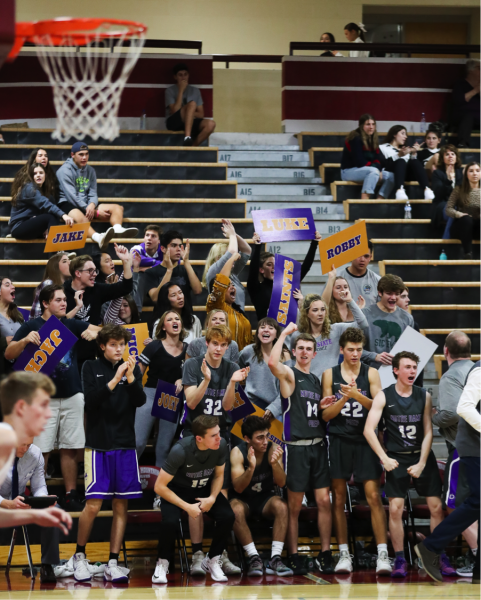 Members of the Dog Pound cheering on the boys basketball team to a 62-61 win over Desert Mountain High School on Dec. 7, 2018. The Dog Pound doesn't just go to football games, but all Saints'varsity home games. (Photo: Mike Harvey/Peak Image Photo)
Additionally, for one week during each season, there is a Dog Pound Week. According to Brenda Beers, the director of student activities, they try to pick one week during the season with the most varsity home games.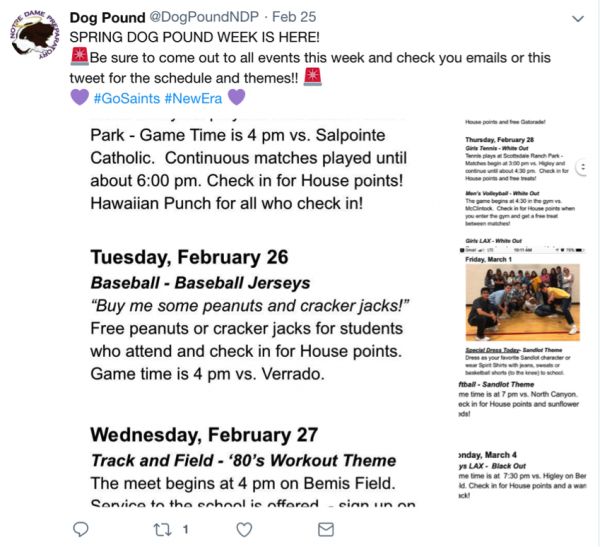 Each season, the Dog Pound hosts a Dog Pound Week. They are very active on Twitter, promoting events for every sport throughout the year. (Photo courtesy of @DogPoundNDP on Twitter)
"Sometimes it's only like three or four people [that show up]," Beers said. "But when they never have anyone show up, to have three or four people show up is a big deal."
During Spring 2019, Dog Pound Week took place during the last week of February. The spirit group went to sand volleyball, baseball, girls and boys tennis, girls and boys lacrosse, softball and track and field events that week with themes like Hawaiian, whiteout, baseball jerseys and 80's workout gear.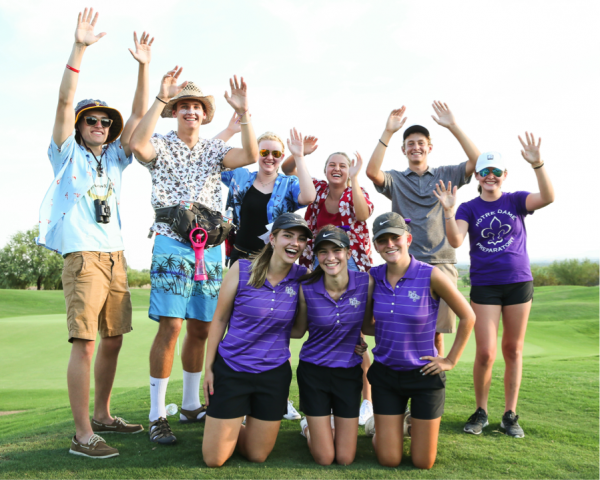 The Dog Pound tries to go to as many events as it can. This year, the senior leaders made a concerted effort to be present at smaller sports like girls golf. (Photo: Mike Harvey/Peak Image Photo)
"We went to a girls golf match, and the girls were almost in tears," said Jason Siegel, a senior basketball player and Dog Pound leader, "because they never experienced people coming out to watch them."
It means a lot to the players and coaches of these smaller teams to have student support at their matches. During the 2019 Spring Dog Pound Week, students showed up to a Notre Dame girls tennis match at Scottsdale Ranch Park – which is about 15 minutes away from campus – with a whiteout theme and dozens of supporters. It was a stark difference from most matches where the only people watching are family members.
"It's that one opportunity for the girls to get to play for some of their classmates and friends," girls tennis coach Shelley Dinges said. "To have [the Dog Pound] come out and support us during a regular season match, it's really special to the players."
Opportunity for leadership roles
Not only does the Dog Pound foster student support at Notre Dame athletic events, it also provides a unique opportunity for students to take on a leadership role in their community.
"I think the really cool part about Dog Pound is like we do a ton of planning and stuff behind the scenes," said Gage Turner, a multi-sport athlete and senior Dog Pound leader. "The big thing about being part of this group, the Dog Pound leaders, is we're the people that always have to be out there going out to do it."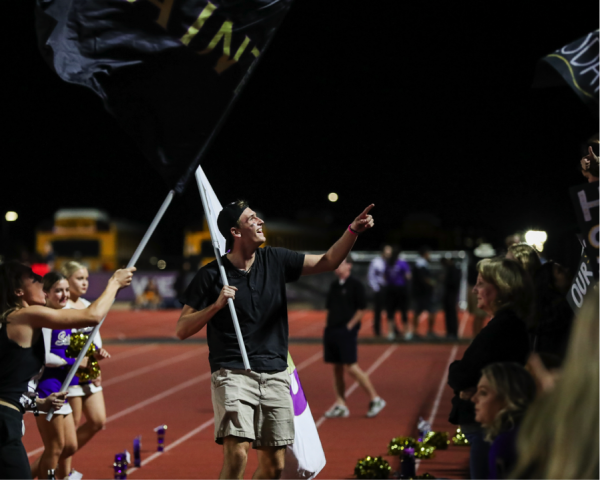 Senior Dog Pound leader Jason Siegel pumps up the crowd Oct. 3, 2018 at home against Paradise Valley. He is one of 20 student leaders that help organize Dog Pound events throughout the year (Photo: Mike Harvey/Peak Image Photo)
They're the first ones at every event, organizing it from start to finish for their fellow students. Not only do they have to promote the events amongst the student body during the week, but they also have to be vocal and visible during the games, starting cheers and dressing to theme.
"It's just a ton of fun," Geesey said about the various theme nights that the Dog Pound plans. "And that's what makes it a memorable experience. Actually going to stuff and getting to have a great time."
The organization itself has been around since the school opened in 2002, and was started by the Notre Dame's original athletic director Mike Mahon. In the past eight or nine years, it has become more organized into an actual club with student leaders chosen each year, Beers said.
Many of the current student leaders knew they wanted to be involved in this role since they were freshman.
"I had older siblings that came here," said Erica Kramer, a senior volleyball player and Dog Pound leader, "so I was always younger and at the games and looked at the Dog Pound leaders, and I thought that's something I want to do."
According to Beers, past Dog Pound leaders nominate most of the current student leaders.
"It was a great opportunity to be active in the community," Siegel said. "You really get involved by doing it. You get to go to all the sports events. And people look up to you as a leader to start chants, be the first one at all the games and organize all the events."
Most of the student leaders are seniors, but there are a few juniors "in training."
Introduction of the house system
This past fall Notre Dame Prep switched to a house system, so instead of separating students by grade-level there are now 10 houses with about 90 students in each. It's a trend that began in England and Australia and has since moved to Catholic schools in the Valley, Beers said.
Each house has two captains – many of the same leaders from the Dog Pound. And according to Beers, each house is comprised of a mix of students from various parts of the Notre Dame community. There are some football players, theater students, student government leaders, etc. in every house.
"When we go to pep rallies and things," Beers said, "now you sit by house and you get house points."
If you win things, or you do the most or the most people show up, you get house points. Notre Dame recognizes a house of the month and will award a house of the year based not only on school spirit, but also academic and athletic achievement as well as Christian service.
For athletics in particular, house points are tied to two things: attendance and dressing to theme. Just going to a game will get you one house point. But if the theme is Hawaiian and you come with a lei and Hawaiian shirt for example, then you get an extra point for your house. According to Beers and the student leaders, the house system has helped increase attendance for the Dog Pound at Notre Dame games this year. It has given students added motivation to show up to events.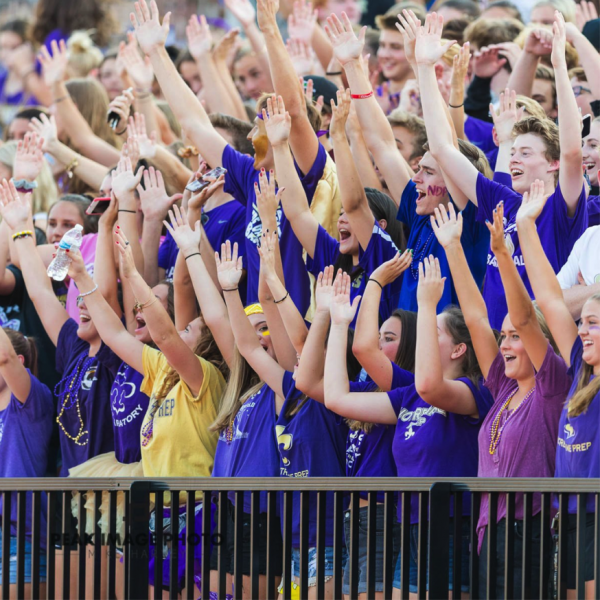 Dog Pound members supporting the Saints football team during a preseason game. Not only does the Dog Pound show up at events, but they are also very vocal in their support of the Saints. (Photo: Mike Harvey/Peak Image Photo)
The houses also meet once a week, which the Dog Pound leaders see as a huge benefit for their organization.
"I think the houses meeting so often, it gives us the opportunity as Dog Pound leaders to plan more events," Siegel said. "So we've had more pep rallies. We've had several pep rallies this year when we only had one or two last year."
The Dog Pound is about more than just organizing pep rallies or showing up to sporting events though, and it means so much more to the Notre Dame community. According to the student leaders, it is the thing that sparks school spirit.
"I think it's the heart of it," Turner said. "It's what starts everything."
---