6A baseball: Red Mtn's Kai Murphy tames Mtn. Pointe again, 11-0
April 27, 2019 by Les Willsey, AZPreps365
---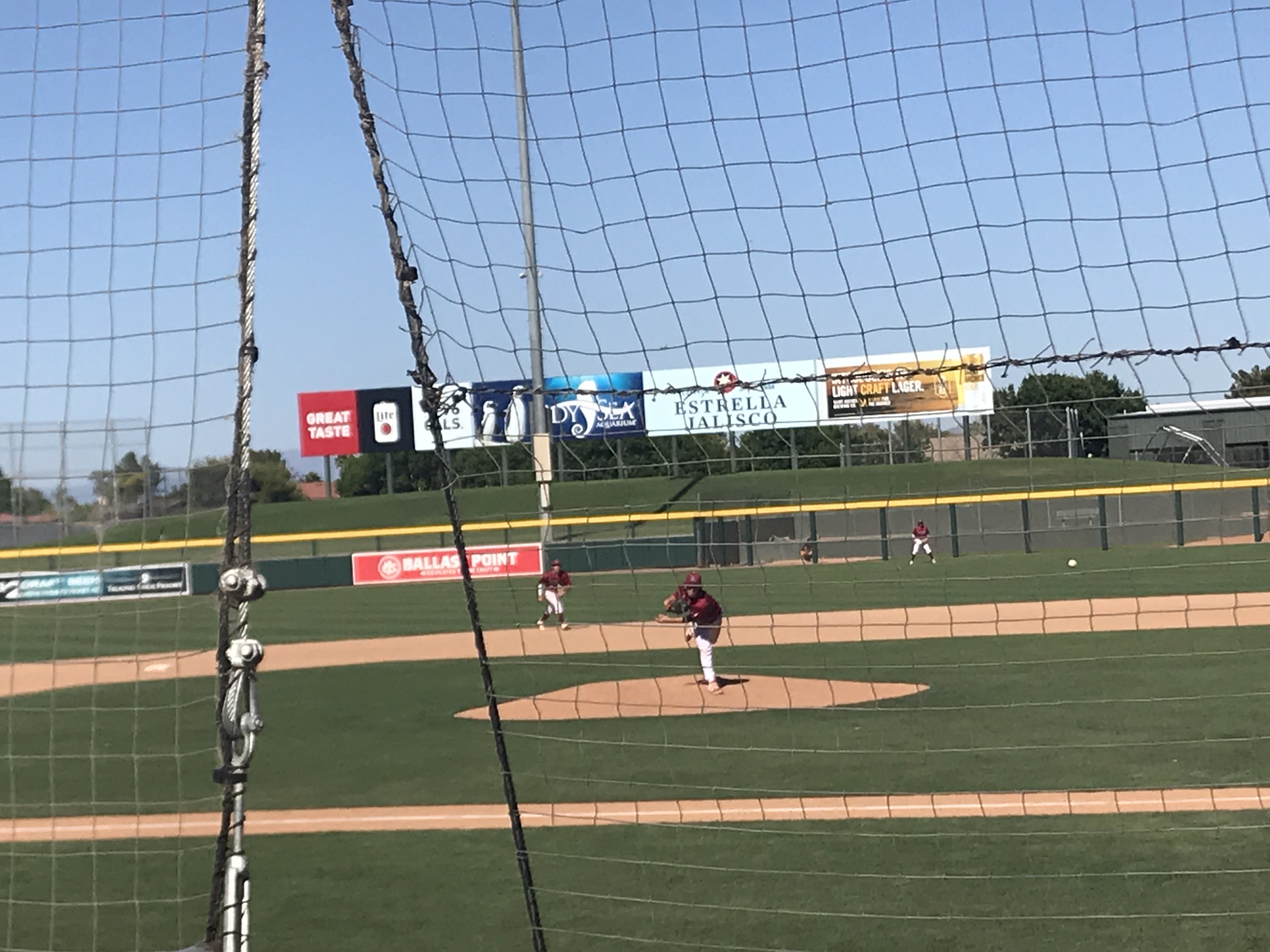 One of the hottest teams in the 6A state tournament heading to Saturday's first round was Mountain Pointe. The Pride were winners of 15 of their last 16 games and wanted to avenge a regular-season 2-0 loss to Red Mountain.
However, the guy that dealt Mountain Pointe the defeat two months ago - Kai Murphy -faced the Pride again. Not as dominant as the first time -- a one-hitter -- Red Mountain wasn't about to quibble with the results.
Murphy scattered six hits and received nine runs of support the first two innings as #8 seed Red Mountain blanked #9 Mountain Pointe, 11-0. Red Mountain advances to the final eight and the double-elimination portion of the tournament. The Mountain Lions (19-8) face East Valley Region rival and nemesis of late Mountain View (25-3) on Tuesday at 6:30 p.m. at Diablo Stadium. Mountain Pointe's season ended abruptly with a 22-8 record.
Red Mountain coach Rob Gorrell liked the way the game started. The Mountain Lions put up two runs in the first and that made him feel good with who he had on the mound.
"I liked getting the lead with Kai out there," Gorrell said. "He knows how to pitch with a lead. I guess he has their number this year."
A couple of first-inning errors plus two hits and a hit batter led to the 2-0 lead. There were no gifts for the seven runs tallied in the second. Red Mountain sent 11 batters to the plate and whacked six hits off starter Nathan Ward and reliever Nick Wallerstedt. Seventh-place hitter Nate Campos collected two hits in the inning and capped it with a two-run double.
"That inning starterd with 7-8-9 and we had hit, hit and walk get us back to the top of the order," Gorrell said. "The first three guys up created the inning."
Red Mountain's 7-9 hitters (Campos, Tanner Rice and TJ Adams) combined for five hits, two walks, scored four runs and knocked in four runs. Murphy chimed in with a bases-loaded triple to highlight the uprising. Red Mountain finished with 11 hits and played errorless ball behind Murphy.
"Mountain Pointe is a good team with a lot of good hitters," Murphy said. "I liked getting a couple runs the first inning. When we got all those runs the next inning... I think it'ss harder to pitch with that big a lead. But you have to keep attacking and go after them the same way."
Murphy finished throwing 69 pitches - 50 for strikes. He walked one and fanned five. In his earlier shutout of the Mountain Pointe he was less hittable yielding just one hits and striking out eight.
6A FIRST-ROUND ROUNDUP
#1 MOUNTAIN VIEW 13, # 16 SKYLINE 6: The Toros broke open a 3-1 game in the bottom of the third scoring eight runs to beat the Coyotes (11-16) and advance to the final eight. Sean Rimmer led Mountain View going 4 for 4 with a walk, drove in six runs including a three-run homer in the first.
#12 DESERT VISTA 5, #5 CHANDLER 2: Dylan Cuenca was 3 for 3 and knocked in three runs, two on a third-inning homer, as the Thunder (18-11) eliminated the Wolves (19-8). Eli Ankeney got the win with six strong innings and fanned nine.
#4 CORONA DEL SOL 7, #13 SAN LUIS 1: Matteo Baker, Bryan Webb, Brian Kalmer, Hunter Haas and Ben Click all drove in runs as the Aztecs (19-8) eliminated the Sidewinders (15-5). Baker had three RBI and the others one apiece. Nick Schobinger worked the first five innings allowing the run and notched the win.
#2 HAMILTON 8, #15 QUEEN CREEK 2: Michael Brueser homered twice, one a grand slam and knocked in five runs as the Huskies (22-6) eliminated the Bulldogs (11-12). Kyle Hasler adde the other three RBI for Hamilton. Shane Murphy allowed two hits and struck out eight in six innings of work.
#10 LIBERTY 8, #7 WESTWOOD 6: Luke Pauga's three-run homer capped a six-run, fourth inning that rallied the Lions (17-9) past the Warriors (17-6). Jeremy Davidson drove in two runs for Liberty and Trevor Toland was the winning pitcher. Kiken Cardenas and Emilio Ibarra knocked in two runs each for Westwood.
#6 BASHA 11, #11 PERRY 8: Ryland Zaborowski had three hits and drove in four runs and Cam Laliberte socked a two-run homer leading the Bears (16-9) past the Pumas (15-10). Ty Siffermann and Bitner Workman added two hits apiece.
#14 MOUNTAIN RIDGE 8, #3 SANDRA DAY O'CONNOR 7: The Mountain Lions (15-13) scored three runs in the sixth and four in the seventh to erase a 7-1 deficit and eliminate the defending state champion Eagles (17-10). Mountain Ridge's Garrett Olson and AJ Singer combined for seven RBI. Singer's two-run double in the seventh pulled the Mountain Lions within 7-6 and Olson followed with what proved to be the game-winning 2-RBI double.
SECOND-ROUND GAMES TUESDAY APRIL 30
Diablo Stadium: 4 p.m. - Desert Vista vs. Corona del Sol; 6:30 p.m. -- Mountain View vs. Red Mountain.
HoHoKam Stadium: 4 p.m. -- Basha vs. Mountain Ridge; 6:30 p.m. - Hamilton vs. Liberty.
---