Freshman Aiden Fast looks to be big part of Coronado's turnaround
April 28, 2019 by Joe Hace, Arizona State University
---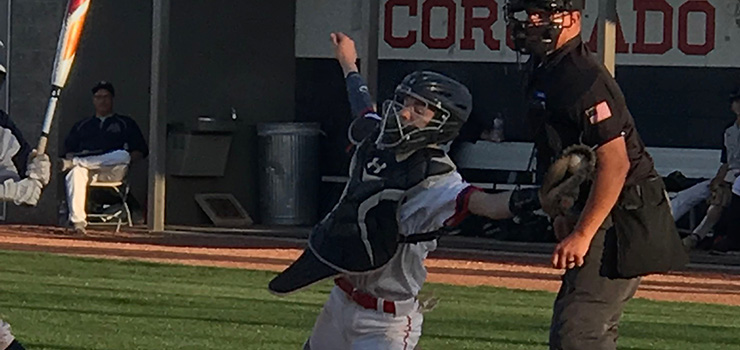 The future of Dons baseball shines bright through freshman catcher Aiden Fast.
The Dons are 11-79 in the past five seasons, but the worst pains of rebuilding are behind them. Four of those 11 wins are from the 2019 season as Coronado has shown glimpses of a promising future. The backbone of their future is freshman catcher Aiden Fast.
Fast got his first high school start behind the dish against American Leadership Academy-Ironwood on March 7 and has appeared in every game this season.
"Once coach Ryan Dyer told me I was getting the start, I felt all this pressure come on top of me," said Fast. "Wow, my very first varsity start."
Fast showed some rookie mistakes in his first start, but he left Dyer very impressed.
"Having had the opportunity to play varsity baseball as a freshman, I look to him to be a catalyst for an improved program over the next few years," Dyer said. "I was very impressed with how Aiden played in his first start."
Fast blocked a number of pitches and framed the ball well but struggled to keep runners in check on the base paths. Fast plans on improving his weaknesses and getting stronger.
"My biggest weakness is throwing guys out at second. That's going to improve as I get stronger," said Fast. "I'm going to get as many calories in me as possible this summer and hit the weights a lot."
Playing behind Dons starter Alexis Ochoa, Fast has been taking in all the information and knowledge that is being fed to him so he can be ready to take over next year. Ochoa and assistant coach Carlos Robles have been the ones that Fast goes to for advice in his freshman campaign.
"This year has been a time where I can focus on learning every little detail and prepare for next year," said Fast. "Alexis and coach Robles have helped me improve my game in so many ways. They always tell me to keep my head up because I'm not going to block every ball."
The Dons had just their second winning streak in the past five years when they won three games in the Chandler Prep Baseball Classic on the first weekend of April. Fast hopes his team can build off the success they had in that tournament to the end of the season and even over to next season.
"Everything came together during that four-game span. All the hard work every single one of us put in is starting to pay off," Fast said. "There's going to be a lot more of that next year and the following years."
Fast is not the lone freshman on the team as his old friend, Jason Conrad, is also in his rookie campaign. Fast and Conrad played on the same middle school team together at Tonelea in Scottsdale and have had their eyes set on making history.
"It would mean everything if Aiden and I won a championship together here at Coronado," Conrad said. "We've been dreaming about it since sixth grade."
Senior pitcher Francisco Porras feels good about leaving Coronado, as he's ready to hand the keys off to Fast.
"This kid shows up every day and is dedicated to this sport. I can tell the passion he has for the game," Porras said. "Coronado is in great hands with Aiden and I've learned a lot from him this season."
---