6A state softball preview
April 30, 2019 by Les Willsey, AZPreps365
---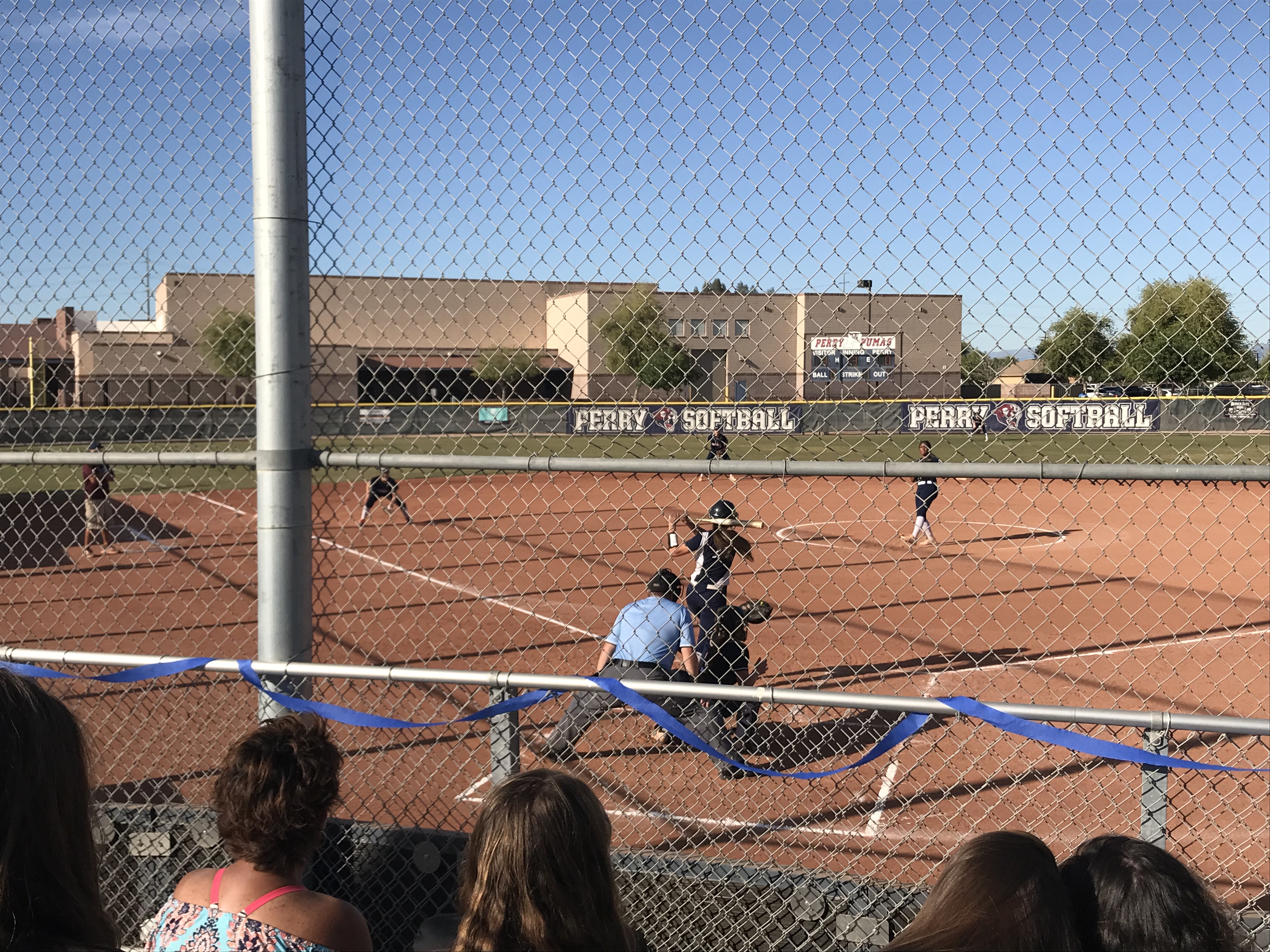 The close of this decade in big-school state softball annuls will be remembered for domination. Red Mountain opening the 2010-2019 stretch with five consecutive championships. Sandra Day O'Connor chimed in with one title in 2015. The past three years Hamilton and Pinnacle duked it out for titles (Hamilton winning two and Pinnacle one last year).
The evidence - the final seeding for the 2019 tournament - indicates a fourth consecutive final involving #1 Pinnacle and #2 Hamilton. Hard to argue that with the pitching each possesses.
Are there any teams out there who can bust up this title-game monopoly?
We shall see. Here is a look at the top-eight seeds and their first-round matchups for the tourney that begins today (Tuesday April 30) at sites around the Valley:
Desert Valley Region champ #1 Pinnacle (21-3) - The defending champs bid for a repeat is in strong hands. Veteran pitcher Morgan Smith and newcomer Reis Beuerlein are a combined 16-1 with a collective ERA of a click above 1.00. Offensively Taylor Fawcett (.525 avg.15 HR, 47 RBI), Smith (.523 avg., 7 HR, 33 RBI), Emma Bullard (.462 avg.), and Grace Rudolph (.457 avg.) are the corps. First opponent - #16 Tolleson.Tolleson is led by freshman Viviana Martinez (15 HR, 44 RBI).
#2 Hamiton (22-8) - The Huskies aren't the offensive powder keg of recent years, but behind the pitching of Loganne Stepp they haven't needed many runs to prevail. Stepp sports a 15-5 record and 1.34 ERA. Veteran hitters Macy Simmons (.422 avg, 9 HR, 38 RBI) and Lorena Vazquez-Inzunza (.375 avg, 8 HR, 29 RBI) are the big guns. First opponent - #15 Desert Ridge. Desert Ridge is led by seniors Lauren Unroe, Shaylee Ackerman and freshman Selena Perez.
East Valley Region champ #3 Red Mountain (20-5) - Pitching and defense have made Red Mountain a threat to bust up the Hamilton-Pinnace title-tandem. Freshman Taylor Trowbridge has been outstanding. Trowbridge is 13-3 with a 1.77 ERA and has pushed Pinnacle late into a game the Mountain Lions couldn't close and tamed a sound-hitting SDO squad. Hitters to watch for Red Mountain are Kayden Bullock (.521 avg, 8 HR, 43 RBI) and Makayla Donahoo (.496 avg, 31 RBI). First opponent - #14 Desert Vista. Desert Vista played Red Mountain the final game of the regular season and lost, 1-0. A great pitching duel between Trowbridge and the Thunder's Jackie Traughber, who is 10-9 with a 1.72 ERA. Pitched much better the latter half of the season.
Premier Region champ #4 Xavier Prep - (15-3) - The Gators have made a massive turnaround this year and done it with a very young group. They start seven underclasmen and two juniors. Riley Flynn tops the pitching staff and the batting order revolves around Bridget Donahey, Macy Lee and Jazmin Andrade. Xavier hasn't played a game since April 12 so it will be interesting to see how a nearly three-week hiatus from games treats it. First opponent - #13 Queen Creek. Queen Creek is led by senior Kaylee Joyce (.355 avg., 4 HR, 28 RBI).
#5 Perry - (18-7) - The Pumas have lasted deep in the playoffs lately. They've, reached the semis the last two years, but ultimately bowed to Hamilton or Pinnacle. Perry is steady in the circle with Saige Stutz and has power bats in Chloe Krason (.529 avg, 12 HR, 40 RBI) and Kylee Hough (.366 avg. 11 HR, 31 RBI). First opponent - Metro Region champ #12 Tucson High. Tucson is led by Carlie Scupin (.714 avg, 14 HR, 38 RBI) and Alyssa Carpio (.544 avg, 6 HR).
Desert Southwest Region champ #6 Cibola - (20-5) - The Raiders are playoff qualifiers nearly every year and no exception this year. Pitcher Kelly Katalbas has improved and kept teams off balance at the plate. The offense is led by infielder Angela Oros, the team's top power threat. Outfielder Christina Robles bats leadoff and possesses a strong short game. Lineup consists of mostly sophomores and juniors. First opponent - Mountain Pointe. Mountain Pointe is led by senior third baseman Araceli Pesqueira, senior centerfielder Ariana Ortiz and junior catcher. Grace Cambin.
#7 Sandra Day O'Connor (19-6) - The Eagles have had a strong year offensively. They are led by Rylee Holtorf (.547 avg, 12 HR, 36 RBI), Kaylee Erickson (.512 avg, 10 HR, 40 RBI), Jocelyn Erickson (.571 avg, 7 HR, 44 RBI;) and Nicole Hoffman (.452 avg, 8 HR, 28 RBI). With the one title this decade also are a couple semifinal finishes in the mix. Team is capable of doing that again. First opponent - Central Region champ #10 Corona del Sol. Corona is led at the plate by senior Alexis Massie, junior Summer Duran and sophomore Tristin Jamar. Massie leads the Aztecs in average, RBIs and home runs. Jamar sets the table for the Aztecs hitting over .350. Pitching leaders are junior Jada Wendling and freshman Emmalyn Brinka.
Southwest Region champ #8 Shadow Ridge (17-5) - Shadow Ridge won its region and moved up to 6A this year. The Stallions are led by Mickey Covarrubio, who has led by example starting at shortstop this year and then moving back to centerfield. The Carroll sisters, Aris and Sophia, are a dangerous duo at the plate. All three reprsent power and average. First opponent - #9 Chaparral. Chaparral is led on offense by Haley Boxwell and has Hannah Ross do the bulk of the pitching. Ross has the distinction of defeating and blanking #1 Pinnacle earlier this month.
---