6A softball: Red Mountain run-rules Desert Vista in five, 12-2
April 30, 2019 by Les Willsey, AZPreps365
---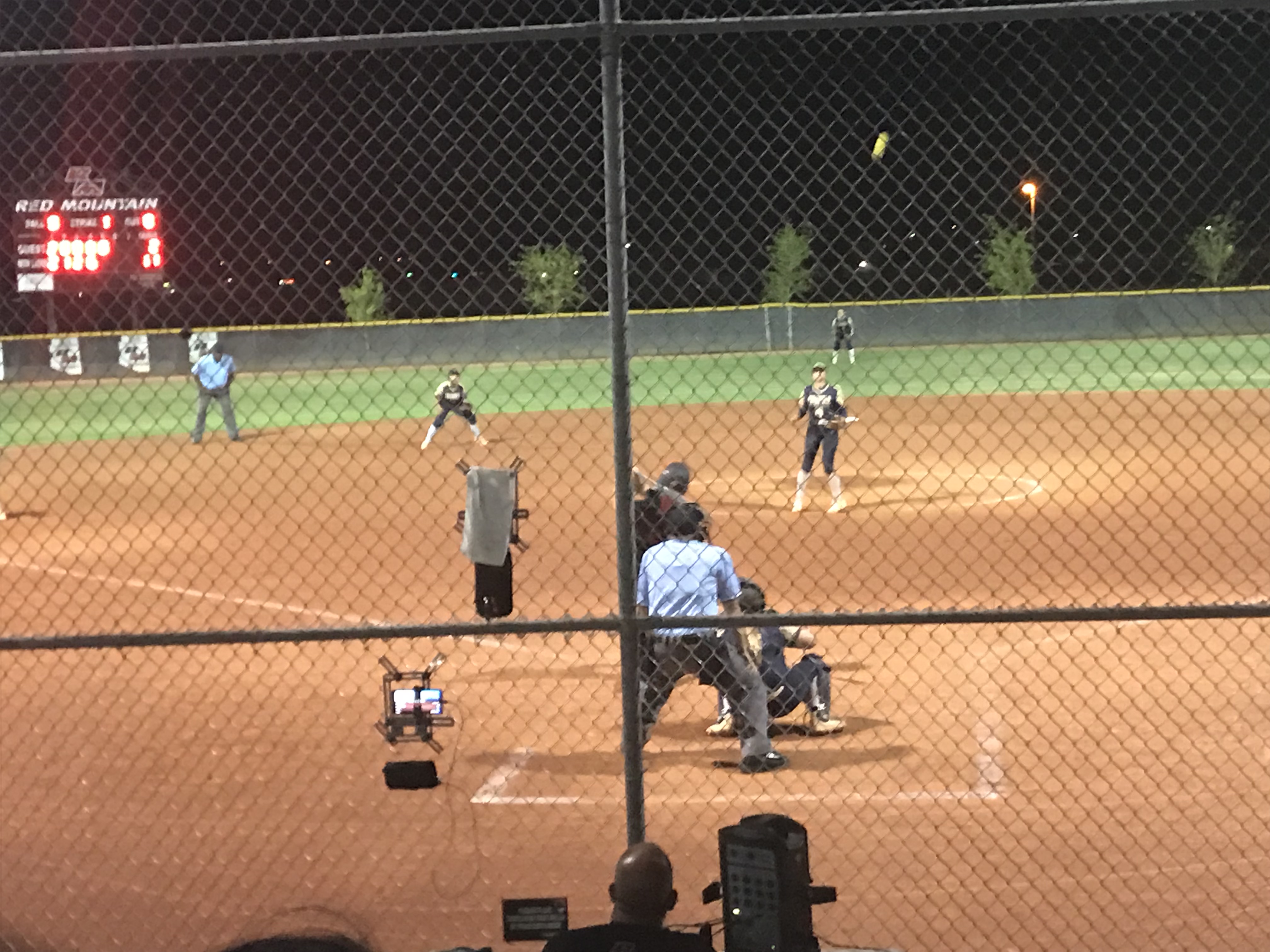 The fact that Red Mountain softball hadn't won a state tournament game in four years had to be a bit eye-opening. Afterall, the Mountain Lions own the decade due to winning five consecutive big-school titles from 2010-2014.
No. 3 seed Red Mountain snapped that dryspell in a huge way on Tuesday night, tallying 12 unanswered runs for a 12-2, five-inning victory over No. 14 Desert Vista at Red Mountain High. Red Mountain, winners of 14 games in a row, advance to host a second-round game Thursday against No. 6 seed Cibola with gametime yet to be determined. Cibola eliminated No. 11 Mountain Pointe, 7-4.
The Red Mountain-Desert Vista matchup was a rematch from the teams' regular-season finale played on April 22 and won 1-0 by Red Mountain in a duel between Red Mountain freshman Taylor Trowbridge and Desert Vista senior Jackie Traughber.
The same pitchers were in the circle Tuesday and both surrendered two runs in the first inning so no shutout this time. Trowbridge settled in and Traughber didn't pitch nearly as badly as the score indicated. Quality at-bats by Red Mountain and six errors by the Thunder made the final night of Traughber's superb, four-year career for the Thunder tough to take.
"We worked hard the last five days being more disciplined at the plate," Red Mountain coach Rich Hamilton said. "(Traughber) was getting us to swing at high pitches last time. We had several really good at-bats tonight and were much more disciplined. She had to work deep in counts a lot more than the last time."
Desert Vista's 2-0 lead in the top of the first came via two walks, a bunt single and Jenna Sumpter's two-run single. Red Mountain responded with two hits -- one and RBI single by Brooklyn Ulrich and the other on the second of two errors in the inning.
Michelle Anderson's single put Red Mountain ahead to stay, 3-2, in the second. Hailey Berry's single and another throwing error provided two more runs in the third with Alayna Hicks and Echo Mattiello scoring after they reached on singles.
Trowbridge had settled in nicely with all the run support after the first inning. She retired nine in a row at one stretch and only three singles over the final four innings. Red Mountain tallied six more times in the fourth with Berry knocking in two runs with her second hit to highlight the inning. Makayla Donahoo ended the game with an RBI single in the fifth to produce the 10-run advantage.
Ulrich was one of two Red Mountain players with three hits for the evening. Leadoff hitter Michelle Anderson was the other and both knocked in two runs. Mattiello, Berry and Yalina Ellis added two hits each with Berry driving in three runs. Breanna Larney had two hits for Desert Vista.
---