4A baseball: Mesquite tops Seton to reach semifinals
May 1, 2019 by Les Willsey, AZPreps365
---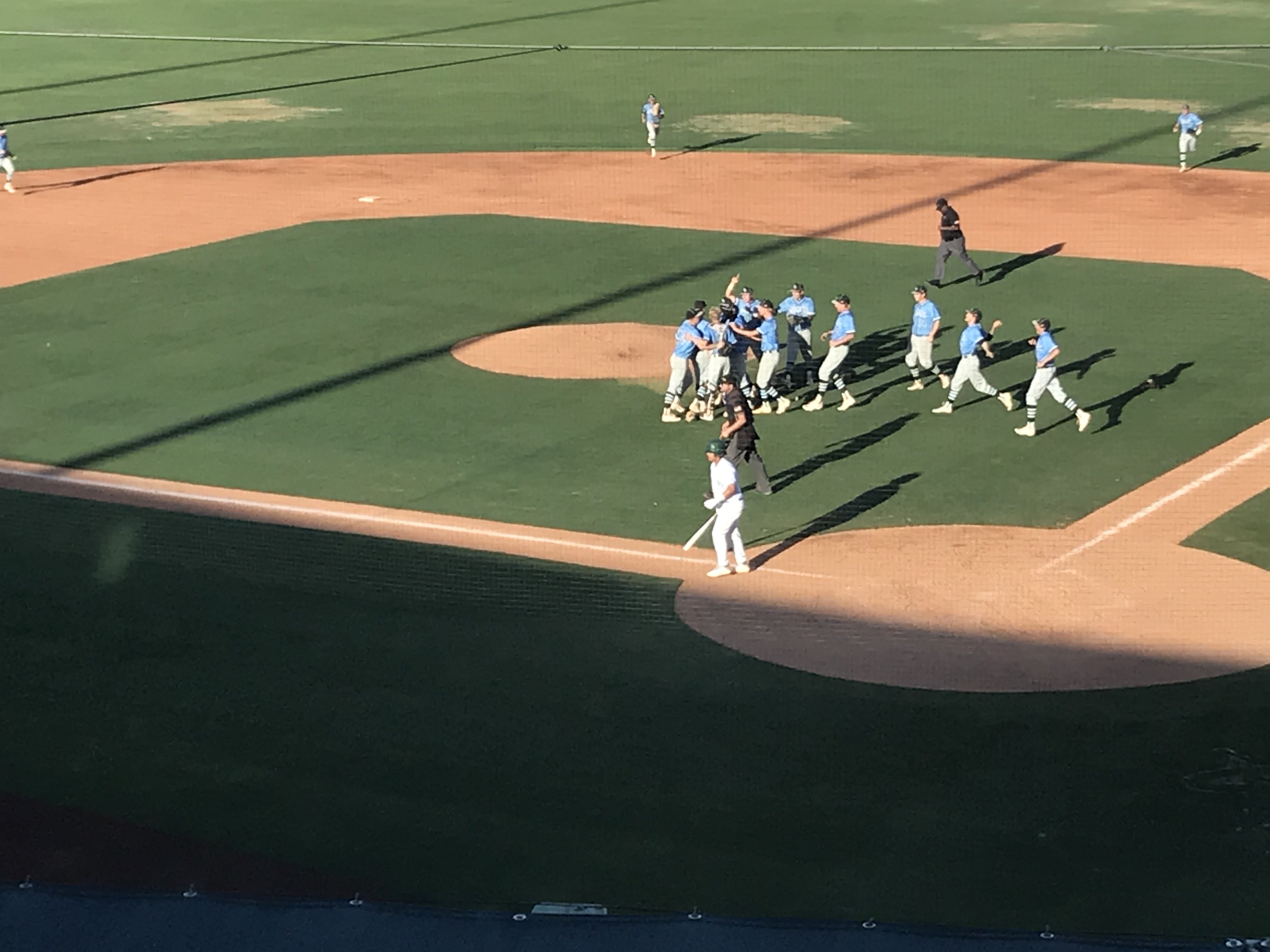 Mesquite increased its winning streak to 18 games Wednesday night with a 6-2 victory over Seton Catholic in the winner's bracket of the 4A state baseball tournament.
It's not the streak itself that matters to the players it's what's at the end if the Ws keep coming.
"These guys want to win it all," Mesquite coach Jeff Holland said. "They are battle tested. A lot of them have had their hearts broken the last two years in the (5A) quarterfinals or the semifinals. They're playing very focused."
Mesquite won''t play again until Wednesday May 8 at 6:30 against whoever survives the Seton-Estrella Foothills game Saturday May 4 at Diablo. Mesquite has two chances (if needed) to win one and reach the title game.
Mesquite (27-4) was intense in this one, particularly the first three innings. Staff ace TJ Clarkson got his second start of the tournament and promptly cruised through Seton's batting order with eight strikeouts and no runs the first three innings.
Not only that Mesquite's bats went to work on Seton starter Luke Bell from the get-go tagging him for five runs and five hits in 1 1/3 innings. Clarkson contributed his two hits in the game -- one in each of the first and second innings - to help the two rallies. RBI went to Jayden Orozco and Jacob Henderson in the first and to Grant Gorrell, Clarkson and Davis Heller in the second.
Clarkson, who improved to 8-0, had one goal in mind as took the mound.
"I knew I had to get ahead of hitters right from the start," the left-hander said. Go out and throw strikes and let my defense make plays. I guess I didn't need the defense right away."
Clarkson managed to blank Seton until the sixth and had a 6-0 lead in hand. He allowed four hits, walked four and struck out 11 before leaving with two outs and two runners on in the sixth as he reached the pitch-count limit.
Reliever Cayden Rana halted Seton's two-run rally throwing two pitches and getting Michael Eckert to fly out to center. Rana surrendered a leadoff single in the seventh, but got the next three outs - two via K.
To Seton's credit it didn't tuck tail after the early 5-0 deficit. Their at-bats were better and the Sentinels put heat on in the sixth that made Mesquite sweat a bit. In addition Matthew Masciangelo kept Seton in the game with 4 2/3 innings of strong relief. Masciangelo allowed three hits and one run in his stint.
"That's a Bryan Stephenson (Seton coach) coached team," Holland said. "They play hard whether he's been at Westwood, Desert Mountain or Seton. They showed they had some fight and we didn't expect anything else."
Seton (21-5) drew a pair of walks and stroked two hits in scoring twice in the sixth with Mike Kenney and Michael Williamson knocking in the runs.
Clarkson and Daniel Johnson had two hits apiece for Seton and Orozco added a second RBI with a fourth-inning double.
ESTRELLA FOOTHILLS 3, CANYON DEL ORO 1: Dave Vanderwerf and Seth Sweet-Chick combined on a five-hitter as the Wolves (25-6) eliminated the Dorados (20--8) at Diablo Stadium.
Vanderwerf worked the first four innings and exited with the 3-1 lead. He gave up four hits and an unearned run. Sweet-Chick gave up one hit, got out of jams in the fifth and sixth and retired the side in order to close the game.
Mason Strimager led EFH with two hits and scored a run in the second. Wanderwerf hard grounder up the middle in the fourth couldn't be handled cleanly at short and trickled away allowing what proved to be the decisive runs (Jacob McLeod and Justin Williamson) to score.
Estrella Foothills advances to another survival game on Saturday against Mesquite/Seton at 6:30 at Diablo Stadium.
---