Lone varsity freshman Duncan proves worth at Millennium
May 1, 2019 by Zakk Brog, Arizona State University
---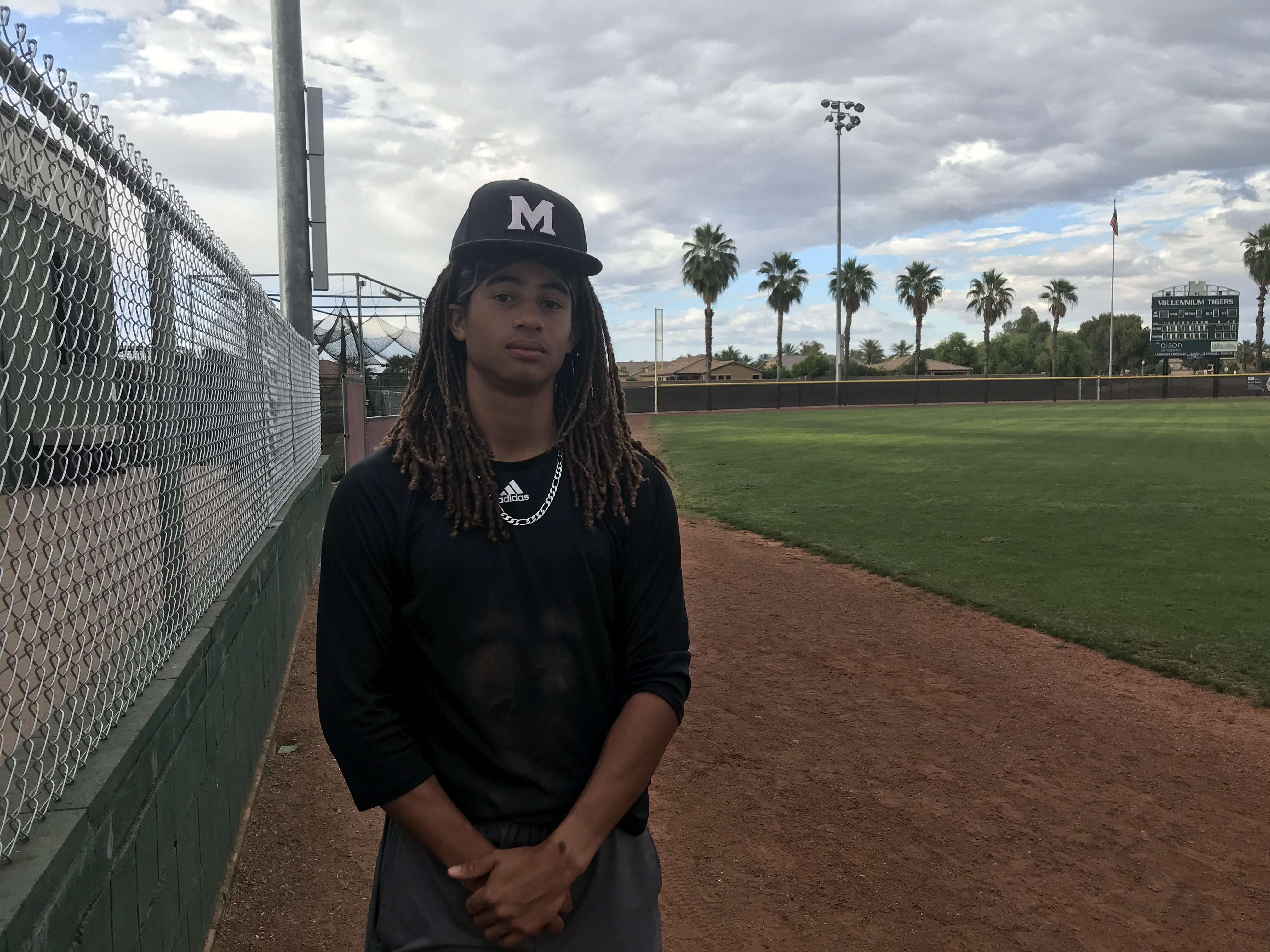 When looking at Millennium's varsity baseball roster, one might see Kaleb Duncan's name next to "Fr." and assume he's a depth piece. They might assume he's good enough to make the team, but mainly there to learn from his upperclassmen teammates. After all, this is Millennium.
The program has found itself ranked within the top 200 programs nationally on MaxPreps this season. How could a freshman make an impact on an already very talented club at this level?
"He's got that little brother chip on his shoulder," said Millennium coach Jerod Burleson. "He wants to prove everybody wrong."
Proving everybody wrong is exactly what Duncan has done this season. His outstanding running ability and approach at the plate, and high baseball IQ have allowed Duncan to carve out a starting spot in Millennium's outfield.
"It's amazing to see a guy so young and produce at this high of a level," said teammate Alex Figueroa. "A lot of us are seniors and are focused on a lot of things and Kaleb brings the energy to embrace what we have today and to go all out everyday and don't go through the motions."
Before playing at Millennium, Duncan spent time playing for the EXB Rangers, a club team. The biggest takeaway from his time there was always being able to dig deep and get into more of a baseball mindset.
"It was about how to handle yourself on and off the field with the failures … and when you're doing well," said Duncan.
Lessons like that have allowed Duncan to transition from the club to high school level with more ease than others.
"When you come to high school, you have to be a teammate," said Duncan. "There's no more 'Your batting average…' It's about the team and the team winning. So, it's really just about being more of a teammate instead of worrying about your own stats."
With the talent that Duncan has flashed in only his freshman year, his coaches and teammates have come to believe that he has the potential to have great success in the years to come.
"He was gifted with natural speed and many other tools," said Figueroa. "Now, it's up to him whether he's content with that or he wants to be even better. If Kaleb keeps working over the next four years, he will be dangerous."
While Burleson admits that he isn't exactly a scout, he has high aspirations for Duncan.
"He's a [major league] draft guy," said Burleson. "He's got just about every tool …There's just not very many kids his age that play like he does. In my opinion, he's destined for the big leagues."
While Duncan certainly has hype around him, he is focused on continuing to prove the doubters wrong about freshman varsity players.
"They have to watch out," said Duncan. "There's a lot of good freshmen around. They're there for a reason. So, you gotta watch out for them too."
---