6A baseball: Desert Vista eliminates Mtn. View
May 3, 2019 by Les Willsey, AZPreps365
---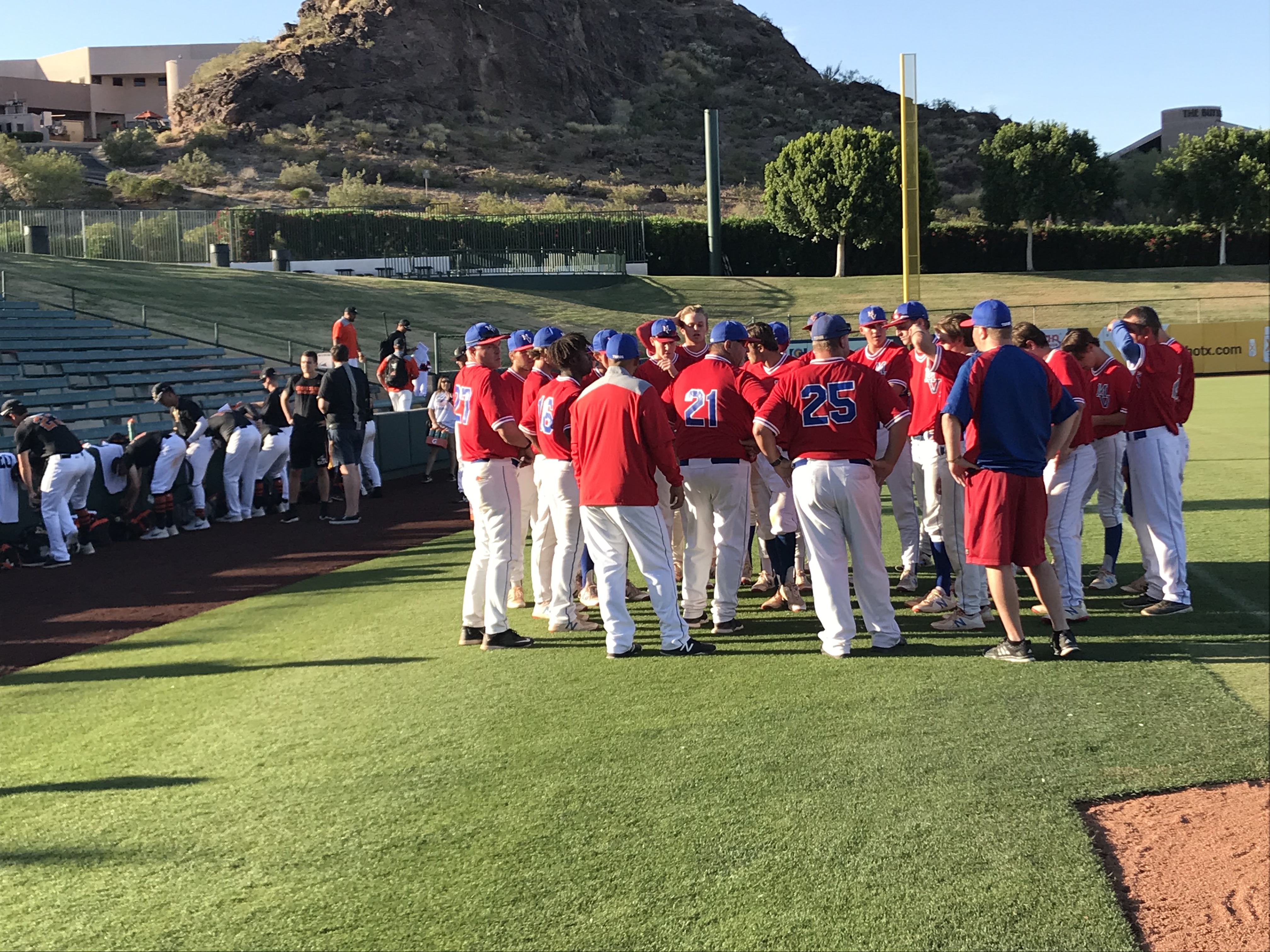 It was a great day for Desert Vista pitcher Eli Ankeney. For Mountain View coach Mike Thiel not the way he wanted to conclude a 22-year run as Toros' mentor and 35 overall coaching in the state.
Ankeney pitched a complete-game, three-hitter and the 12th-seeded Thunder made the most of their base runners with efficient offense in scoring a 7-2 victory over Mountain View in a 6A state tournament elimination game at Diablo Stadium.
Ankeney started an invitational tournament game against Mountain View in mid-March and was spot on for two innings. And staked to a 6-0 lead. The third inning was a different story as the Toros erupted for six runs and hammered the ball. They went on to win big, 15-6. There was no inning like that this time.
"We knew from playing them a couple times they can flat-out hit," Desert Vista coach Cody Brassfield said. "There is no wiggle room against them. When we got runners on we got them around. We had quality at-bats and extended our runs to about the same number of hits."
Desert Vista (19-13) advances to another elimination game on Tuesday to face the Red Mountain/Corona del Sol loser at 6:30 p.m. at Diablo Stadium. Mountain View finished 25-5 with back-to-back losses after logging a 19-game winning streak that was snapped three days ago.
Ankeney, a senior, was outstanding in all facets. Besides allowing just three hits, he didn't walk a batter and struck out six. His teammates used leadoff walks or hit batters in the first, second and fourth to build a 3-1 lead. The Thunder broke the game open in the top of the fifth scoring four runs on four hits and putting pressure on Mountain View's defense with a short game and infield choppers.
Eli Ankeney produced the big hit of the inning, lacing a two-run triple to the right-field corner. That was sandwiched around sacrifice flys by Jack Malone and Beau Ankeney. Three other Thunder players had an RBI - Dylan Cuenca (two hits), Cody Hedalen and Brett Czerniski.
"The thing for me today was an inside fastball, i controlled it well," Ankeney said. "I had a good offspeed pit and got ahead in counts. The only guy I had trouble with was their No. 4 (cleanup)."
That was Mountain View's Cam Jowaiszas, who had had two of Mountain View's three hits -- a first-inning double and seventh-inning home run.
"Not the way we wanted it to work out," Thiel said after greeting most if not all of his players with a hug. "The last two games it wasn't just one thing. We weren't up to par in all three areas. It wasn't a lack of effort or concentration, but you can't have that this time of year."
Fighting back emotion, Thiel complemented his senior-laden team (14 seniors) for their contribution.
"This group of seniors has done a fantastic job for our program over four years," Thiel said. "Couldn't ask for any more."
---