AIA and Barro's Pizza become partners
May 7, 2019 by Seth Polansky, AZPreps365
---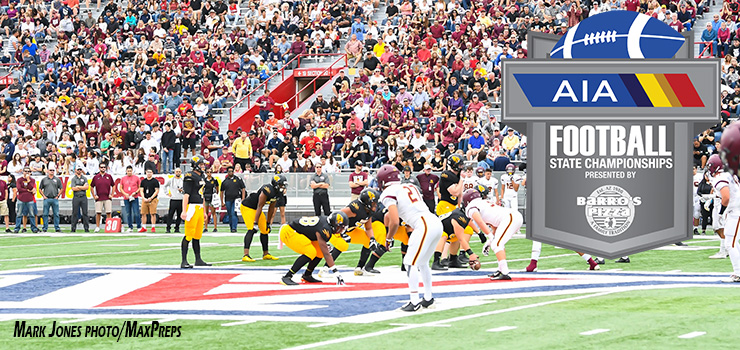 The Arizona Interscholastic Association (AIA) is proud to partner with Barro's Pizza, a local family-owned pizza restaurant with 42 locations in Arizona and avid supporter of education in our state.
As a partner of AIA, Barro's will be the presenting sponsor of the AIA State Football Championships and new open division. Fans will have the opportunity to win prizes at championship games thanks to the generosity of Barro's Pizza. Additionally, schools will be able to work directly with Barro's on all their catering needs, and Barro's will be on site at various AIA championship events.
"It's great to bring on a partner that is very committed to our communities," said AIA Executive Director David Hines. "Many teams have celebrated victories at Barro's Pizza restaurants, which makes them an ideal partner and a perfect fit to be a part of the AIA family."
"Partnering with an organization like AIA is such an honor for us," said Bruce Barro, co-owner of Barro's Pizza. "It's so important to us to give back to our community and get involved with our local schools so we couldn't be happier about this opportunity. We are really looking forward to the upcoming school year and partnership with AIA."
About Barro's Pizza
Barro's Pizza is a family-owned pizza operation with 42 locations in Maricopa and Pima Counties. The Barro's Pizza recipe comes from Grandma Angelina Barro who came from Italy in the 1930s, making a pizza unlike any other. People may disagree on whether it's the thick crust with its light, flakey texture, or the tangy and sweet spiced sauce that is the secret of this great tasting pizza. Barro's Pizza also offers wings, salads, sandwiches, pastas, gluten-free pizza options, dessert, beer and wine. For more information, visit www.barrospizza.com
@barrospizza on Twitter, Instagram, and Facebook.
About Arizona Interscholastic Association
The AIA is a voluntary association of public and private Arizona high schools. Since 1913, the organization has created and sustained interscholastic activities that encourage maximum student participation by providing AIA member schools with an even playing field to ensure fair and equitable competition. The AIA believes that providing interscholastic activities for Arizona high school students creates personal development opportunities with a balanced focus on academics and extracurricular activities.
Through its Arizona member schools, the AIA reaches more than 100,000 participants in high school activity programs. The organization hosts 5,000 championship contests and maintains officiating for more than 45,000 regular season games. For more information, visit www.aiaonline.org and www.azpreps365.com.
###
---