3A Softball Championship: Sabino comes up big in 14-2 win over Snowflake
May 7, 2019 by Andy Morales, AZPreps365
---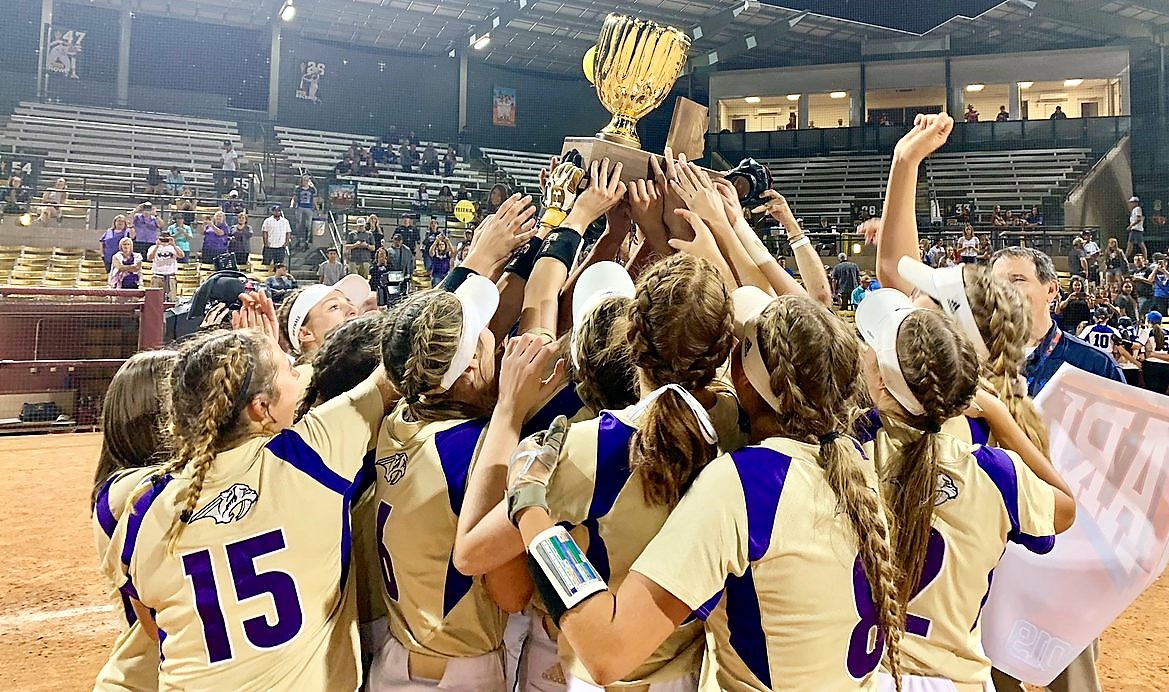 Lots of coaches talk about it, some experience it, and very few witness it, but chemistry is the bond that drives all championship teams to success. Sure, a team may have a dominant player, or even a few dominant players, but it takes a whole team, and a few coaches, to reach levels other teams may never see and the Sabino softball team became chemistry in motion midway through the month of April and that chemistry was on full display Monday night at ASU when the Sabercats defeated Snowflake 14-2 to win the 3A state championship.
Like all championships, the raising of the trophy is part of a journey and it all began back on April 28, 2018 when both Sabino and Snowflake fell in the first round of the state playoffs. Both teams were ranked in the double digits and both teams had to survive the play-in stage just to get to the final 16. When storied programs such as Sabino and Snowflake haven't played on the final night in a generation, the first round may seem like success but both programs had other plans.
"The only people who expected us to be here were our girls," said Snowflake head coach Aaron Huish. "We knew what we had and we had to find our way and we made it."
Even in defeat, Huish is correct. The Lobos did make it.
The Lobos have four state championships in their storied history that includes 10 trips to the final night, but the last championship came in 2001 and the last runner-up finish was in 2005. A semifinal finish in 2014 was followed by three straight quarterfinal losses and then the first-round setback came in Huish's first year with the program. The trip to the championship game is a sign of success.
"Some of our fans may not have been to a softball game in a long time but they are all here tonight," Huish added. "We just have to tip our hats to Sabino. They knew what they had to do and that's a great team."
The stands were mostly filled with Snowflake fans and why not? The Lobos went 27-10 and earned a 4-seed along the way but, while the team was battling to get past No. 5 Show Low 3-2 in the quarterfinals and No. 9 Sahuarita 3-2 in the semifinals, No. 7 Sabino was on cruise control.
Kirchhofer 10ks and two big hits herself #AZPreps365 pic.twitter.com/NsajaNh8Gq

— Andy Morales (@AZPreps365Andy) May 7, 2019
Led by third-year coach Chris Stainer, the Sabercats finished 22-3 on the year with eight straight wins to end the season and the team outscored its last six opponents 69-2 without any individuals carrying most of the load.
"There is so much talent on this team and it's not just the seniors," Stainer explained. "We have some incredibly talented freshmen and they have all played for each other this year and they all want to know what they can for us as a team."
Like Snowflake, the Sabercats haven't played on the final night since 2005. The team brought home a state title that year, exactly 14 years after the first in program history in 1991 and it's hard to escape the symmetry of winning the third title fourteen years after 2005. The trick, now, is to not let another 14 years go by for the next trophy. While chemistry is the formula, senior pitcher Danielle Kirchhofer (16-1) is a huge part of the equation.
Kirchhofer collected 10 strikeouts against the Lobos and gave up only one earned run, a monster blast from Hallie McCray to leadoff the bottom of the second inning. But, but by then, the Sabercats were already up 6-0.
The first four Sabercats reached safely to start the game including Kirchhofer. Kirchhofer's RBI triple made it 1-0 and the runs kept coming until the team led 4-0 after one and six 6-1 after two.
Anna Berger (12-6) found her groove and she limited the Sabercats through two more innings but three more in the fifth inning made it 9-1. The Lobos added an unearned run in the bottom half of the fifth but the Sabercats got that run back in the sixth and four more in the top of the seventh. In all, the Sabercats combined for 16 hits including a home run from senior Hannah Stark from the bottom of the lineup and freshman Madison Fillman Moreno went 4-for-4 batting seventh in the lineup.
From top to bottom for the Sabercats, Sydney Gray went 2-2 with an RBI, Kirchhofer had a double and a triple with three RBI, Cassandra Castaneda had three doubles and two RBI, Riley Carley had two hits and two RBI, Ashely Stewart and a hit and an RBI, Jillian Calloway walked and scored a run, Fillman Moreno had her four hits, Anderson reached on a sacrifice and scored and Stark went 2-2 with her home run.
"Everyone from one through nine played well and that's a great memory for them," Stainer added. "This was fun for them."
Lobo standout Kaylee Thomas was almost unstoppable. The senior finished 3-4 and scored a run in her final high school game. Heather Whipple and Lanee Penrod had hits, Jordyn Powers had a double and McCray had her home run. The Lobos lose five seniors to graduation, including Thomas, Penrod and McCray but expect great things from the remaining ten on the roster.
Sabino also says goodbye to ten seniors including Kirchhofer, Castaneda, Carley and Stark but there are a dozen seasoned players ready to step up next year.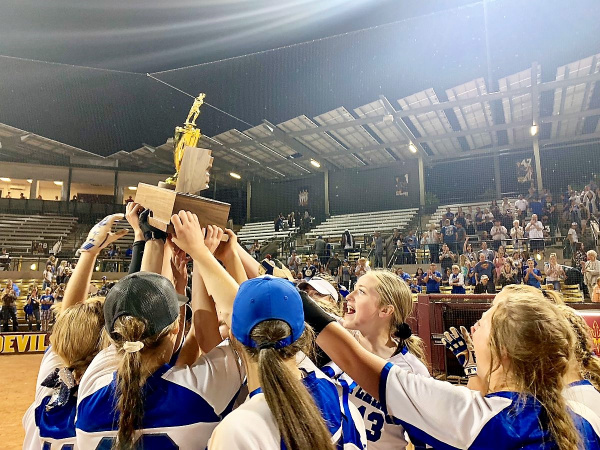 (Snowflake made it to the final night like they knew they would/Andy Morales/AZPreps365.com)
---