6A baseball: Mountain Ridge returns to semis again
May 7, 2019 by Les Willsey, AZPreps365
---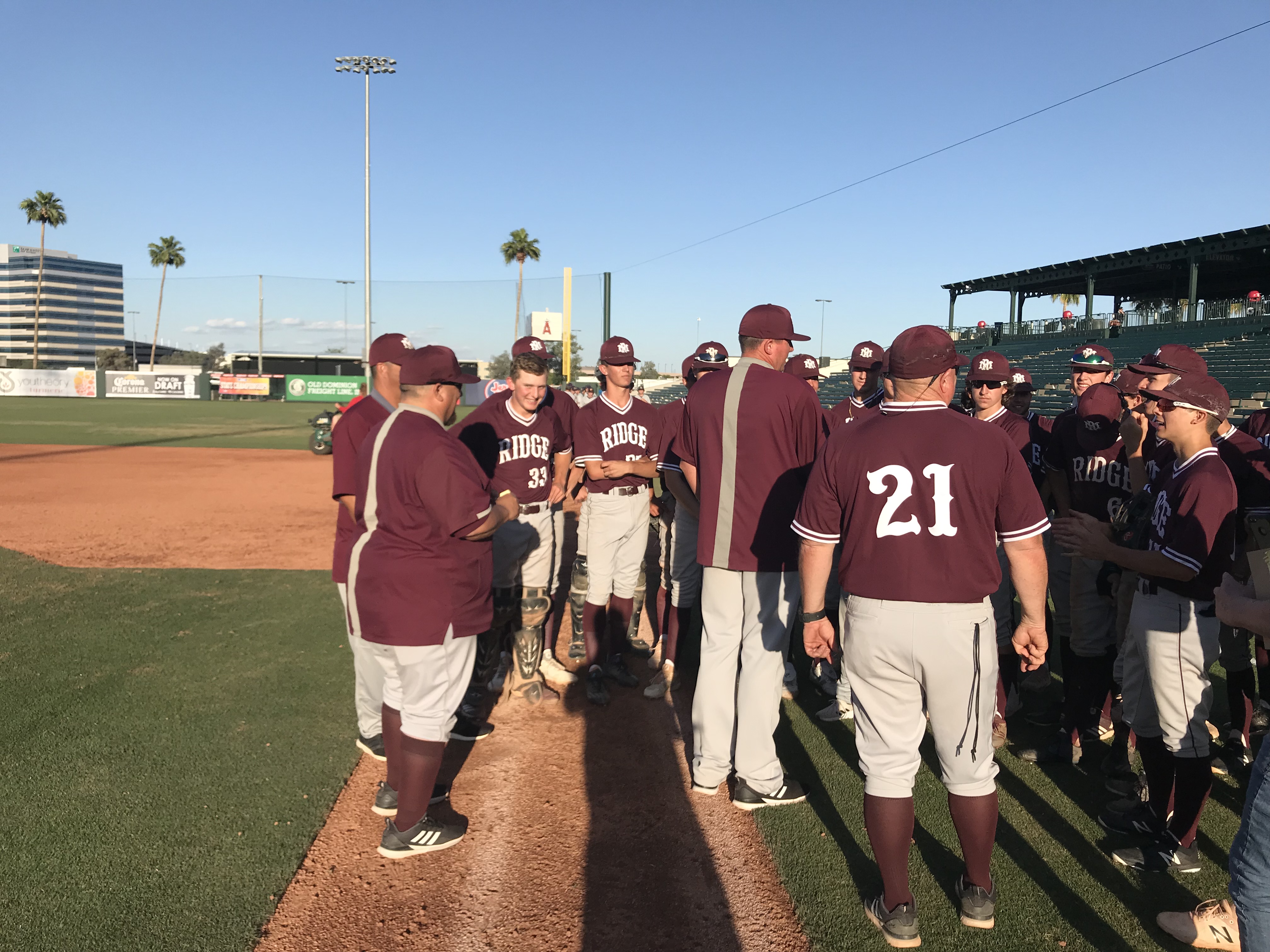 Everything is coming together for Mountain Ridge's baseball team and although it may have taken the better part of 30 games to be in tune that's where the Mountain Lions are today.
Zach Martinez contributed his third superb start of the postseason and received a large clump of support in the fourth inning to snap a tie as #14 Mountain Ridge topped #10 Liberty, 6-2, in a 6A state tourney elimination game at Diablo Stadium.
Mountain Ridge (17-14) moves on to Friday to face unbeaten Hamilton in a bracket semifinal at 4 p.m. at Diablo. Mountain Ridge must beat Hamilton Friday and again Saturday to advance to the championship game on Tuesday May 14. It's the fourth time in the last five years Mountain Ridge has reached the semifinals or better. Liberty, the 5A state champion last year, closed a solid season at 19-11.
"This was a young team," Mountain Ridge coach Artie Cox said sending out a starting lineup that included only two seniors. "We lost seven seniors from last year (6A runnerup). It's taken awhile but we've put the pieces together. The pitching is what we expected it to be and and the hitting has come along. It was a matter of who would be hot. Early we had three guys maybe who were swinging it well. Now its six or seven.
"We still have work to do. We have a big mountain in Hamilton to climb."
The work has been made easier with the return to health of Martinez, who has emerged to lead the rotation as postseason arrived. Martinez has notched a 6-0 win over Brophy in a play-in game, finished two outs shy of a complete game in topping Basha 3-1 and added 4 1/3 innings Tuesday to help stymie Liberty.
"I started off the year with a back injury," Martinez said. "I've had to work my way back to health. Started working in relief to build up a return to starting. I've had three good starts.
"Today my off-speed wasn't there, but the guys got a big inning and and Cayden (Collins) and Brock (Peery) finished it up."
Mountain Ridge's offense didn't explode in this one, but hits and poor Liberty defense made for a five-run, fourth inning that broke a 1-1 tie.
Hits in the fifth came from Kyler Stancato, Ryan Ellis (2 for 3) and Garrett Olson. Ellis, AJ Singer and Colton Neville delivered RBI. Two errors and a walk allowed the Mountain Lions to bat around Only a fly-out ,double play cut the rally short.
Martinez left with one out in the fifth protecting a 6-1 lead. Two runners had reached - a single and an error. Collins put the rally down getting a pop out and fly out. He gave up a two-out triple to Trevor Saire (two hits), in his second inning of work, but K'd the final out of the innning. Peery worked a perfect seventh snaring a hot liner from Braden Lovett for the final out.
---