Boys Volleyball: Mountain View Marana outlasts Salpointe to advance to the semifinals
May 7, 2019 by Andy Morales, AZPreps365
---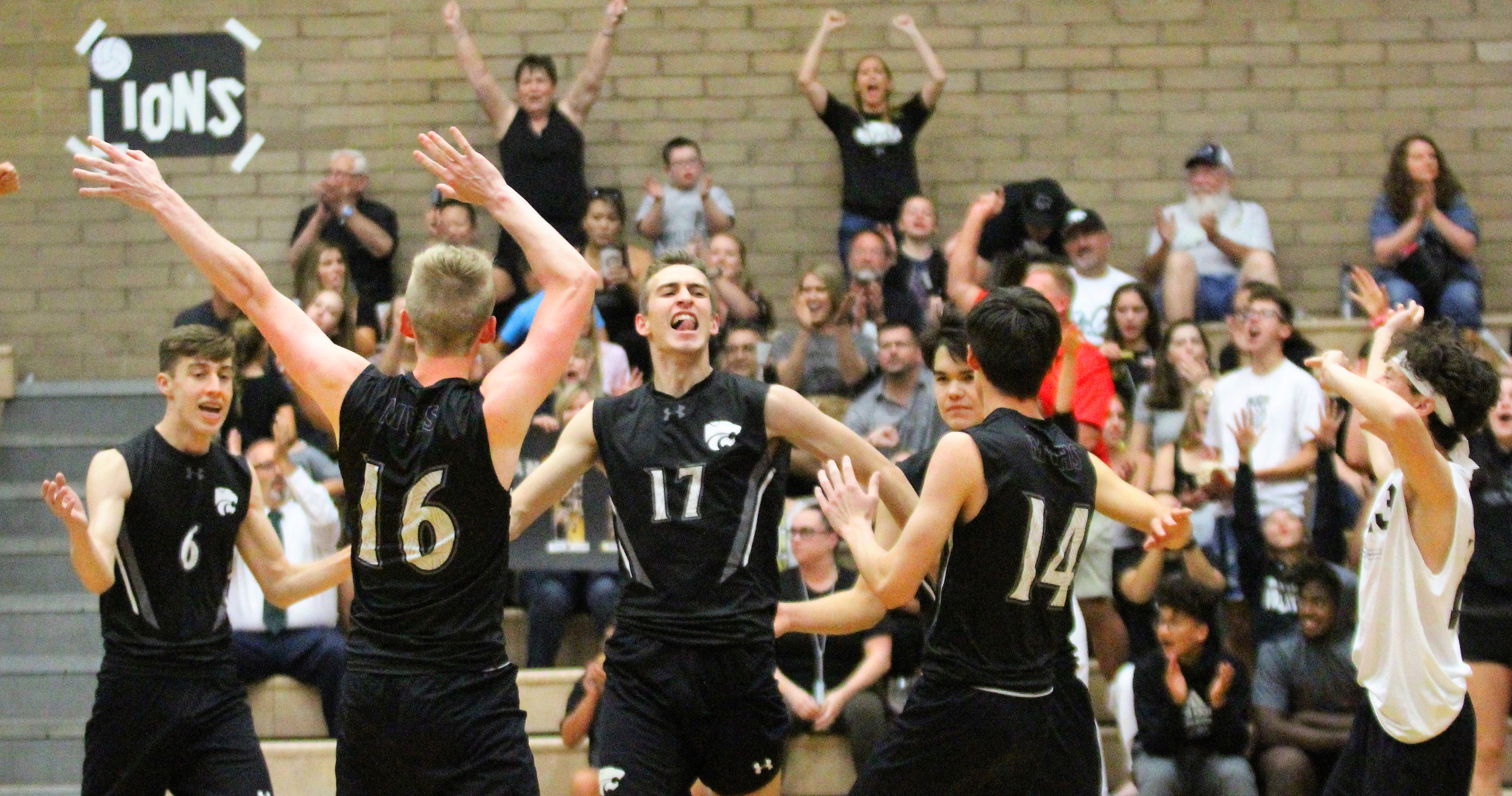 No. 3 Mountain View Marana held on to win an epic 3-2 decision over No. 6 Salpointe in the 5A quarterfinal round played at Mountain View Tuesday night. The Mountain Lions will take on No. 10 American Leadership Academy-Queen Creek (ALA-QC) in the semifinal round slated for Thursday night at Highland High School.
ALA-QC upset No. 3 Cienega 3-1 (24-26, 25-22, 25-18, 25-16) to set up the semifinal against Mountain View.
The Lancers beat Mountain View 2-1 in the Lancer Invitational in early April and the two teams faced each other in two invitations last year and in two more invites the year before that. One would have to go all the way back to 2016 to find the last time the two programs faced each other in a match that mattered. Salpointe beat Mountain View in the first round of the state playoffs that spring and that was the last match of consequence until Tuesday night.
"We played them early in the year and we beat them in a close game," Salpointe junior Michael Mandala said. "We knew they wanted to beat us more than anyone in the state coming in."
Mountain View (30-7) moved all of the home matches to the smaller gym on campus this year due to rain damage in the main gym and the result has been a more intimate and (very) loud fan experience and the Mountain Lions caught that wave and rode it to an 11-2 lead in the first set. The hole was so deep, the Lancers were unable to respond despite closing the gap to 23-20 in the final moments of the set.
"It was so crazy in here, I couldn't hear my hitters but I'll take it any day," Mountain View senior setter Darean Schug explained. "The crowd wound us up and I think they really helped us win tonight."
Salpointe (28-8) lost that first set 25-20 but the team battled back to take the second set 25-21. Mandala came alive in that set and he turned a 12-9 deficit into a 14-13 lead thanks to five straight kills. The Mountain Lions had no answer for Mandala and the Lancers took the third set 25-21 to take what is usually a safe 2-1 lead but this was not a usual match.
"This team has survived a lot of things this year from changing gyms to hardship after hardship so I was surprised we lost those two that way," head coach Lindsey Spivey said. "They practice hard until they feel they can almost get perfection and they battled back."
Mountain View wins it 15-8 (3-2) to advance 5A state playoffs #AzPreps365 pic.twitter.com/bPX4d1EeUS

— Andy Morales (@AZPreps365Andy) May 8, 2019
Upsets have been the name of the game for Southern Arizona teams this spring with No. 1 Rincon/UHS going out to a 16-seed in the first round and Cienega dropping a quarterfinal match to a much lower seed and it looked like the Mountain Lions would be next but a minor injury to Mandala midway through the fourth set helped turn the tide back in their direction.
Elijah Elmer and Caleb Crook came up big for Mountain View Tuesday night but Mandala was almost unstoppable at the net. The Mountain Lions were clinging to an 11-9 lead but Mandal had to leave the floor due to a blister on his launching foot. The gap would widen to 16-9 in his absence. Mandala came back in the game and he went on to collect five kills down the stretch but it wasn't enough and Mountain View tied the game up 2-2 thanks to the 25-18 win in the fourth set.
"When the other team gets on a roll you just play for the next point because you know you will get on a roll and that's what happened," Schug added. "Everything came together and we kept pushing."
The deciding set was tied 4-4 but Mountain View slowly pulled away from there and finished it out on an 11-4 run for the 15-8 win.
"I know I'm the main guy and I have to keep scoring," Mandala added. "We should be back again next year."
For Spivey, the rain of confetti after the match-point came down was a longtime coming.
"We were worried a couple of times because I knew Salpointe fights the way we do," Spivey added. "Our program has never made it this far before."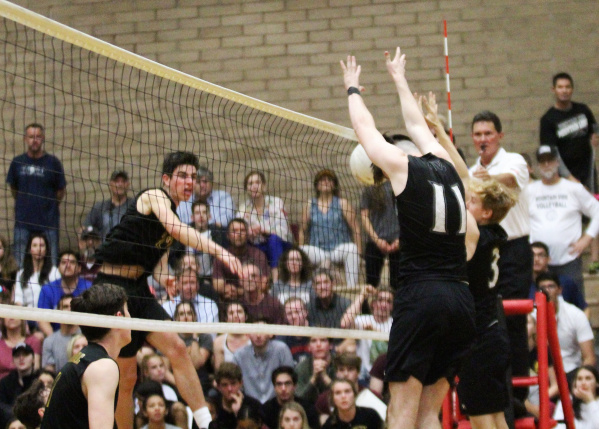 (Michael Mandala/Andy Morales/AZPreps365.com)
---