5A baseball preview: #1 Nogales, #2 Horizon lone unbeatens
May 8, 2019 by Les Willsey, AZPreps365
---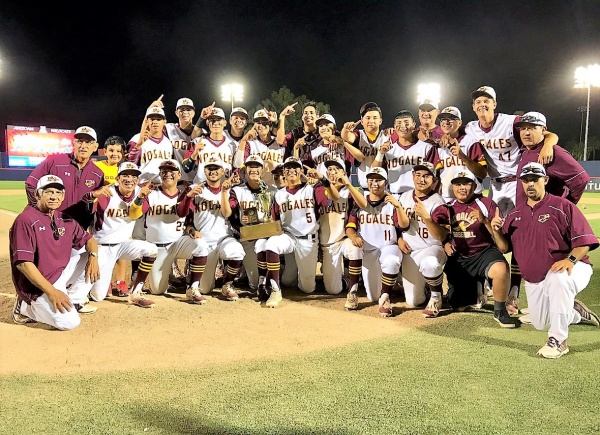 The top two 5A seeds -- #1 Nogales and #2 Horizon -- have taken care of business so far. Nogales with ease and Horizon in three tight games.
Each needs one more victory to secure a championship game berth. Nogales' final bracket road block is No. 4 Desert Mountain while Horizon faces No. 14 Notre Dame Prep, a Northeast Vallety Region rival.
A look at what these teams have done to advance to the semifinals:
#1 Nogales (25-4): Nogales has seamlessly made the jump from 4A (champions last two years) to 5A. In its three tournament games to date its encountered little resistance with wins over Sunnyside (11-2), Verrado (10-1) and Desert Mountain (5-2). The Apaches' pitching has remained as good as it was in the regular season. Staff ace Alec Acevedo sports a 7-0 mark and has two tournament wins -- Sunnyside and Desert Mountain. Mathew Bachelier is 4-1 and threw four shutouts innings in beating Verrado. Gerardo Martinez (5-1) and Miguel Vega (5-1) have served in relief roles. Acevedo is 5 for 10 batting with 4 RBI in the tournament. Jesus Lopez is 7 for 12, 4 RBI and Jorge Bojorquez 6 for 11, 2 RBI.
#2 Horizon (22-7): Runs and hits have been hard to come by for the Huskies, but pitching has them perfect in three games. Horizon owns victories over Gilbert (5-2), Cactus Shadows (5-4) and Millennium (1-0). It's been the Sam Page show with the senior claiming two wins in a pair of six-inning starts. Kody Huff has finished off every game with an inning of work and Tanner Scheub came up clutch with two innings of relief in the win over Cactus Shadows. Horizon is averaging five hits a game and not quite four runs. The only hot bat belongs to Tony Sortino, who is 5 for 6 with 3 RBI. Huff knocked in the lone run in the win over Millennium. Derek Smith had a 3-RBI game vs. Cactus Shadows and knocked in the game-winner.
#4 Desert Mountain (26-6): The Wolves are the third team from the Northeast Valley Region to punch a semifinal ticket. They've knocked off Paradise Valley 7-4 and Sunrise Mountain twice -- 14-2 and 2-0. What's left Desert Mountain is managing to defeat Nogales twice to reach the final. Its only loss a 5-2 defeat last week to the Apaches. Pitchers Paul Sachen and Max Walker have been a solid 1-2. Sachen has yet to allow an earned un in 10 innings and Walker one in 6 1/3. Sachen homered and earned a win in the triumph over Paradise Valley. Drake Mueller, Anthony Caraballo, Aidan Storm and Michael Pizzagoni combined for 10 RBI in the initial win over Sunrise Mountain. Walker, Sachen and Caraballo threw a combined two-hitter in the second Sunrise Mountain matchup.
#14 Notre Dame Prep (16-14): The Saints have at least matched their semifinal finish at state from last year albeit then as a #6 seed. Their road has been tougher this time around. They won a play-in game to advance as the #18 seed with a 6-2 win over Higley. A 7-6, extra-inning win over #3 Casteel followed and then an 11-0 drubbing to Millennium. Solid pitching has returned the past two games with 5-2 and 7-2 wins over Cactus Shadows and Millennium, respectively. Elmer Dessens has been lights out with 12 innings pitched, two wins and no earned runs allowed (two unearned).
---