6A softball: Red Mountain edges Xavier for semifinal berth
May 8, 2019 by Les Willsey, AZPreps365
---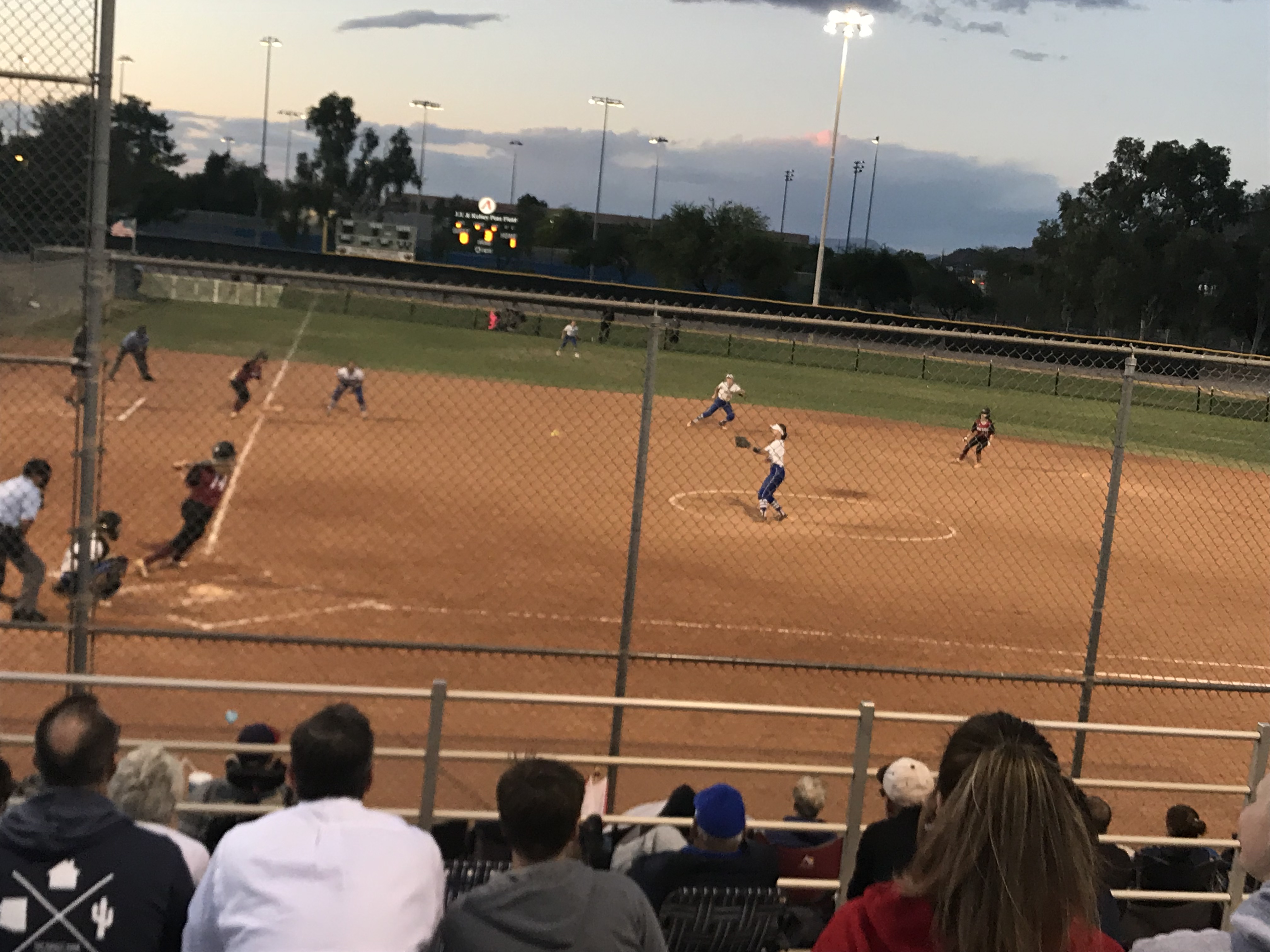 Red Mountain softball coach Rich Hamilton knew what kind of game to expect Wednesday night in his team's 6A state tournament elimination matchup with Xavier Prep.
"It won't be like the game we played them the first week of March (March 2 to be exact)," Hamilton said of the rather ragged 13-11 slugfest his team secured. "That was our second game. Both teams are much better than we were then."
Hamilton was correct. Both teams freshmen ace pitchers, who were anything but sharp that day, have rapidly matured. Defense have tightened up and the rematch was playoff worthy with #3 Red Mountain hanging on for a 3-2 victory over #4 Xavier at Rose Mofford Complex.
Red Mountain (23-6) advances to Friday's semifinals and gets a second chance against unbeaten Sandra Day O'Connor at 5:15 p.m. at Rose Mofford. If Red Mountain wins, it will force a second game 30 minutes after the first for the right to play in Monday's title game at ASU. Xavier, arguably the most surprising team in 6A this year, finished 17-5 under first-year coach Brad Downes.
Both pitchers -- Red Mountain's Taylor Trowbridge and Xavier's Riley Flynn - gave up a few more hits than usual, but bore down when needed to limit avoid big innings.
Trowbridge overcame a physical ailment that might be felt more over night or in the morning than it was in the game. She took a hard liner off her right instep off the bat of Xavier's Jazmin Andrade with two outs in the top of the first.
Trowbridge walked it off for a few moments, threw some warmup pitches to test it and continued. She was bailed out of a two-on jam when second baseman Makayla Donahoo relayed a throw to the plate to foil a double steal, cutting down Bridget Donahey.
"This was the Taylor show," Hamilton said. "For her to pitch like she did after taking that shot. She battled each at bat. There were a lot of hitters she got behind 2-0 or 3-1 and came back with two strikes most of the time. She ended up getting a lot of pop-ups because her pitches have good movement."
Red Mountain, after getting out of the first-inning jam, grabbed a 1-0 lead in its half of the inning. An infield hit by leadoff hitter Michelle Anderson and steals of second and third set up a ground-out RBI by Donahoo - her first of two in the game.
Red Mountain pushed the margin to 3-0 in the third by bunching three hits -- a Kameron Coffey double, Anderson bunt single and RBI single by Cayden Bullock. In between Donahoo knocked in the second run with another ground out.
"She's like Derek Jeter," Hamilton said. "She doesn't worry about her batting average. She's all about moving runners over. She's done that all year."
Flynn allowed nine hits with five of them infield hits or well-executed bunts as Red Mountain took advantage of speed it possesses with its left-handed hitters.
Xavier got on the board in the fourth with Bridget Donahey blasting a long home run to left-center. Donahey was 3 for 3 in the game. Donahey's third hit -- a single in the sixth - led to the Gators' final run. Macy Lee's single drove in Donahey with one out.
Xavier had runners at second and third with one out and looked like it would get more off Trowbridge. But Trowbridge got a popout to third and breathed a sigh of relief with all the Red Mountain faithful getting Flynn on a fly out to Anderson at the centerfield fence. Trowbridge retired Xavier in order in the seventh avoiding facing the Donahey for a fourth time.
Anderson led Red Mountain going 3 for 3 and Echo Mattiello was 2 for 3. Elliott Smith was 2 for 3 for Xavier.
#12 TUCSON 6, #6 CIBOLA 3: The Badgers built a 5-0 lead in the first three innings and went on to eliminate the Raiders.
Alyssa Trejo, Karina Somoza, Marissa Chacon, Kelli Samorano and Ana Rodgriguez each had an RBI for Tucson. Top hitter Carlie Scupin walked five times. Trejo led Tucson with three hits and Maricella Castro and Melina Silvain had two hits apiece.
Tucson faces unbeaten top-seed Pinnacle in the semifinals on Friday at 5:15 at Rose Mofford. If Tucson wins it will play Pinnacle again 30 minutes after the first game for the right to advance to Monday's title game.
---