6A boys volleyball: Chandler, Mtn. View advance to title match
May 9, 2019 by Les Willsey, AZPreps365
---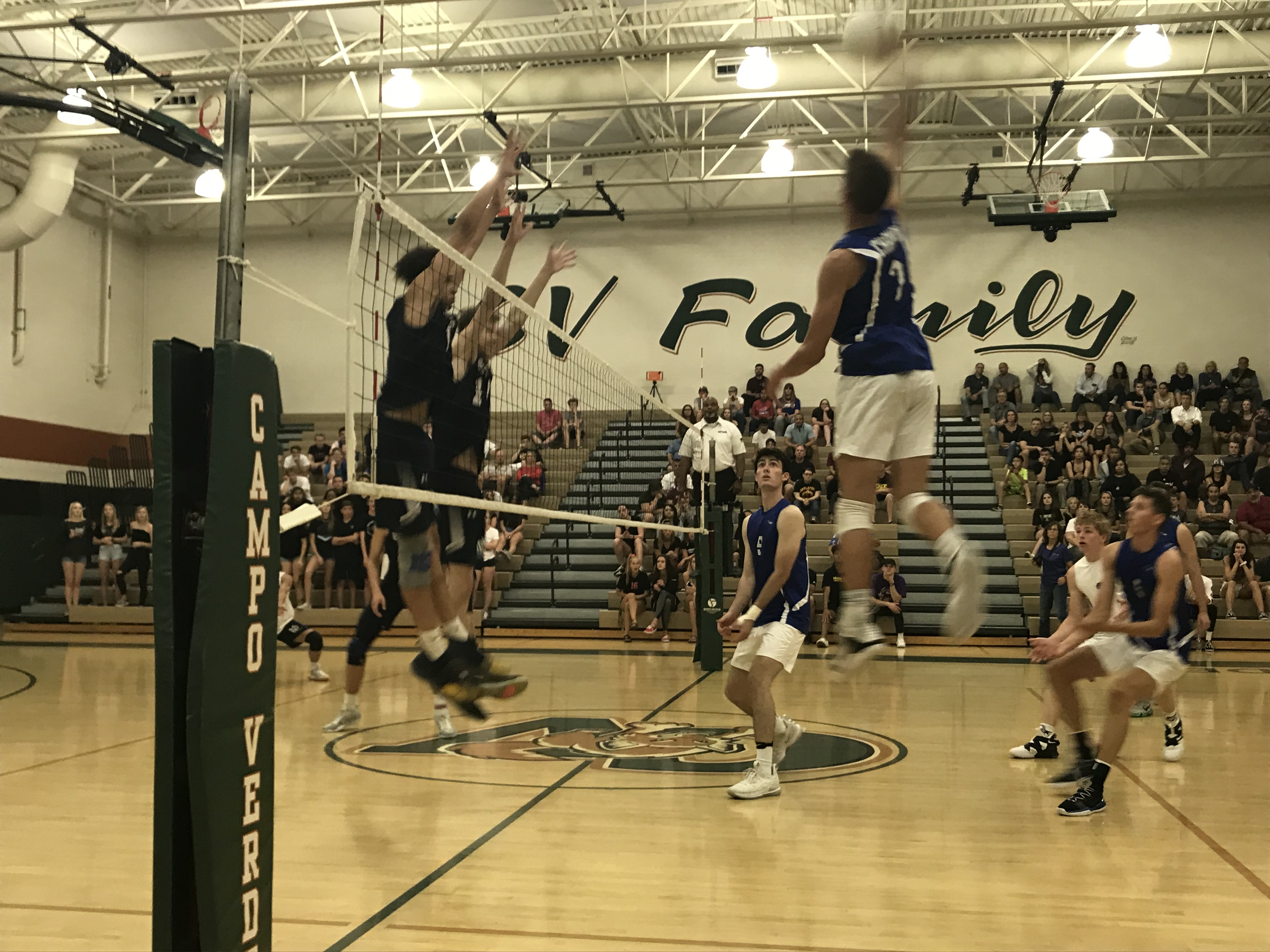 #2 Chandler opened the season with a sweep of defending 6A champ Desert Vista. The Wolves faced a checkup better than two months later Thursday night with the third-seeded Thunder.
Although Chandler lost a set it controlled the bulk of the match in unseating the champs, 3-1, in the state semifinals at Campo Verde High School. Scores were 25-21, 25-19, 17-25 and 25-21.
Chandler (25-6-4) advances to Saturday's final against No. 4 Mountain View (33-5-1), which took down top-seed Highland (29-8), 3-1. The title match is set for 7:15 at Highland High. Desert Vista finished its season 37-7-1. It's Chandler's second trip to the title game in three years. The Wolves were runners-up in 2017.
Chandler has lots of offensive weapons and the one that stood out this night was senior Tyler Castellani. The 6-foot-4 middle was trouble all match for Desert Vista. He finished with 12 kills and his kill percentage was .733.
"Tyler's been hitting better than .400 all year," Chandler coach Bobby Robson said. "He missed a chunk of time with a concussion he suffered in a match against Highland. It was a tough stretch of games for us. When he got back he picked up where he left off."
Chandler endured the toughest match of the semifinalists in the quarterfinal round on Tuesday, edging No. 7 Mesa, 3-2.
"We had to fight for our lives the other night," Robson said. "But we came out of it confident, and played that way. I was really proud of the composure our guys showed winning the first two sets, losing the third and then picking up in the fourth like we did the first two. We've got six seniors who have been through a lot. I'm happy for them and us."
Desert Vista opened the fourth set with momentum from its third set win. Chandler didnt allow the Thunder to advance that momentum and by the mid-point of the set fashioned a four-point lead. Desert Vista led only once in the fourth set so it was much like the first two when the Thunder never led in either.
Castellani capped his big match with five kills in the final set and rang up the match clinching point with a block.
Helping Castellani in the kill department, fed by setter Trey Weinstein were Braxton Bradbeer (16 kills), Tyler Sprungman (14 kills) and Adam Ray (8 kills).
Desert Vista's attack was led by senior Landon Fuller (15 kills), middles Mason Harbertson (10 kills) and Chase Thomas (10 kills) and Dapre Rogers (10 kills).
MOUNTAIN VIEW DEFEATS HIGHLAND, 23-25, 25-22, 25-23, 25-22: The Toros rebounded from a first-set loss and managed to outast the Hawks in the tightest match of the night at Campo Verde.
Mountan View is in the big-school final for the first time since 2011 when it defeated Salpointe for its only title in the sport. This year is Mountain View's fourth final-four appearance since winning the 2011 crown.
Many teams might have been stunned into a funk with the manner Mountain View dropped the first set with Highland. The Toros built an early 10-3 lead, but fell after leading all the way to 19s.
"I might have been worried, but both teams were playing incredible volleyball that first set," Mountain View coach Kevin Powell said. "Even though we lost we were still playing good. We really weren't too worried and kept up a good level of play. Both teams are so good. We constantly challenged each other."
Making huge plays at crunch time in each set Mountain View won was senior outside hitter McKay Anderson. Anderson's block notched set point in the second set. In the third set with the score tied at 23 he posted a kill and followed with an ace to close it.
In the fourth set, one in which neither team led by more than two until the final point, Anderson supplied a kill and ace to but the Toros up 22-20. Highland battled back to tie at 22 and Mountain View went back on top 23-22 after a Hawks' hitting error. The final two points came from sub Charlie Jones (two kills).
Anderson and middle hitter Carson Sherwood paced Mountain View with 13 kills apiece and Jackson Reed, one of the smallest Toros on the court, added eight and several timely blocks.
"It was a great match," Highland coach Jeff Grover said. "The last set was probably the best with the all the side outs keeping it close all the way. Really fun to be a part of this match. Proud of our guys and all the heart they've shown all year."
Highland's offense was led unoffiicially by Jeremy Brown (16 kills), Curtis Stone (14 kills) and Talalelei Pauga (11 kills).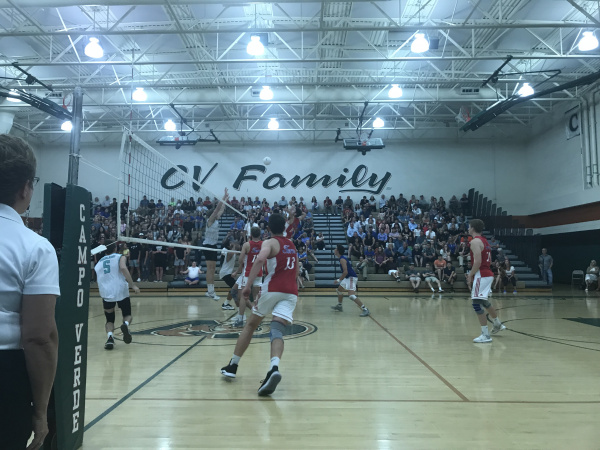 Mountain View's Carson Sherwood (farside of court) goes high to deliver a kill in the Toros' 4-set win over Highland. (AzPreps365 photo).
---