6A baseball: Mtn. Ridge, Corona say let's play two
May 10, 2019 by Les Willsey, AZPreps365
---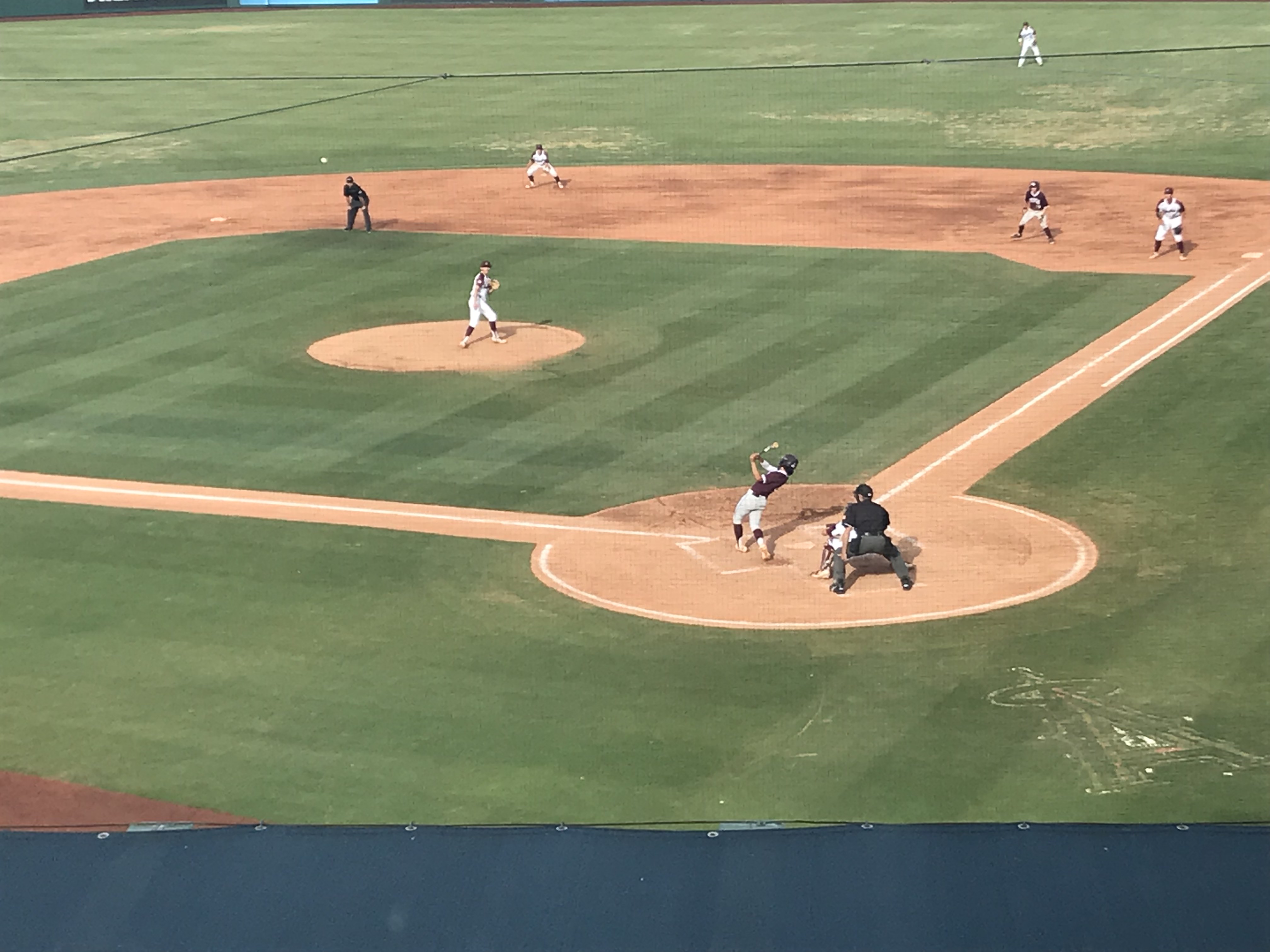 Mountain Ridge continued to work its way back to another 6A championship game appearance Friday by dealing #2 Hamilton its first loss of the tournament at Diablo Stadium.
Zach Rogers tossed 5 1/3 strong innings and Travis Warinner knocked in three runs with a double and sacrifice pop up as the Mountain Lions topped the Huskies, 4-1.
Both teams now have a loss each in the top half of the 6A bracket and will play at either 4 p.m. or 6:30 p.m. Saturday for the right to play in the title game on Tuesday May 14. Mountain Ridge is 18-14 and Hamilton 24-7 for the season.
"I guess we'll do this all over again tomorrow," Mountain Ridge coach Artie Cox said, marveling somewhat at what his team has accomplished the last two weeks, but confident in that process.
Rogers, a junior, was setback a few weeks ago by a minor lat issue and worked his way back to the mound as the playoffs began. This was his third outing, and according to Cox, each has been better than the previous one. Friday's was just what the Mountain Lions needed and more.
Rogers allowed four hits, one walk and struck out one before leaving with a runner on in the sixth and a 4-0 lead to buoy him. That lead came courtesy of Kyler Stancato's RBI double in the third and a huge two-out, two-run double by Warinner in the fourth.
Cox said Warinner was expecting to see a curve ball on his key hit and got it drilling it deep to the left-field corner.
Submariner righty Brock Peery finished the sixth for Rogers giving up an RBI single to Will Maxey for Hamilton's lone run.
Peery needed last strike relief help from sophomore Matt Martinez to earn the Mountain Lions another game with the Huskies. Peery had a two-strike count on Dustin Bermudez when he was lifted. Taking Peery out allows his use Saturday as his pitch count was kept at the maximum allowable to be used againg.
Hamilton, after scoring eight runs in its first playoff game with Queen Creek has tallied just four the last three games.
"Dustin didn't pitch that bad, but he threw a lot of high-leverage pitches," Hamilton coach Mike Woods said. "We had a chance to score early, but they made a couple plays. The one in the first inning (Colton Neville's robbing of an extra-base hit at third and turning it into a double play) was a game-changer.
"Hey, they played really well, we didn't play good enough. We should be able to score four runs. Fortunately we have a mulligan."
CORONA DEL SOL 10, RED MOUNTAIN 6: The #4 Aztecs rallied from a 6-2 deficit to force a final game for a title-game berth against the #8 Mountain Lions. A six-run, sixth inning keyed by three Red Mountain walks and a pair of errors bit the Mountain Lions in their bid for a first-ever baseball title-game appearance.
Corona and Red Mountain meet again Saturday at 6:30 at Diablo for the right to play in the title game on Tuesday night.
The game had several twists and turns. Those showed how humbling it can be. Players who scuffled early in the game bounced back and players who have been lights out met some adversity.
Red Mountain built a 6-2 advantage over four innings. Corona was anything but sharp during that stretch as its defense committed four errors. That combined with timely Red Mountain hitting had the Aztecs nearing the brink of elimination.
Red Mountain starter Daevion King began to tire as he finished out the fifth inning giving up four hits and two runs - both scoring on a long two-run double by the Aztecs Brian Kalmer.
King began the sixth allowing two hits so Red Mountain's strategy of not starting ace Kai Murphy seemed to pay off with Murphy available to perhaps finish out the game and the Aztecs.
But Murphy, who hadn't allowed a run in 12 innings in the tournament, struggled throwing strikes. After a dropped throw at second loaded the bases off the first hitter Murphy faced, the senior lefty uncharacteristically walked the next three batters forcing in the go-ahead run with the last. RBI walks went to Bryan Webb, Daniel Sotelo and Cade Verdusco.
Red Mountain coach Rob Gorrell replaced Murphy to save his chance to pitch in the game Saturday. Murphy threw 25 pitches - six more would have forced him to rest a day.
Reliever RJ Elmore came on and induced a chopper to third from Hunter Haas that was thrown away. Three runs scored and the Aztecs' rally was complete at 10-6.
The redemptive nature of the game turned to Corona del Sol's Sotelo. Sotelo, a four-year varsity veteran and pitching stalwart throughout his career, missed most of this seasonr pitching due to arm issues.
Coach Dave Webb called on Sotelo to relieve starter Bryan Webb to begin the fifth and Sotelo responded with three shutout innings. Sotelo made two errors earlier in the game contributing to Red Mountain rallies.
---