6A baseball: Hamilton rebounds from loss to reach title game
May 11, 2019 by Les Willsey, AZPreps365
---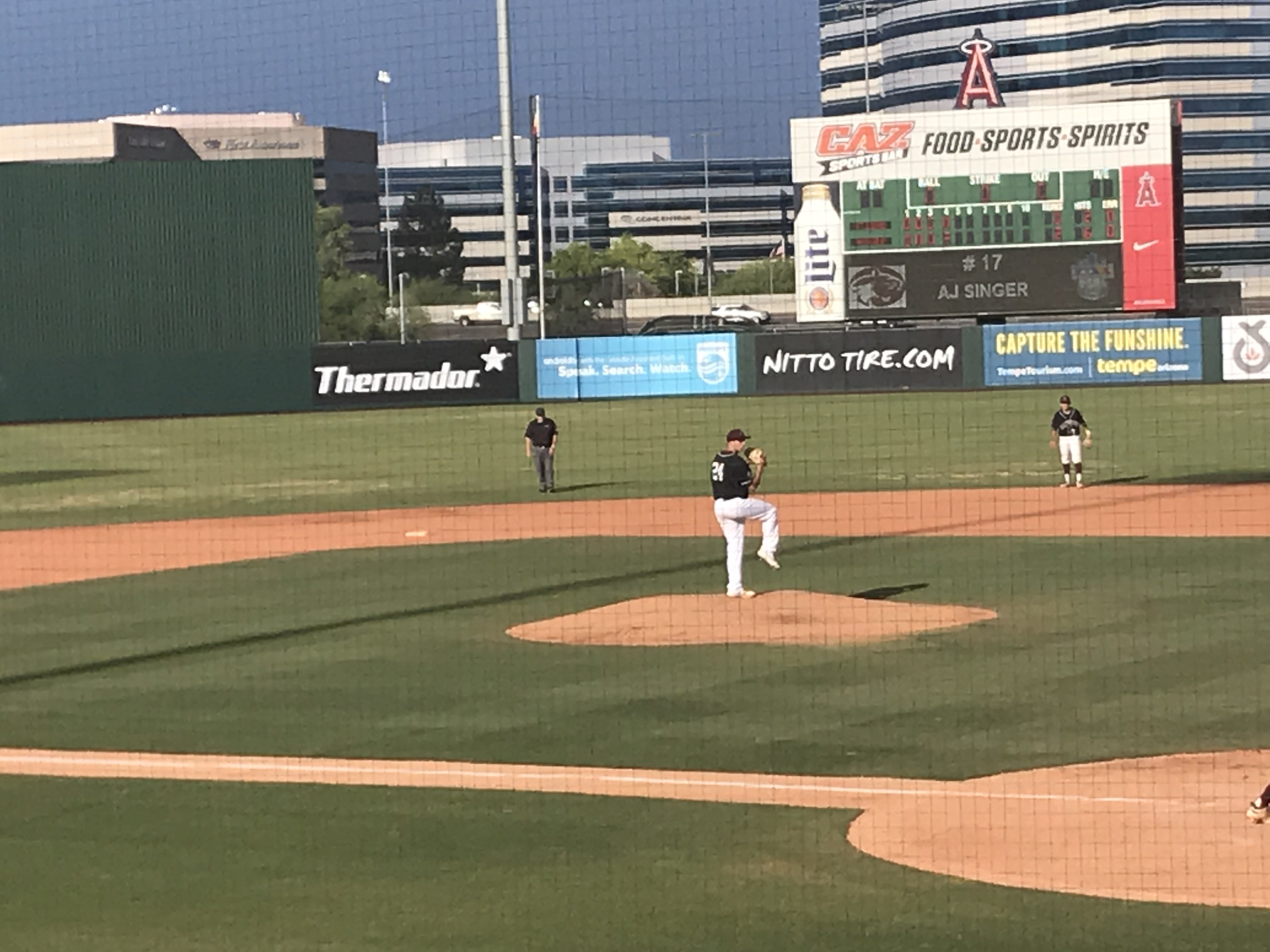 For Hamilton fans and their players -- Saturday was more like it.
The #2 Huskies put all facets together, particularly the offense, from mid-game on Saturday and defeated the surprise of the tournament Mountain Ridge, 9-0, at Diablo Stadium.
Hamilton (25-8) takes on #4 Corona del Sol, a 6-5 winner over #8 Red Mountain in Saturday's late semifinal. Hamilton and Corona del Sol play Tuesday at 7:10 p.m. at Diablo. Mountain Ridge, the #19 seed when the postseason began and #14 in the tournament, closed the season 18-15.
Hamilton sent its ace, 6-foot-4, left-hander Shane Murphy to close the deal and the senior did just that. Murphy went the distance scattering eight hits, walking two and striking out four.
"I didn't have my best stuff today," Murphy said. "I had a good fastball and a change, but my breaking pitch really wasn't there. I just concentrated on throwing strikes and trying to get ahead of hitters. It wasn't my best, but it was efficient."
Murphy ran his season record to 9-0 and the shutout reduced his earned run averge to 0.60.
"He's had an outstanding year," Hamilton coach Mike Woods said. "The teams he's pitched against are all legit. We finally got the bats going. The last few games we couldn't get a breakthrough hit. Today I think it was Kyle's (Hasler) double in the fourth inning when we got a couple runs. That got us going."
Hamilton took a 2-0 lead in the fourth getting a sacrifice fly from Brandon HIll and a hustle infield single by Easton Erwin, a controversial call at first, that went the Huskies' way.
Hasler, who put down two bunts along with his double and a walk, made it 3-0 with a squeeze in the fifth. By that time Mountain Ridge sophomore starter Cayden Collins was out after four decent innings and the Huskies went to work four more Mountain Lions' pitchers. Hamilton busted it open in the bottom of the sixth plating six runs.
Hamilton totaled 12 hits and eight players collected an RBI -- Will Maxey, Michael Brueser, Tyler Wilson, Hasler, Hill, Brock Selvidge, Jose Valenzuela and Erwin.
"It's hard to beat teams back to back," Mountain Ridge coach Artie Cox said. "They swung it way better today. We had a tough call early and we tried to use it to fire up the guys. Toward the end it got away from us."
Cox knows the future is bright. This team, along with instilling fear in the tournament field, put everyone on notice for next season.
"What they've done is put themselves on the map for next year," Cox said. "They have a lot to be proud of. I know I'm proud of them."
CORONA DEL SOL 6, RED MOUNTAIN 5: Matteo Baker's infield chopper with one out in the bottom of the seventh delivered the winning run as the fourth-seeded Aztecs (24-9) edged the eighth-seeded Mountain Lions (22-9).
Corona will play in its first championship game in 10 years. Ironically the last time the Aztecs played in the final it was against Hamilton and a win over the Huskies in 2009.
Corona prevailed thanks to in great degree to the pitching of Nick Schobinger. Schobinger split pitching duties with starter David Utagawa. Utagawa worked the first 3 1/3 innings, but had a rough time in the fourth when Red Mountain scored four times to turn a 4-1 deficit into a 5-4 lead.
Schobinger worked the final 3 2/3 innings. The right-handed, sidearmer limited Red Mountain to one hit and one walk over that span.
Corona produced the game-winning run against hard-luck, losing pitcher and reliever RJ Elmore. Elmore entered in the fifth taking over for starter Kai Murphy. Murphy was victim of the pitch count as he threw 100 pitches in four innings and was lifted.
Elmore allowed two hits and no runs in his first two innings of work. An error, one of four Red Mountain committed in the gam and a passed ball, bit hard in the seventh.
Wyatt Berry reached on the error to begin Corona's half of the seventh. Elmore then fanned Ulises Jimenez. Corona catcher Ben Click singled to left and a passed ball with Baker at the plate moved the runners to second and third.
Baker chopped a 1-0 pitch slowly past the Elmore and charging second baseman Nate Campos' throw to the plate was too late to get Berry.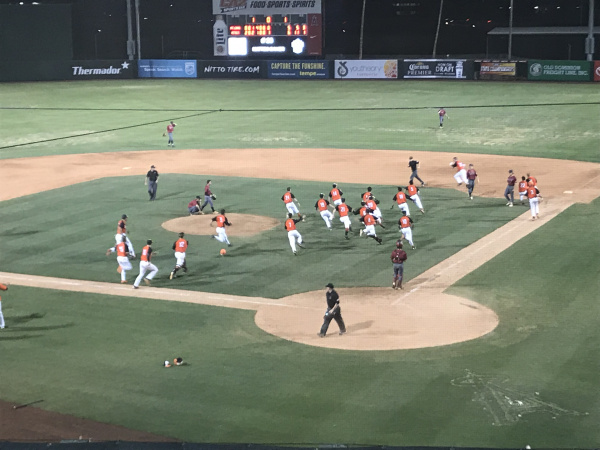 Corona del Sol players chase down teammate Matteo Baker after the senior outfielder delivered the game-winning hit vs. Red Mountain (AzPreps365 photo).
---