Campo Verde wins 5A boys volleyball championship
May 11, 2019 by Andy Morales, AZPreps365
---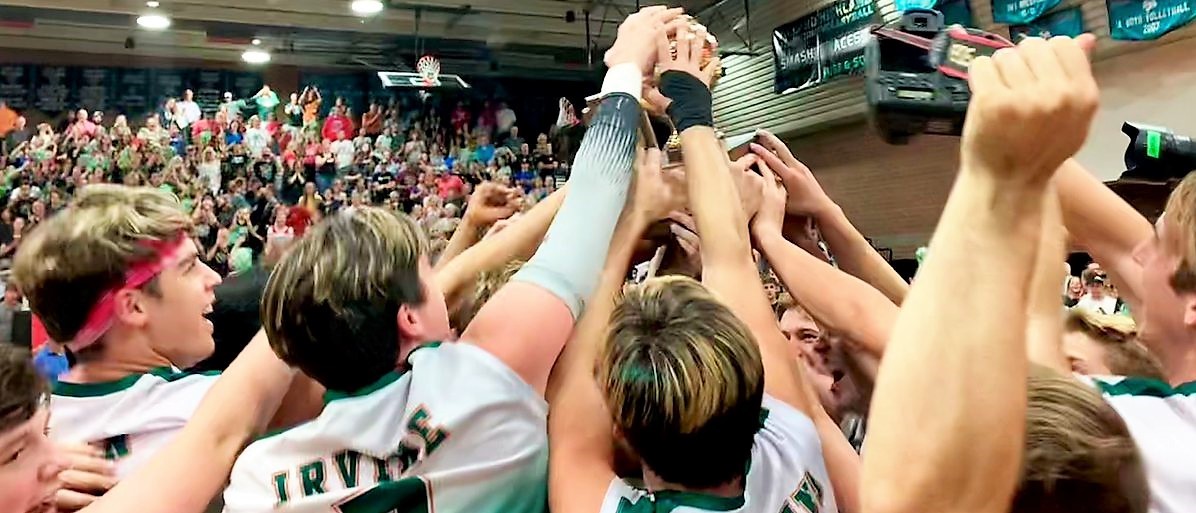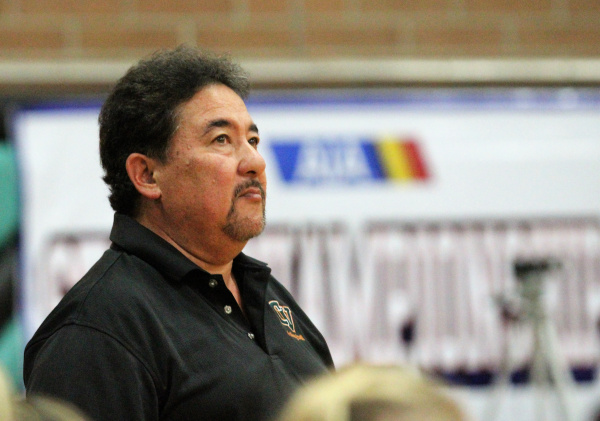 (Brian Hiapo/Andy Morales/AZPreps365.com)
No. 4 Campo Verde beat No. 3 Mountain View Marana 3-0 Saturday night at Highland High School to capture the 5A state boys volleyball championship. It may have been the first trip to the state final for both programs, but the setting was a familiar one for Campo Verde head coach Brian Hiapo.
Hiapo coached the Highland girls volleyball team at the same time his wife, Vee Hiapo, coached the Highland boys. She led the Highland team to three state championships before stepping away in 2013 to coach junior college. She went on to coach the Campo Verde boys in 2016 and she left the Coyotes after the 2017 season to coach her daughter, University of Arizona commit, Kamaile Hiapo at Skyline. Her 2017 Campo Verde squad made it all the way to semifinal round and her husband, Brian Hiapo took over in 2018 and he credits the groundwork his wife put in for his championship.
"This championship was part of four years of hard work," Brian Hiapo said. "My wife started the system here and everything worked out. It was wonderful."
Part of that groundwork in 2016 was freshman setter Tyler Poulsen. Poulsen graduates with over 2100 assists in his career but he also became a threat at the net and he ended his time with the Coyotes as one of the top attackers on his team. A complete player.
Unofficially, Poulsen collected 33 assists, six kills, four blocks and three aces against Mountain View.
"We came in with something to prove because we were ranked below Mountain View," Poulsen explained. "Everything just started to come together and you could feel how close we were on the court and it all started with our passing."
Mountain View (31-8) had a difficult time getting any kind of offense going and Campo Verde (28-2) took full advantage. It was a cycle that repeated itself over and over again with a bad pass by the Mountain Lions forcing a playable ball for the Coyotes and then Poulsen found his main hitters, Tyler Watts, Albin Mathew and Jesse Lowder, for what seemed like endless scores. In a flash, the Coyotes took the first set 25-12, the second set 25-15 and the final set 25-19.
For Mountain View, seven trips to the state playoffs since 2005 had only resulted in one trip to the second round and none since that 2007 win. The program went out in the first round five times before stringing together three straight wins to make it to the state final this spring.
Coaches talk of chemistry but Mountain View head coach Lindsey Spivey got very emotional confirmation of her success after the loss as her players gathered around her in a hallway, far removed from the celebration taking place in the Highland gymnasium.
"They got together and talked and they told each other how they came here as friends and are leaving as family," Spivey said. "This loss doesn't define our season. Campo Verde played some excellent volleyball for sure. They were on, but I was proud of how our boys were composed on the court and in our talk. To me, that's a sign of success."
Spivey says goodbye to six seniors, including Elijah Elmer, Darean Schug and Caleb Crook, but she gained a legacy of winning, off and on the court. In the long run, that legacy will grow stronger.
Brian Hiapo also reflected on his team as they hoisted the championship trophy. His team started the season out 0-2 but then the wins started to pile up. His championship run was almost derailed with a 3-2 win over Millennium in the quarterfinal round, but, in the end, it fell in line with all the other victories.
"The boys peaked at the right time," Hiapo added. "This is just a wonderful feeling."
Find photos of the match at MaxPreps.com
---