4A baseball: Salpointe's clutch hits earn it a first title
May 13, 2019 by Les Willsey, AZPreps365
---
No. 2 Salpointe Catholic spent a lot of time striking out Monday night in its fourth bid in school history to win a baseball championship. The Lancers fanned 15 times.
The times they did not, however, they made a few hits count. Enough to outlast No. 1 Mesquite, 4-3, and garner that elusive first-ever crown in the 4A title game at Mesa's HoHoKam Stadium. Salpointe finished with a 25-5 record while Mesquite settles for its third runner-up trophy at 28-5.
"Our kids have been relentless this year," Salpiointe coach Danny Preble said. "Mesquite has a great team, but our guys are not scared of anything. They wanted this badly."
Salpointe, runners-up in 2017, 1997 and 1996, used a six-inning stint by junior left-hander Jaeden Swanberg and a pair of two-out, run-scoring hits in the third and seventh-innings, respectively, to come up the winner. JoJo Cornejo's two-run single in the third erased a 1-0 Mesquite lead that held up through the fifth.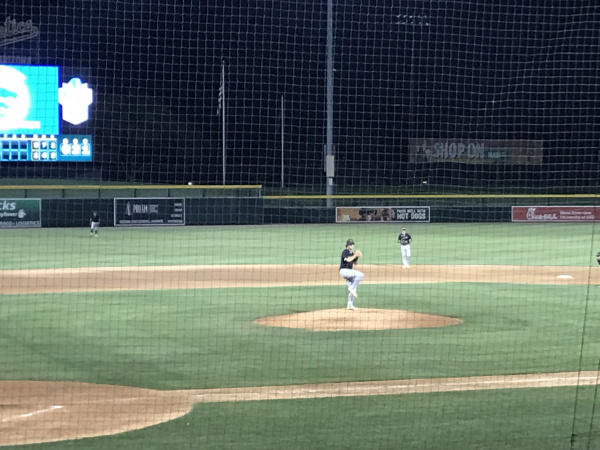 Jaeden Swanberg's six innings of work helped Salpointe knock off top-seed Mesquite for the 4A title. (Azpreps365 photo)
Mesquite sent its ace, TJ Clarkson (9-0) to the mound to see if he could notch the Wildcats' 20th win in a row and add a second state title trophy. Clarkson delivered 12 strikeouts and five hits over 4 2/3 innings. The strikeouts served the Wildcats well, but also upped his pitch count. Clarkson left having thrown 101 pitches and allowing two runs.
When he left after recording his 12th strikeout, Salpointe had two runners on. They moved up a passed ball and one scored a few pitches later on a wild pitch before reliever Jacob Henderson finished the inning with a K. Salpointe took a 3-1 lead to the seventh.
Henderson secured two quick outs to begin the seventh, but the Lancers' two-out magic reappeared. Preble called on a pinch-hitter - lefty Nomar Basurto - to face Henderson and the hefty junior responded with the longest hit of the day - a triple to the right-centerfield gap. That man Cornejo followed looping a hit to center off shortstop Holden Breeze's lunging attempt to snare it. That extra run proved huge.
Mesquite loaded the bases with no outs in the bottom of the seventh. They chased Swanbert with Holden Breeze's leadoff single. Preble summoned Cade McGee to finish. McGee had worked three innings in the tournament and not allowed a hit or run. McGee struggled initially. He hit Grant Gorrell with a pitch and walked Clarkson to load the bases with no outs.
McGee ran a 3-2 count to cleanup hitter Davis Heller and got Heller to hit into a fielder's choice ground out to short that cut the lead to 4-2. Jayden Orozco followed with a sacrifice fly to make it 4-3. Heller stole second uncontested putting the tying run in scoring position. McGee started the celebration escaping without more damage with a strikeout.
"He's been our closer the last couple weeks," Preble said. "We have confidence in him. He got it done."
For Mesquite, it was a hard defeat to handle after all the winning that had gone on the past two months.
"It's a tough one," Mesquite coach Jeff Holland said. "We had our chances. Couldn't get the big hit. Bases loaded, one out in the third. Didn't score. Two on one-out in the sixth. They got all their runs with two outs, and they outplayed us."
---