Mogollon takes down defending champ in 11 innings
May 13, 2019 by Jose Garcia, AZPreps365
---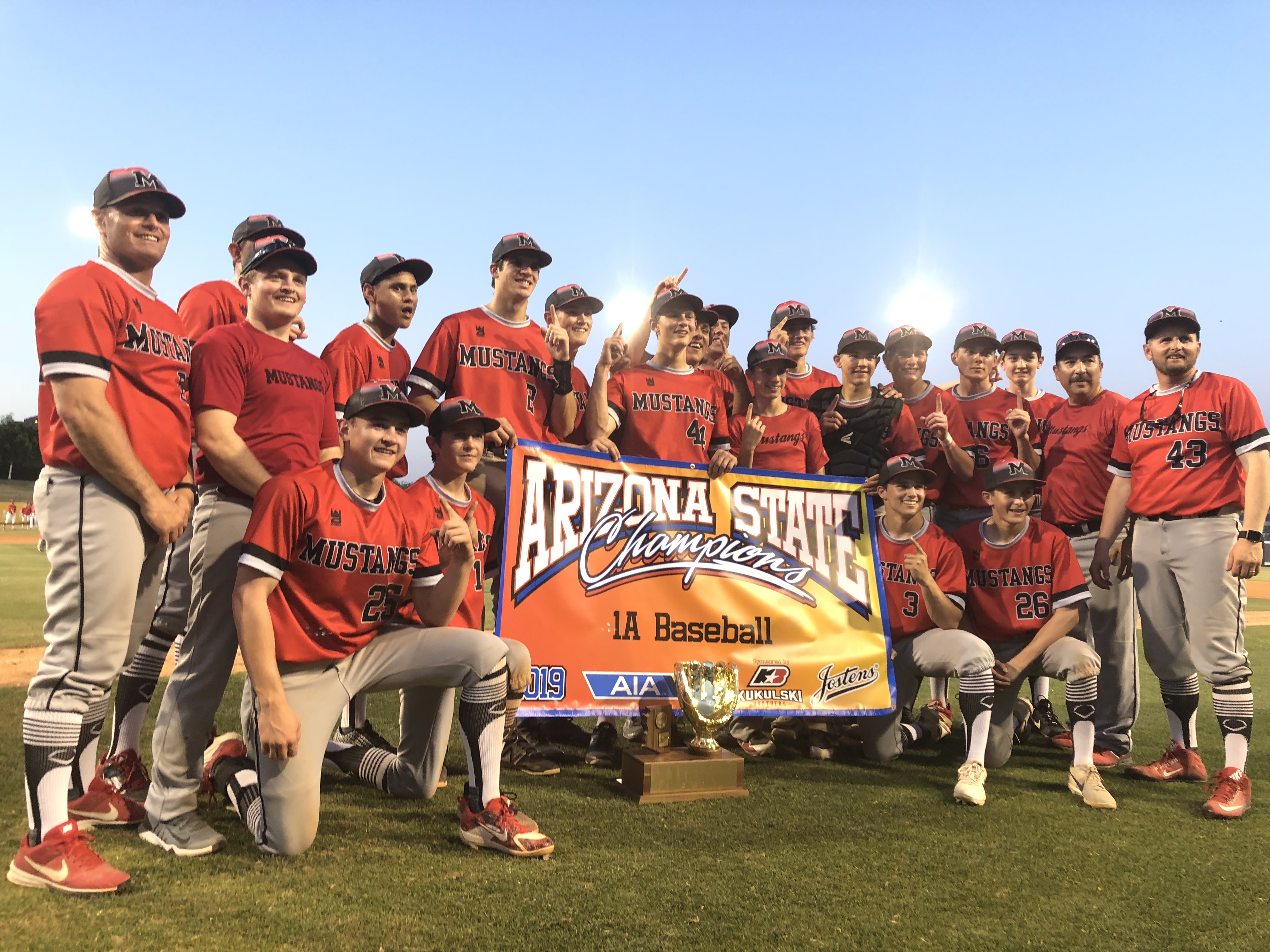 Mogollon lost in the first round of the 1A Conference state tournament last year.
But something entered the players' minds after that early exit. A championship was within reach, Mogollon believed.
That seemed farfetched for a program that hadn't won 20 game since who knows when, and it only tallied 10 victories last year. But Mogollon was right.
That first round loss sparked a state championship run this season, culminating with a 6-2 win at Tempe Diablo Stadium against Bagdad, the No. 1 seed.
Superior, the team that defeated Mogollon by one run in last year's playoffs, went on to eventually claim the state runner-up trophy in 2018. That proved to Mogollon that it had a state championship caliber squad in hand.
Still, defeating the defending champ, Bagdad, would take a mighty effort Monday. It took No. 2 seed Mogollon 11 innings, but it got the job done.
Mogollon coach Reed Porter knew first hand of the talent he had since three of his sons and two of his nephews started in the championship game. One of his sons, Timmy, pitched 5 2/3 scoreless innings of relief to help preserve the victory.
"I can't put it into words," Reed said. "Being a dad to these kids is amazing. It's pretty special. I couldn't have asked for better sons."
Reed's other two sons, freshmen Cael and Malaki, are twins.
Reed's brother, Laron, is one of his assistants, and Laron's sons, Fisher and Denin, also started Monday.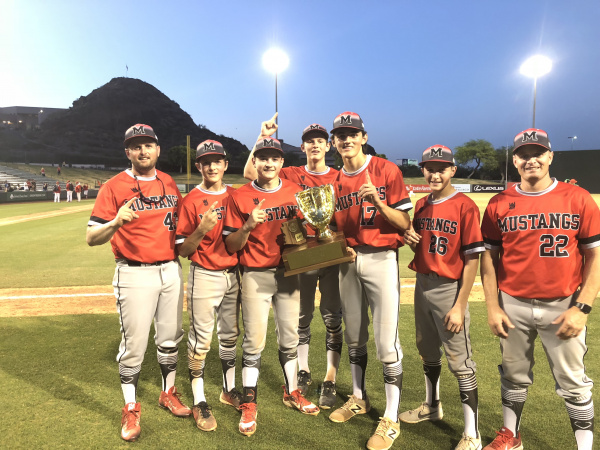 (The Porters)
The game was tied 2-2 after the seventh inning and stayed that way until the top of the 11th inning.
That's when two hit by pitches, a pass ball, a walk and two singles led to four runs for 23-4 Mogollon. Timmy got out of jams with men in scoring position in the 6th, 7th, 9th and 10th innings.
"You just have to trust your defense," said Timmy, who helped his program win its first championship since 2006. "We just have to throw strikes as pitchers. We just had a different mindset this year. We just said we were going to win it."
Connor Watson, Bagdad's starting pitcher, had a fantastic outing himself.
He's just a freshman, but the right-hander struck out nine in 6 2/3 innings of work.
Trailing 2-1, Bagdad loaded the bases in the bottom of the sixth with two outs. After two pitches to Bagdad's No. 6 hitter, Cooper Williams, Timmy came in, but he eventually walked Williams to bring home Bagdad's final run.
But Timmy got the next batter to hit into a fielder's choice to end the bases loaded threat.
Bagdad got on the board first with some help from Mogollon.
Watson, Bagdad's leadoff hitter, walked and advanced to second after an errant pick off attempt by the pitcher in the first inning.
The next batter, Kaylab Owings, singled him in. Mogollon also got some help scoring its first run, with an assist from the sun.
Bagdad's right fielder lost track of a high fly ball, allowing the runner from first to score with two outs in the top of the second inning. It stayed 1-1 until the fifth inning, when Bagdad's right fielder misplayed a single by Malaki on a hit and run play.
The runner on first wound up scoring with two outs.
---