5A baseball championship: Horizon outlasts Nogales 7-4 in 16 innings
May 14, 2019 by Les Willsey, AZPreps365
---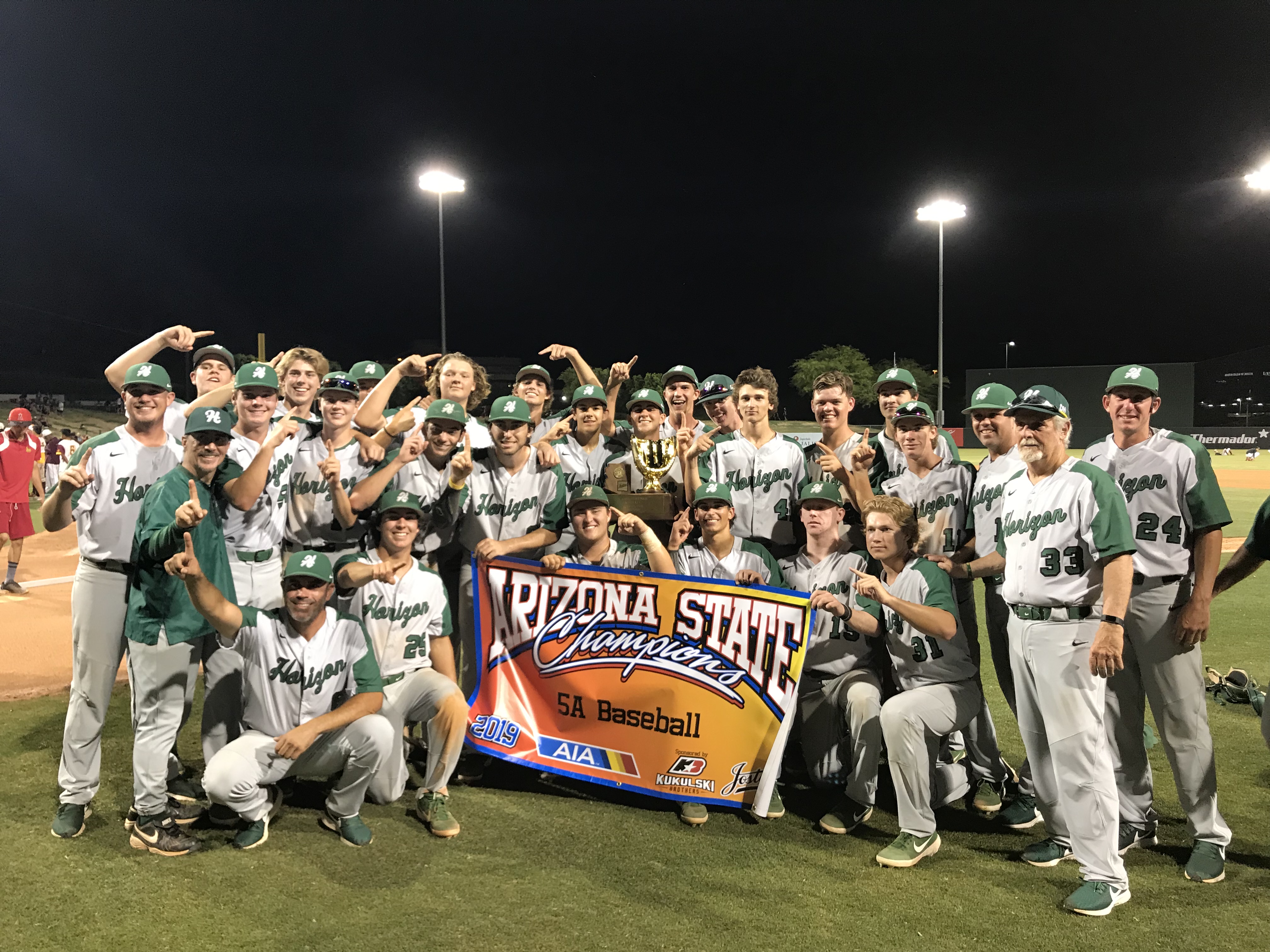 It was fitting two of the winningest programs in their respective conferences over the years locked up in a championship game for the ages -- the longest championship game ever in state history.
No. 2 Horizon, down 3-0 after four innings, rallied to tie and force extras. Nine innings later the Huskies broke the deadlock for good in the 16th inning and scored a 7-4 victory over top-seed Nogales in a 5 1/2 hour marathon at Diablo Stadium. Horizon won all five of its tournament games to finish 24-7. Nogales, which won titles the last two years in 4A, fell just short of a threepeat and finished the year 26-5.
Horizon's championship was its seventh in school history. Nogales picked up its third runner-up in the modern era (before 1959) to go with its four state titles.
"That had to be one of the greatest high school games of alltime," Horizon coach Jeff Urlaub, who took over the program for longtime coach Eric Kibler, said. "I'm just speechless. What I wanted most is for these seniors to go out on top. What they've been through over the last year, they deserve this kind of ending."
It was a good thing both teams had plenty of pitching rested and ready to go. Both had played only four games over the last 17 days. Nogales used seven pitchers and Horizon got by with four -- thanks in great part to closer Kody Huff, who managed to work eight scoreless innings (sixth through the 13th). That was after catching the first five.
There was no scoring from the seventh through the 14th. Horizon excited the fans with a run in the top of the 15th on Austin Corbett's RBI double. Nogales forced it to the 16th with Brayan Espinoza lining an RBI double in the Apaches' half of the frame.
The winning rally in the 16th began with Huff reaching on a hit by pitch. One out later with two runners on Nick Gore broke the tie with a single to right and his fourth hit in eight-at bats. Corbett added another RBI single for the final run sandwhiched around a balk gave the Huskies a 6-4 lead. Corbett finished 2 for 6 and was 0 for 4 before delivering clutch hits in the 15th and 16th innings.
Horizon's fourth pitcher, Sam Buchkowski, handled the final three innings. With a 7-4 lead in hand in the bottom of 16, he allowed a two-out single but welcomed bedlam with a final out pop-up.
Huff is always ready to play whereever needed and got his wish iand thensome in this one.
"I was ready to pitch, but that that was longer than I've gone this year in relief," Huff, who played the final three innings at shortstop said. .. "I think a lot of people counted us out with all the adversity we've had and a first-year head coach. "I couldn't be happier."
Chiristian Jacob added three hits was Tony Sortino. Nogales managed 17 hits led by Alec Acevedo, Nogales' starting pitcher,. Acevedo was 4 for 7 and Espinoza was 3 for 5. Ricky Maytorena, Jorge Bojorquz and Chewy Lopez had two hits apiece.
---