6A baseball: Hamilton's mojo returns in 8-1 title victory over CDS
May 15, 2019 by Les Willsey, AZPreps365
---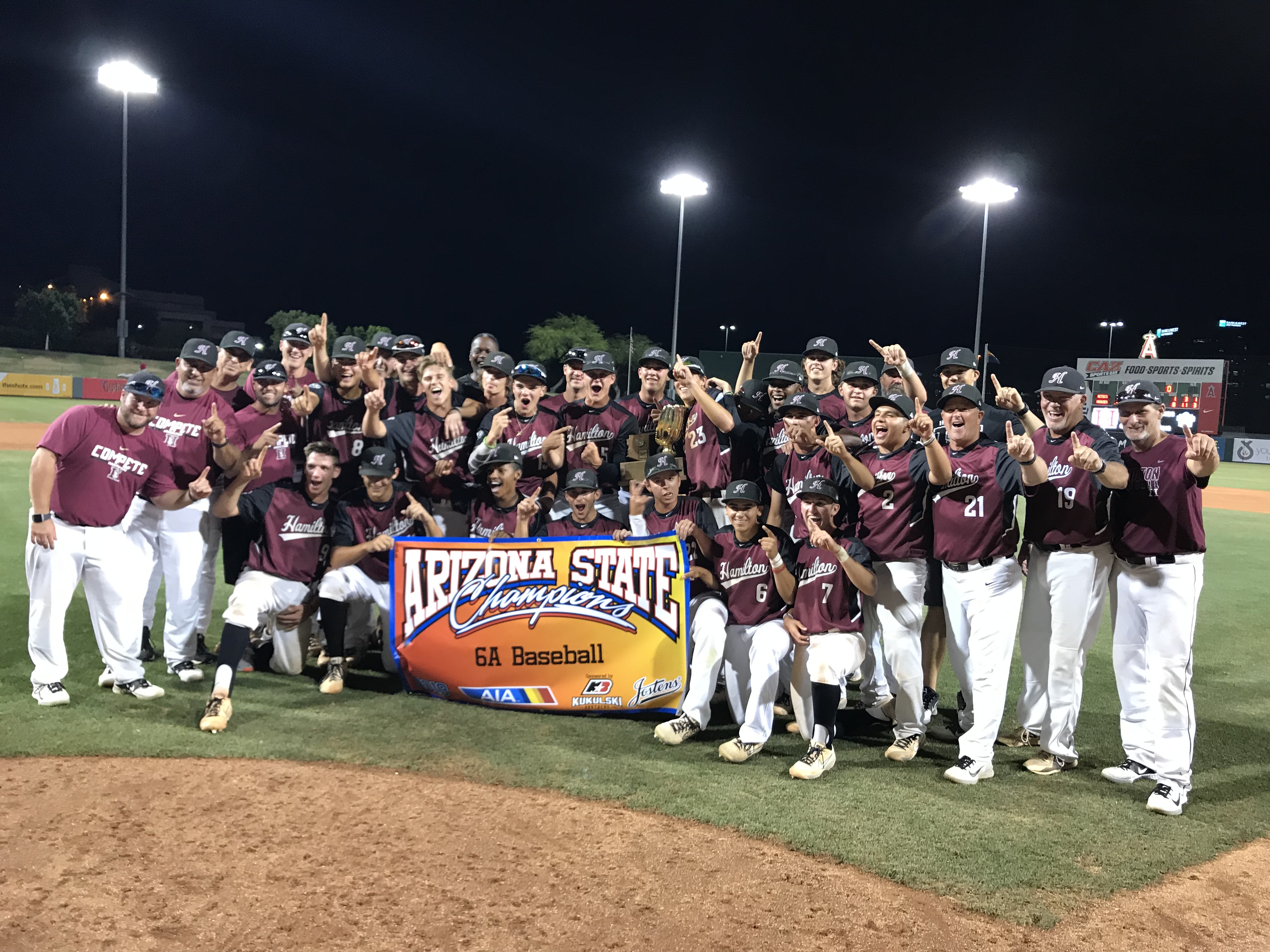 Hamilton's seventh baseball championship in its history took parts of two days to come to fruition. The Huskies will tell you it was worth the wait.
No. 2 Hamilton unleashed a six-run barrage in the bottom of the first to support freshman pitcher Logan Saloman and topped No. 4 Corona del Sol, 8-1, to claim the 6A championship at Diablo Stadium.
The game began at 10:35 Tuesday night and ended at 12:30 Wednesday morning due to the 16-inning, 5A title game that took 5 1/2 hours before the 6A foes were able to take the field. Hamilton continued the way it finished last Saturday's win over Mountain Ridge with its bats humming as they did the better part of the season.
The title was Hamilton's third in the last four years and fourth this decade. The Huskies finished the season 26-7. Corona del Sol, which battled back through the loser's bracket to reach the title game, closed out the year 23-9.
Hamilton coach Mike Woods' choice to start the final wasn't difficult. Saloman had shown himself worthy in several starts and with top two pitchers Shane Murphy and Dustin Bermudez unavailable due to pitch-count protocol Saloman was the man. Saloman entered the game, his only appearance of the postseason, with a 4-1 record and 1.63 ERA.
"He's so calm out there," Woods said. "We started him in the Boras Classic final and he wasn't bothered by the atmosphere at all. "His temperament is not like a freshman."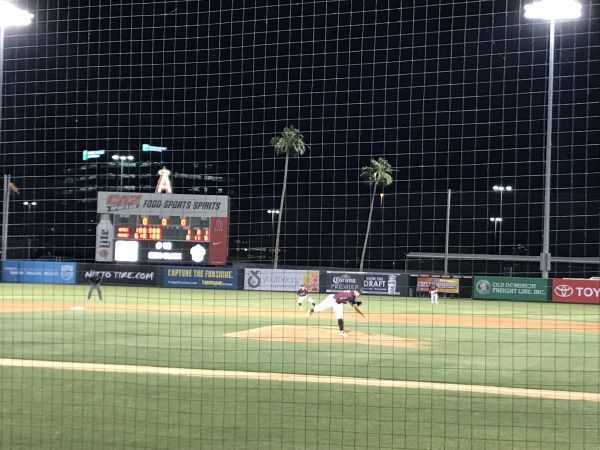 Hamilton's Logan Saloman wraps up his complete-game victory over Corona del Sol in the 6A title game. (AzPreps365 photo).
Saloman threw a tidy 79 pitches in tossing a complete game. He gave up four hits, didn't walk a batter and fanned one. From the second inning to the fifth he retired 13 batters in a row.
Saloman surrenderd an unearned run in the top of the first, driven in by Corona's Kaiden Frees, but his teammates picked him up by sending 10 batters to the plate in their half of the inning.
An RBI from JD McLaughlin and two more from Kyle Hasler off Corona starter Daniel Sotelo put Hamilton ahead to stay, 3-1. With two on and two out, Brock Selvidge got his first at-bat and sent one to the left-center field berm for a 6-1 advantage.Soltelo lasted 2/3 of an inning. Jack Schobinger came on and pitched the final 5 1/3 allowing two runs and seven hits.
Woods made some lineup swaps mid-tournament moving Will Maxey from sixth to leadoff and dropping Selvidge from leadoff to the bottom third. Maxey was 2 for 4 in the title game and Selvidge 3 for 3.
"I used it as motivation," Selvidge, a sophomore, said. "I wanted to come back strong, and pass it on to the other guys."
Dustin Bermudez added two hits and an RBI among the Huskies' 11 hits. Frees and Brian Kalmer had a pair of hits each for Corona del Sol.
---