Girl's basketball: American Leadership Academy-Gilbert North's Samantha Quigley signs letter-of-intent
May 21, 2019 by Oree Foster, AZPreps365
---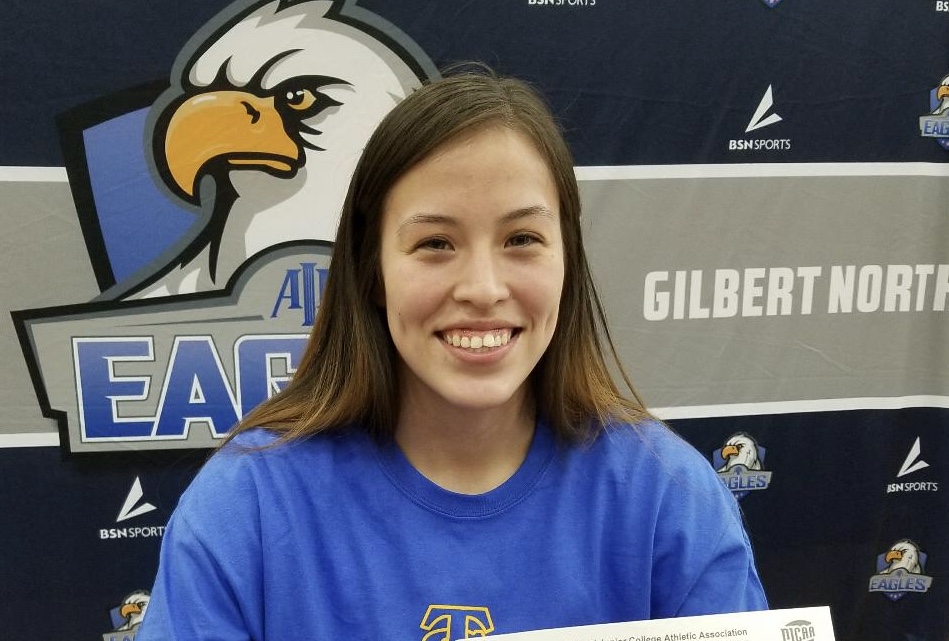 American Leadership Academy - Gilbert North basketball standout Samantha Quigley said when she met with first-year Trinidad (Colorado) State Junior College women's head basketball coach Destiny Bragman, everything click well.
Quigley said the view, academics and the team attracted her to Trinidad, which is located in southern Colorado.
"When I met with the coach (Destiny Bragman), I clicked with her very well," Quigley, who plans to major in sports physical therapy, said.
Bragman, who was Trinidad State's assistant coach, was promoted to head coach, replacing Rich Holden.
"I will be transitioning into the head coaching position this year," Bragman said. "Our coaching staff is very pleased that Sam (Samantha Quigley) accepted our offer and will be joining our 2019-2020 team."
Bragman pointed out that Quigley's experience and vision is a great asset to the team.
"I know that the team is looking forward to working with her as well," Bragman said. "I started recruiting Sam this year when coach Al Springfield (her high school coach) told me about her back in March."
Quigley is graduating from American Leadership Academy - Gilbert North today. She plans to leave for Trinidad in July. Classes begin in August.
"I can't wait to play with my new teammates," Quigley said. "No, I haven't med any of my new teammates. But I heard there is only one player returning."
Quigley said when she received an offer from Trinidad coaching staff to play basketball at the college, she said she was so happy and relieved, because the school isn't too far from her home.
"(I was) unbelievably happy," Quigley said after signing her letter-of-intent. "I made a good choice."
Trinidad completed its season last year with a 14-14, won-lost record, while competing in the National Junior College Athletic Association DI level.
Competing in a solid basketball program at American Leadership Academy - Gilbert North, Quigley said she has work ahead of her to become a better player.
"I have to work on becoming faster and having a quick release (shooting)," said Quigley, a 5-foot-9 guard.
Prior to signing her letter-of-intent with Trinidad, Quigley was recruited by Iowa Lakes Community College, Colorado Christian University, Tohono O'odham Community College, Ben U and Central Washington University.
Quigley said she will compete in NABI this year, June 23-29, with her club team, Navajo Nation Elite, who are two-time defending gold division champion. The team is coached by her mother, Lisa Quigley.
Quigley attended American Leadership Academy - Gilbert North for two years and was a starter for both seasons.
---