AZBCA all-star baseball games set for May 25-26
May 24, 2019 by Les Willsey, AZPreps365
---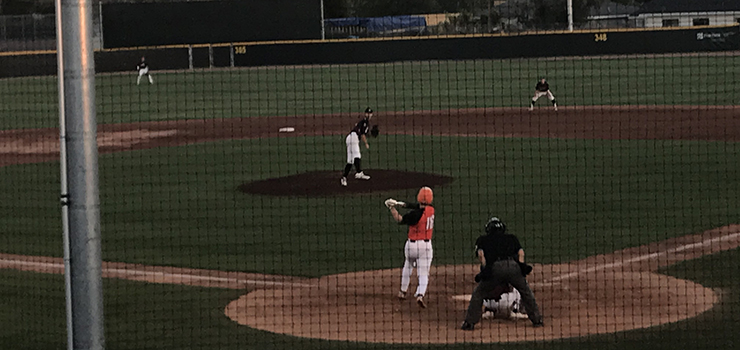 Goodyear Ballpark, spring training home for the Cleveland Indians and Cincinnati Reds, continues as host of the annual Arizona Baseball Coaches Association All-Star games on Saturday May 25th and Sunday May 26th.
Five games will be played during the two days. Action begins May 25 with the 4A game at 4 p.m. followed by the 3A-1A contest at approximately 7 p.m. The Sunday schedule begins at 10 a.m. with the Academic All-Star clash. An early afternoon break follows with two games completing the weekend slate. The 6A game is set for 4 p.m. and the 5A game finishing things at approximately 7 p.m.
Below are rosters for each game:
4A ALL STAR GAME MAY 25TH @ GOODYEAR BALLPARK, 4 PM
SOUTH: C - Martin Rodriguez, Vista Grande; Mike Kenney, Seton Catholic. 1B - Jose Contreras, Washington; Trey Standifer, Saguaro. 2B - Grant Gorrell, Mesquite; Jack Slominski, Saguaro. 3B - Austin Sample, Apache Junction; Ryan Johnson, Seton Catholic. SS - Enrique Romero, Canyon del Oro; Holden Breeze, Mesquite. OF - Mario Corrales, Amphi; Cameron Vercoe, Poston Butte; Colin Herbert, Casa Grande; Kai Inouye, Saguaro; TJ Clarkson, Mesquite; Clay Randall, Saguaro. P - Marco Ozuna, Vista Grande; Jacob Henderson, Mesquite; Luke Bell, Seton Catholic; Nathan Martinez, Canyon del Oro. COACH: Harley Grigg, Vista Grande and staff. NORTH: C -Ryan Hoskins, Gila Ridge, William Meeks, Moon Valley. 1B - Justin Williamson, Estrella Foothills, John Poertner, Moon Valley. 2B - Jacob McLeod, Estrella Foothills, Cameron Torres, Peoria. 3B - Donny Smith, Deer Valley, Rylan Dobosh, Flagstaff. SS - Colton McIntosh, Shadow Mountain, Ty Walters, Coconino. OF - Aidan Sanford, St. Mary's, Jordan Canales, Gila Ridge, Elias Nietolopez, Desert Edge, Dawson Forga, Thunderbird, Connor Gibbs, Greenway, Brandon Lewis, Shadow Mountain. P - Ray Chairez, Prescott, Andres Cota, Gila Ridge, Jack Schulz, Prescott, Tyler Tapia, Coconino. COACHES: James Kuzniak, Gila Ridge and Scott Mueller, Greenway.
Region players of the year competing: Ryan Johnson-Seton (Desert Sky Region); Cameron Torres-Peoria (West Valley Region); Colton McIntosh-Shadow Mountain (Skyline Region); Austin Sample-Apache Junction (Black Canyon Region); Enrique Romero-Canyon del Oro (Kino Region).
3A-1A ALL STAR GAME MAY 25TH @ GOODYEAR BALLPARK, 7 PM
SOUTH: C - Anthony Lopez, Ray, Trey Meza, Sahuarita. 1B - Omar Felix, Sahuarita, Tono Gallegos, Morenci. 2B - Jesus Castellanos, Superior, Justin Sanchez, Safford. 3B - Robert Summerville, Pusch Ridge, Aleck Verdugo, Thatcher. SS - Kendall Stanley, Fort Thomas, Omar Lopez, Hayden. OF - RJ Liston, Trivium Prep, Jayse Burkett, Benson, Patrick Ornelas, Safford, Zachary Jose, Baboquivari, Jay Haro, Benson, Christian Pavlovich, St. Augustine. P - Preston Clifford, Sabino, Michael Snyder, Sabino, Kale Major, Superior, Desmond Sandoval, Morenci. COACH - Dustin Seale, Thatcher. NORTH: C - Zach Edwards, Show Low, JJ Wiltbank, Round Valley, Zachary Waslewski, Scottsdale Christian. 1B - Jack Doherty, Phoenix Christian, Kade Peterson, Wickenburg. 2B - Brennan Sawyer, Winslow, Kenny Jackson, Bourgade Catholic. 3B - Jackson Coup, Fountain Hills, Jake Liberta, Valley Christian. SS - Dominiq Bruno, Camp Verde, Mason Rhynard, Phoenix Christian. OF - Jacob Peterson, Scottsdale Christian, Braden Schuh, Camp Verde, Chris Verdugo, Blue Ridge, Dylan Hanson, Blue Ridge, Sam Williams, Tonopah Valley. P - Tony Ventura, Bagdad, Michael Mindnich, Wickenburg, Elijah Vargas, Fountain Hills, Trey Harrison, Valley Christian. COACH - Scott Hoffmeyer, Blue Ridge.
Region players of the year competing: Preston Clifford-Sabino (3A South Region); Trey Harrison-Valley Christian (3A Metro West Region); Dominiq Bruno-Camp Verde (2A Central Region); Zachary Jose-Baboquivari (1A South Region); Kendall Stanley-Fort Thomas (1A East Region).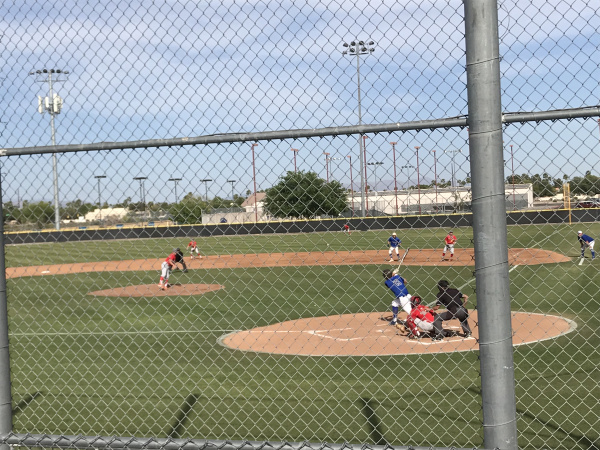 Mesquite's TJ Clarkson excelled as a pitcher and hitter and delivers a base hit in an April game against Seton Catholic. Clarkson suits up for the 4A South in the 4A all-star game Saturday at Goodyear Ballpark. (Azpreps365 photo).
ACADEMIC ALL STAR GAME MAY 26TH @ GOODYEAR BALLPARK, 10 AM
SOUTH: C - Cole Tidd, Williams Field, Brayden Hoffman, Campo Verde. 1B - Mason Macaluso, Campo Verde. 2B - Nico Bandin, Maricopa, Brandon Mohler, Basha. 3B - Curtis Shoemaker, Casa Grande, Joseph Escontrias, Mtn. Ridge. SS - Calvin Davis, Gilbert, Jorge Bojorquez, Nogales. OF - Tate Childers, Mtn. Ridge, Emilio Ibarra, Westwood, Sam Cunningham, Estrella Foothills, Tyler Bauer, Desert Vista, Nico Catan, Campo Verde. P - Tanner Skaare, Highland, Travis Densmore, Mtn. View, Evan Reynolds, Gilbert, Asher Hagenmeister, Campo Verde. COACH - JR Langston, Westwood. NORTH: C - Gio Jasso, St. Mary's, James Garrigan, Centennial. 1B - Blaze Borowski, Notre Dame Prep, Gage McLeod, Gila Ridge. 2B - Tony Hernandez, St. Mary's. 3B - Eric Olson, Skyline. SS - Ismael Torres, Central, Luis Morales, Cienega. OF - Victor Guerrero, Cesar Chavez, Mike Pizzagoni, Desert Mtn., Paul Marsillo, Notre Dame Prep, Connor Abernathy, Perry, Ryan Jacobs, Trivium Prep. P - Adam Belloc, Vista Grande, Joey Dressler, Gila Ridge, Ian Jones, Dobson, Joel Galvez, Tolleson. COACHES - Brady Pond, Centennial, James Kuzniak, Gila Ridge.
6A ALL STAR GAME MAY 26TH @ GOODYEAR BALLPARK, 4 PM
SOUTH: C - Ty Cotto, Valley Vista, Luis Castillo, Tolleson. 1B - Sean Rimmer, Mtn. View, Brandon Childers, Desert Vista. 2B - Jorge Correa, Copper Canyon, Connor Smith, Valley Vista. 3B - Cam Jowaiszas, Mtn. View, Brian Kalmer, Corona del Sol. SS - Ramon Ramirez, Tolleson, Luke Hyzdu, Red Mountain. OF - Manny Collier, Westwood, AJ Herrera, Skyline, Larry Ross Westview, Nick Wallerstedt, Mtn. Pointe, Kaeden Moore, Desert Vista. P - Nick Schobinger, Corona del Sol, Jack Schobinger, Corona del Sol, Jimmy Villa, Westwood, Dallas Wise, Mtn. View. COACHES - Enrique Cotto, Valley Vista, Pat Herrera, Skyline. NORTH: C - Trey Newman, Pinnacle, Kasin Alexander, Perry. 1B - Will Worthington, Brophy, Cam Laliberte, Basha. 2B - Gerardo Hernandez, San Luis, Michale Quinones, Cesar Chavez. 3B - Nate Rohlicek, Chandler, Mark Torres, Cesar Chavez. SS - Dustin Bermudez, Hamilton, Nolan Brooks, Pinnacle. OF - Luke Pauga, Liberty, Diego Bejarano, Tucson, Edwyn Rocha, Alhambra, Ty Siffermann, Basha, Micheal Benites, North, CJ Valdez, Perry, Jack Malone, Desert Vista. P - Zach Martinez, Mtn. Ridge, Chandler Murphy, Liberty, Cal Lambert, Sandra Day O'Connor, Christopher Bazua, San Luis. COACHES - Roy Muller, Pinnacle, Artie Cox, Mtn. Ridge and AJ Liebau, North.
Region players of the year competing: Brian Kalmer-CDS (Central Region); Dustin Bermudez-Hamilton (Premier Region); Diego Bejarano-Tucson (Metro Region); Luke Pauga-Liberty (Desert Valley Region); Christian Bazua-San Luis (Desert Southwest Region).
5A ALL STAR GAME MAY 26Th @ GOODYEAR BALLPARK, 7 PM
SOUTH: C- Patrick Cruz, Cholla, Justin Gottardi, Gilbert. 1B - Marcus Lucas, Casteel, Brayden Thomas, Casteel. 2B - Camden Plewe, Williams Field, Robby Weeks, Gilbert. 3B - Garrett Breazeale, Campo Verde, Jesus Lopez, Nogales. SS - Devin Fiala, Maricopa, Cameron Pehrson, Campo Verde. OF - Robert Andrade, Buena, Ricky Maytorena, Nogales, Jaden Carroll, Williams Field, Rique Martin, Buena, Talon Brown, Williams Field, Jose Leyva, Maricopa. P - Trent Adams, Campo Verde, Ryan Meyer, Gilbert, Tanner Keeley, Casteel, Alec Acevedo, Nogales. COACHES: OJ Favela, Nogales, Tony Gabusi, Cholla. NORTH: C - Ethan Snodgrass, Sunrise Mtn., Manny Macias, Apollo. 1B - Vincent Espinoza, Centennial, Jake Burns, Ironwood. 2B - Zack Stewart, Desert Mtn., Derek Tolano, Central. 3B - Alex Cordero, Ironwood, Caleb Thomason, Sunrise Mtn. SS - Marco Ruiz, Central, Sam Curran, Raymond Kellis. OF - Jarrett Pille, Notre Dame Prep, Peyton McGregor, Cactus Shadows, Anthony Carabello, Desert Mtn., Paul Sachen, Desert Mtn., Justin Flebbe, Raymond Kellis, Ben Wallace, Sunnyslope. P - Rocky King, Verrado, Guillermo Rivera, Apollo, Matt Bohnert, Cactus Shadows, Peyton Teed, Paradise Valley. COACHES - Darrell Hatfield, Verrado, Dante Beltramo, Raymond Kellis.
Region players of the year competing: Ricky Maytorena-Nogales (Southern Region); Cameron Pehrson-Campo Verde (San Tan Region).
---