Baseball: Academic all-stars: South tops North with final inning rally
May 26, 2019 by Les Willsey, AZPreps365
---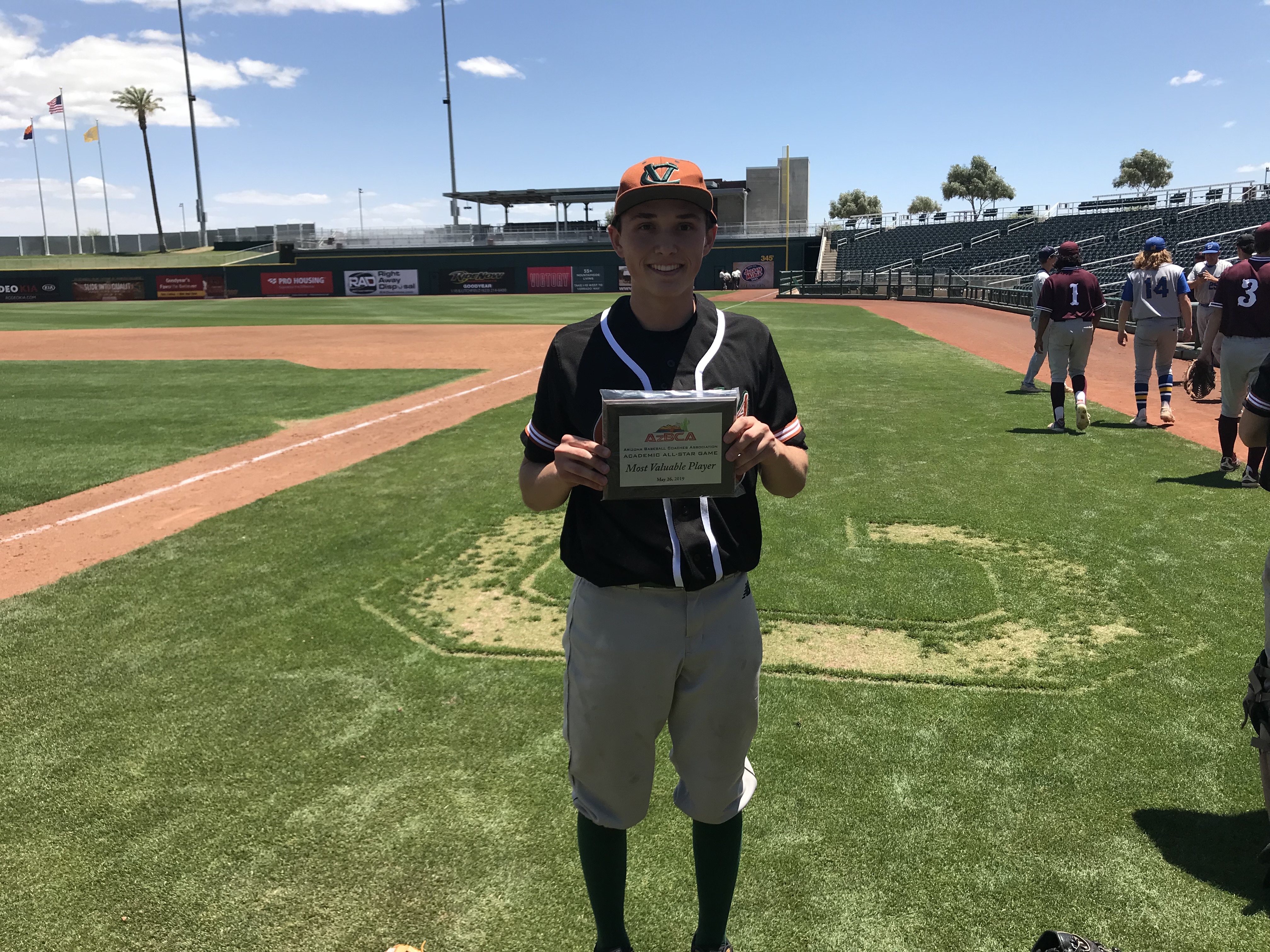 Campo Verde pitcher Asher Hagemeister jogged in from the bullpen with catcher and Campo teammate Brayden Hoffman to begin what would be an eventful hour or so from the fourth inning forward for the South Academic all-stars and more of his Campo Verde teammates in its pursuit of a come-from-behind victory over the North.
The South got it done in their final at-bat scoring four times with Hagemeister adding a rally-capping two-run double in a 5-2 win in the Arizona Baseball Coaches Association Academic all-star game at Goodyear Ballpark.
Hagemeister, a 5-foot-8 left-hander, kept the score 2-1 North over three innings from the fourth through the sixth. North reliever Joel Galvez (Tolleson) came on in the seventh to close it out.
Galvez was within an out of finishing off the South after Casa Grande's Curtis Shoemaker bunted into an out at first, but the tying run crossed home as the relay home was late.
Desert Vista's Tyler Bauer then doubled off the glove of left fielder Ryan Jacobs (Trivium Prep) bringing in Mason Macaluso (Campo Verde) with the go-head run. Earlier in the seventh Campo Verde's Nico Catan singled off the first baseman's glove in his lone at-bat.
The South finished it off in the bottom of the seventh with Hagemeister allowing two hits and pitching to the tying run. A strikeout ended the threat and the game. Hagemeister threw four scoreless innings. He allowed four hits, walked one and struck out four.
The North outhit the South, 10-7, but left eight runners on base. Top hitter in the game was the North's Mike Pizzagoni (Desert Mountain. Pizzagoni was 3 for 3 and knocked in one of his team's runs with a third-inning single.
North pitcher Adam Belloc had the top pitching line of the game. Belloc started and went three scoreless innings. He allowed one hit and fanned five.
---