5A AZBCA game: North rallies in 9th to edge South, 5-4
May 26, 2019 by Les Willsey, AZPreps365
---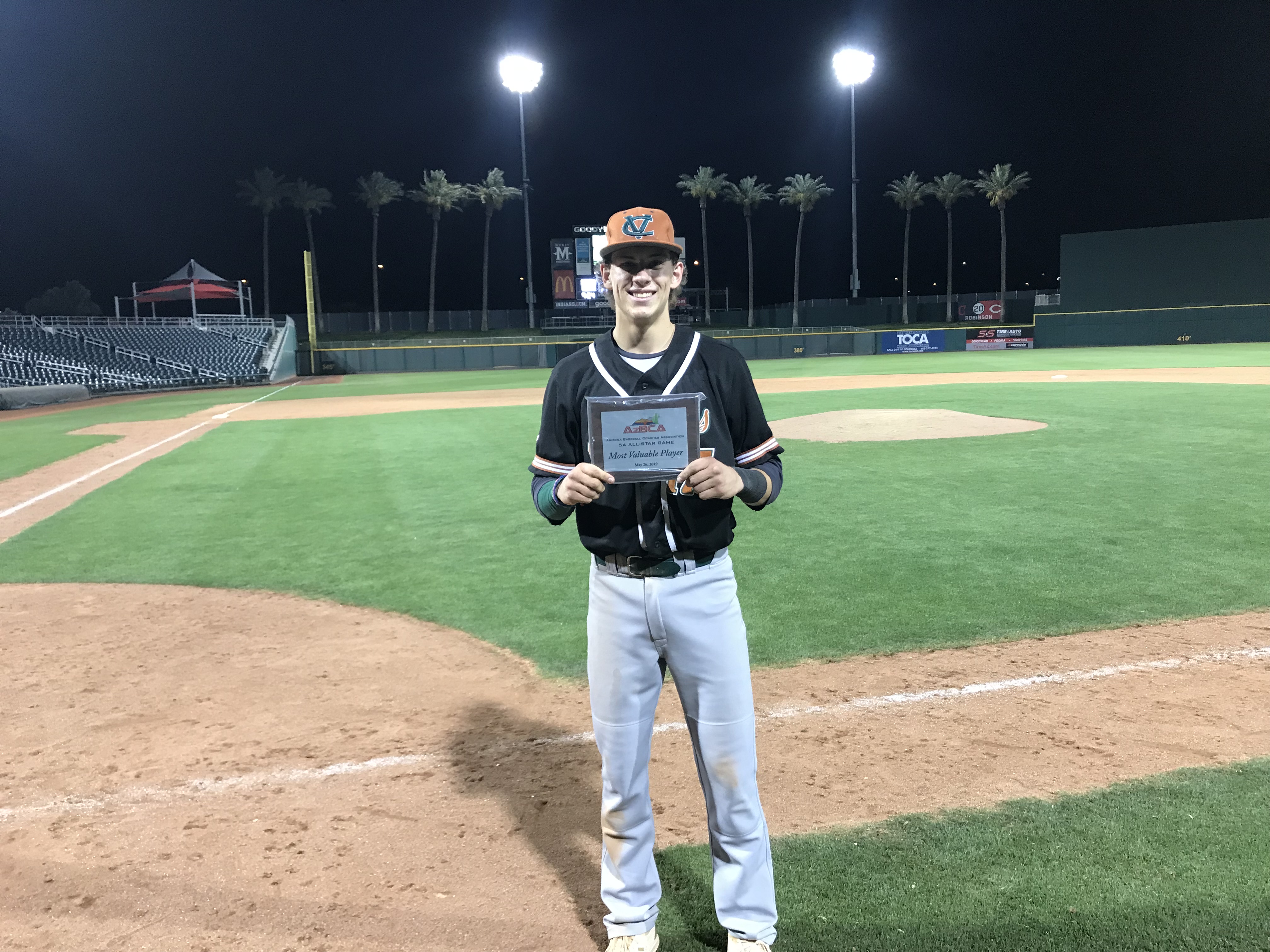 Even when Horizon's Kody Huff goes hitless the game turns out right for the team he plays for.
Huff was a late add to the 5A North roster on Sunday. He entered the contest mid-game and his final at-bat provided the game-winning run to cap a huge month for the Stanford-bound commit.
Huff lifted a sacrifice fly to left to cap a two-run rally and lift the North to a 5-4 triumph over the South in the 5A Arizona Baseball Coaches Association all-star game at Goodyear Ballpark.
"I got a call this morning to play," Huff said. "I was at my brother's 16-U game. I had to drive back home and all the way back to the park. A long day. It's been quite a month."
No doubt. Huff and his Horizon teammates captured the 5A state championship nearly two weeks ago in a 16-inning bout with Nogales in what is now the longest championship game in state history.
Back to the 5A game- the fifth of the weekend put on by the AZBCA. The first four had seen South teams win the each one. A sweep looked imminent as the South built a 4-0 lead over the first five innings. In fact the South pitching staff was working on a perfect game through five innings before Desert Mountain's Paul Sachen (ultimately the winning pitcher) broke it up with a solid single to center.
The North went on to score twice in the sixth to cut the South lead to 4-2 with all the runs at that point unearned. In the eighth the North trimmed the deficit to 4-3 on Apollo's Manny Macias' RBI double.
Sachen, the eighth pitcher used by the North, allowed two hits in the ninth, but escaped a second-and-third, one-out jam to keep it a one-run game.
The momentum of the North's 8th inning tally and getting out of the top of the ninth unscathed carrired over for the win. Desert Mountain's Zack Stewart opened the ninth with a single and scored on Guillermo Rivera's (Apollo) RBI double for the tie. After an error with Rivera still at third, Huff delivered the walk-off sac fly to finish the game O-for-2. Huff struck out in the sixth and lined to short in the eighth.
Campo Verde's Cameron Pehrson, who delivered four hits in five at-bats, earned game MVP honors. No other players on either team had a multiple-hit game.
---