Southern Arizona Baseball All-Star Games
May 28, 2019 by Andy Morales, AZPreps365
---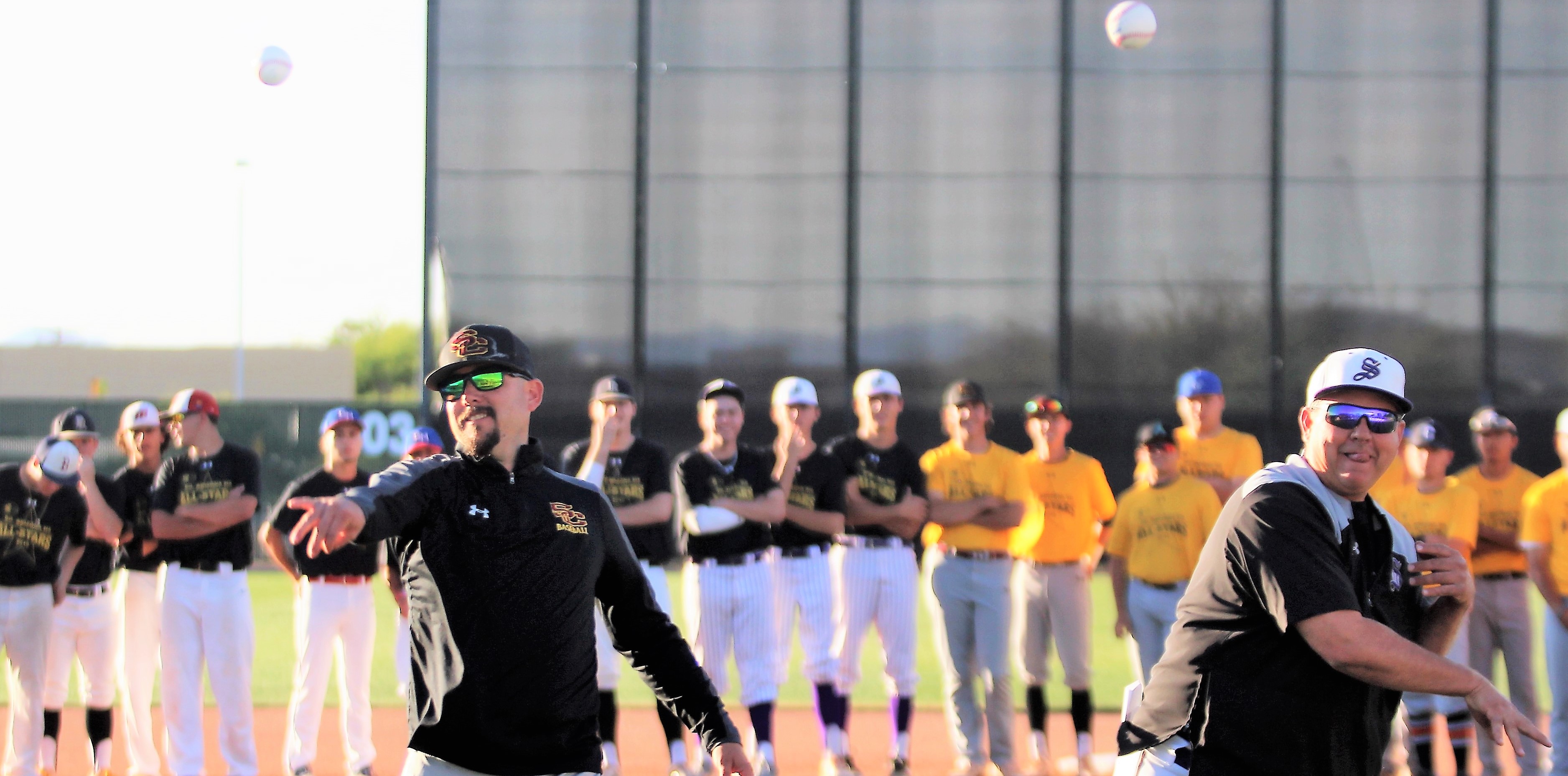 The Kino Baseball League hosted the annual Southern Arizona High School Baseball All-Star games Tuesday night at the Kino Sports Complex. The All-Stars were divided into eight teams with the 1A-3A "Futures" competing on one field, the 1A-3A "Seniors" on another field, the 4A-6A "Futures" on the third field and the 4A-6A "Seniors" competing on the fourth field.
4A-6A Seniors game ended in a 5-5 tie after eight innings with Canyon del Oro senior Kiko Romero earning the MVP nod by finishing 2-for-3 at the plate with two triples, four RBI, a run scored, two assists and two strikeouts on the mound.
The Black team took a 1-0 lead in the bottom of the first after Seth Nager of Ironwood Ridge connected on a triple to score Adam Belloc. Belloc reached on an error to start the game off. That lead would hold until Romero tripled in Emiliano Mata of Douglas and Ronaldo Martin of Buena in the top of the third inning. Mata reached on a hit-by-pitch and Martin earned a walk to start the inning off. Empire's Braden Boisvert walked after Romero's hit and then Jorge Bojorquez of Nogales scored Romero on a sacrifice fly to make it 3-1 Gold.
Romero tripled in two more runs in the fourth to make it 5-1. Ryan Tetreault of Mountain View singled and Angel Marquez of Desert View walked to set up Romero. The Black team scored four runs in the bottom half of the fifth to tie the game up 5-5.
Nate Baez of Ironwood Ridge reached on a walk, Diego Bejarano of Tucson followed with a single and Nager walked to load the bases and Daniel Perez of Marana delivered on a bases-clearing double to make it 5-4.
Alana Valdez was hit-by-pitch one out later and Catalina Foothills standout Alec Larson tied the game up with a single up the middle. Both teams remained scoreless the rest of the way.
Belloc, Dominick Rodriguez of Tucson and Valdez saw pitching action for Black and Marquez, Nathan Martinez of Canyon del Oro, Adrian Aguilera of Buena, Martin Martinez of Pueblo, Mata, Tetreault, Mario Corrales of Amphitheater and Romero threw for Gold.
The Kino League will host the Southern Arizona Softball All-Star games Wednesday night at the Lincoln Park Complex.
The Tucson Conquistadores presented the Kino League with a $3,000 check during opening ceremonies and Sabino head coach Shame Folsom and Salpointe head coach Dan Preble threw out the first pitch. Folsom lead Sabino to the 3A state championship and Preble led Salpointe to the 4A title.
---