Subway partners with the AIA to become the association's 'Exclusive Sandwich Provider'
July 8, 2019 by Seth Polansky, AZPreps365
---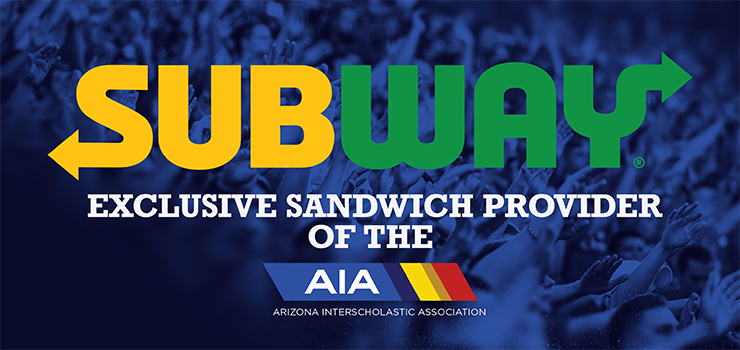 The Arizona Interscholastic Association is pleased to announce it has entered into a partnership with SUBWAY® Restaurants of Arizona, wherein the locally owned and operated locations across the state will serve as the "Exclusive Sandwich Provider of the AIA" for 2019-2020.
"In catering to families and encouraging healthy eating habits, SUBWAY® is a perfect fit to be part of the AIA's commitment to student-athletes," said Executive Director David Hines. "This partnership will reach thousands in competition settings, in extracurricular activities and the fans."
"SUBWAY® Restaurants of Arizona is so excited to become an AIA partner. We have been dedicated to helping students across Arizona since our inception. Over the past several years, in fact, we've been involved on a statewide level in a formal Student Achievement Awards program that recognizes students for their outstanding accomplishments," said Chad Barnett, SUBWAY® franchisee.
"Additionally, we are currently celebrating the 20th anniversary of our local nonprofit, SUBWAY® Kids & Sports of Arizona. Through this all-volunteer, 100% locally focused organization, we've raised and donated more than $1 million to help kids gain access to sports and sports programs. We also work in schools each month though our Cycle for Success bicycle donation program, so this new partnership is a natural extension of our proactive efforts already in place that we hope are making a positive impact each day."
SUBWAY® and the AIA are both proud to encourage student participation in sports and activities. This includes the association's Student Leadership Advisory Committee. SUBWAY® will become the founding partner to be aligned with this statewide group and will contribute a $1,500 scholarship to one graduating male and one graduating female from SLAC. The new Student Leadership Advisory Council Scholarship will be presented at the AIA's annual Champions Luncheon.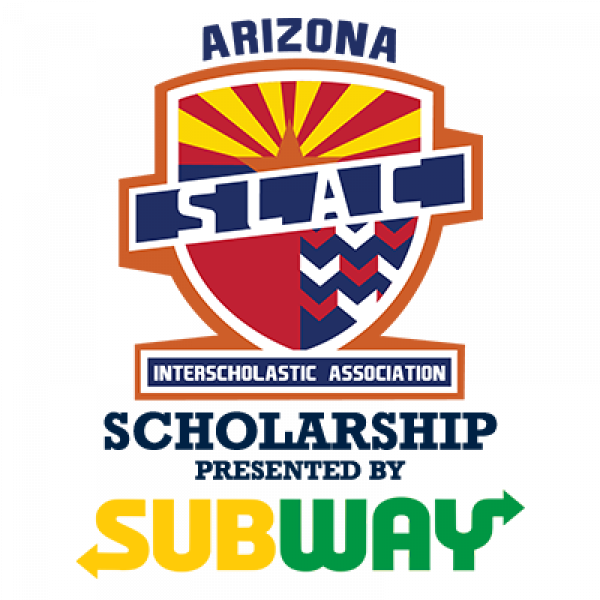 Anyone purchasing student tickets for an AIA sanctioned event will receive a coupon good at participating SUBWAY® restaurants. Opportunities to earn SUBWAY® gift cards will be included in the AZPreps Live mobile app, which is free to download in the App Store and Google Play.
With additional presence at the AIA's Game of the Week, championship events and esports ventures, SUBWAY® becomes a part of the fabric that makes up interscholastic sports and activities.
About Arizona Interscholastic Association
The AIA is a voluntary association of public and private Arizona high schools. Since 1913, the organization has created and sustained interscholastic activities that encourage maximum student participation by providing AIA member schools with an even playing field to ensure fair and equitable competition. The AIA believes that providing interscholastic activities for Arizona high school students creates personal development opportunities with a balanced focus on academics and extracurricular activities.
Through its Arizona member schools, the AIA reaches more than 110,000 participants in high school activity programs. The organization hosts 5,000 championship contests and maintains officiating for more than 45,000 regular season games. For more information, visit www.aiaonline.org and www.azpreps365.com.
About Subway® Restaurants
Subway offers a fresh alternative to traditional fast food, serving 7 million made-to-order sandwiches a day worldwide. Guests choose from 37 million combinations of quality proteins, fresh vegetables, and bread baked daily. The world's largest restaurant chain serves nutritious and delicious subs, soups, and salads at more than 44,000 restaurants in 113 countries. The Subway experience is also delivered online at www.Subway.com and through the Subway® App, available in select markets at the Apple App Store* and Google Play+.
Founded by then 17-year-old Fred DeLuca and family friend Dr. Peter Buck more than 52 years ago, Subway is still a family-owned business today working with more than 21,000 dedicated franchisees in communities around the world.
Subway® is a registered trademark of Subway IP Inc.
**Apple and the Apple logo are trademarks of Apple, Inc., registered in the U.S. and other countries. App Store is a service mark of Apple, Inc., registered in the U.S. and other countries.
+Google Play and the Google Play logo are trademarks of Google LLC.
---