Tennis: Salpointe's John Condes retires after 32 years and 8 championships
June 29, 2019 by Andy Morales, AZPreps365
---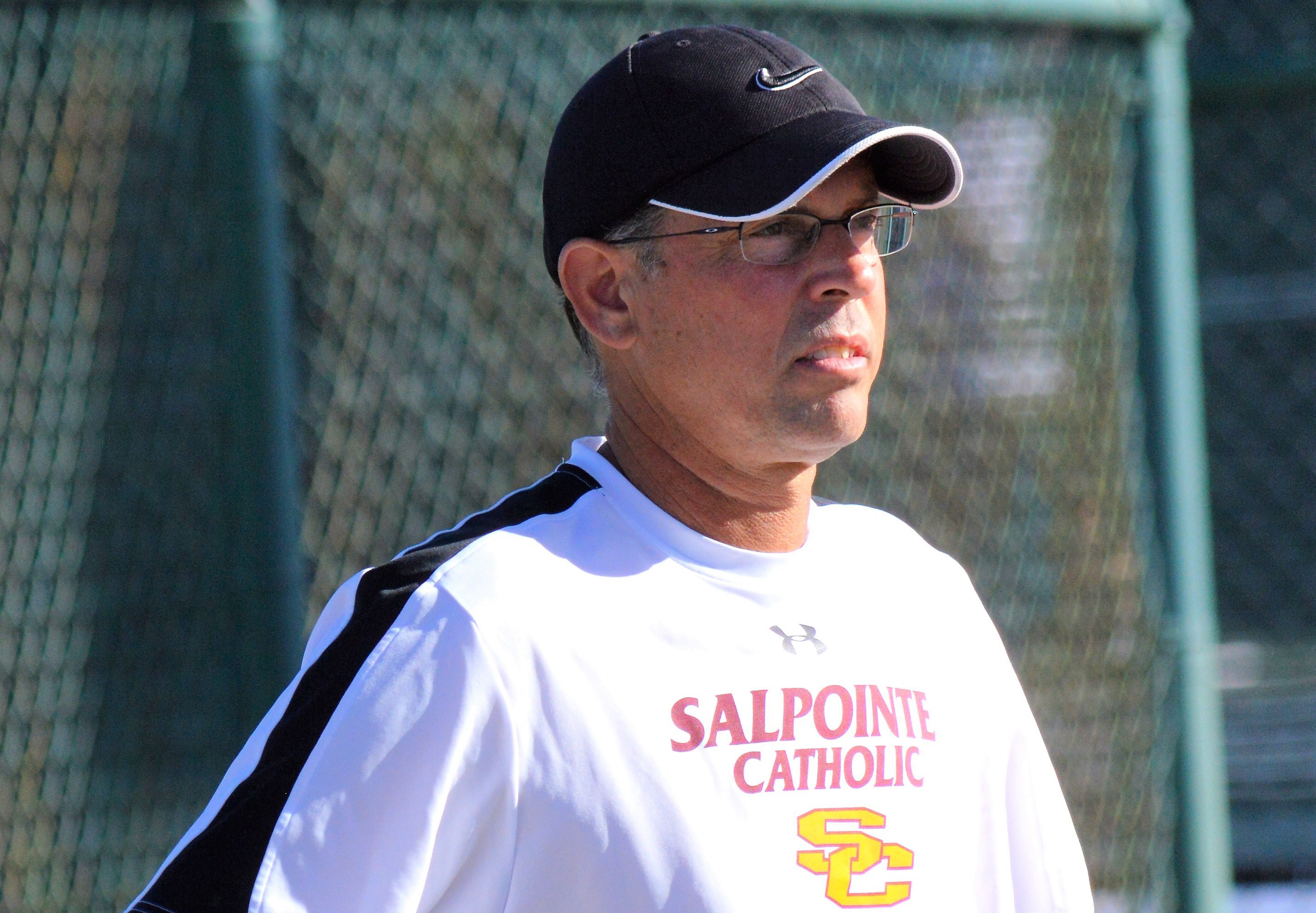 Legendary tennis guru Jim Reffkin is rightfully credited with saving junior tennis nationally and locally, through his groundbreaking introduction of the match tiebreak in lieu of a third set, his transformation of the tennis center that bears his name in Tucson from a few courts to dozens and setting the parameters for equal and fair scoring in high school matches, but one of his main accomplishments has to be convincing a young man to join him at Salpointe and that was none other than another legendary coach, John Condes.
Condes took up the coaching challenge 32 years ago and now, some eight championships later, he has earned the right to step away and work on his own game.
"It was fun really," Condes said about his time at Salpointe. "I got to be out in the sun with all these kids. The parents were great. The school was great. It was always good solid fun and it was a great experience. It really was."
Condes plays competitive doubles with his longtime friend Kevin Conway, the father of former Catalina Foothills championship softball pitcher Nic Conway, and that's where his main tennis focus will turn to for the time being.
"I play over where Salpointe plays so I'm going to be taking a look over there to see how they are doing," Condes added. "If they want some advice then I will be available for sure."
Reffkin led the Salpointe girls to a state championship in 1993 and he gave way to Condes and Condes won the first of his eight titles the next year and another in 1996. He spent about ten years coaching the boys and the girls before moving solely to the boy's side where he captured six more championships from 2004 to 2011.
Beyond that, all four of his runner-up finishes came after 2013 with the last one coming in 2018 and he put in one of his best coaching jobs this past year, taking a team that started out 1-3 and in danger of missing the playoffs, to a semifinal appearance.
One could say correctly that Condes is stepping away from coaching while still at the top of his game.
His six championships on the boy's side is third all-time in Southern Arizona behind nine won by Jose Sanchez at Canyon del Oro and nine from Robb Salant. Salant coached Catalina Foothills to eight championships and Rincon to another.
When combined between girls and boys titles, Condes is sixth all-time situated behind 15 won by Kristie Stevens at Catalina Foothills, 11 from Fred Corrin at Bisbee, 10 from Sue Clark at Tucson and the nine from Sanchez and Salant.
Stevens retired from coaching this summer to take an administrivia role at Ironwood Ridge High School. Current Gregory School coach Mark Swenson leads the active group of coaches from Southern Arizona with six titles while Jeffrey Bloomberg at Catalina Foothills and Andy Fetsis at Pausch Ridge have four each.
---