Football roundup from Southern Arizona
August 24, 2019 by Andy Morales, AZPreps365
---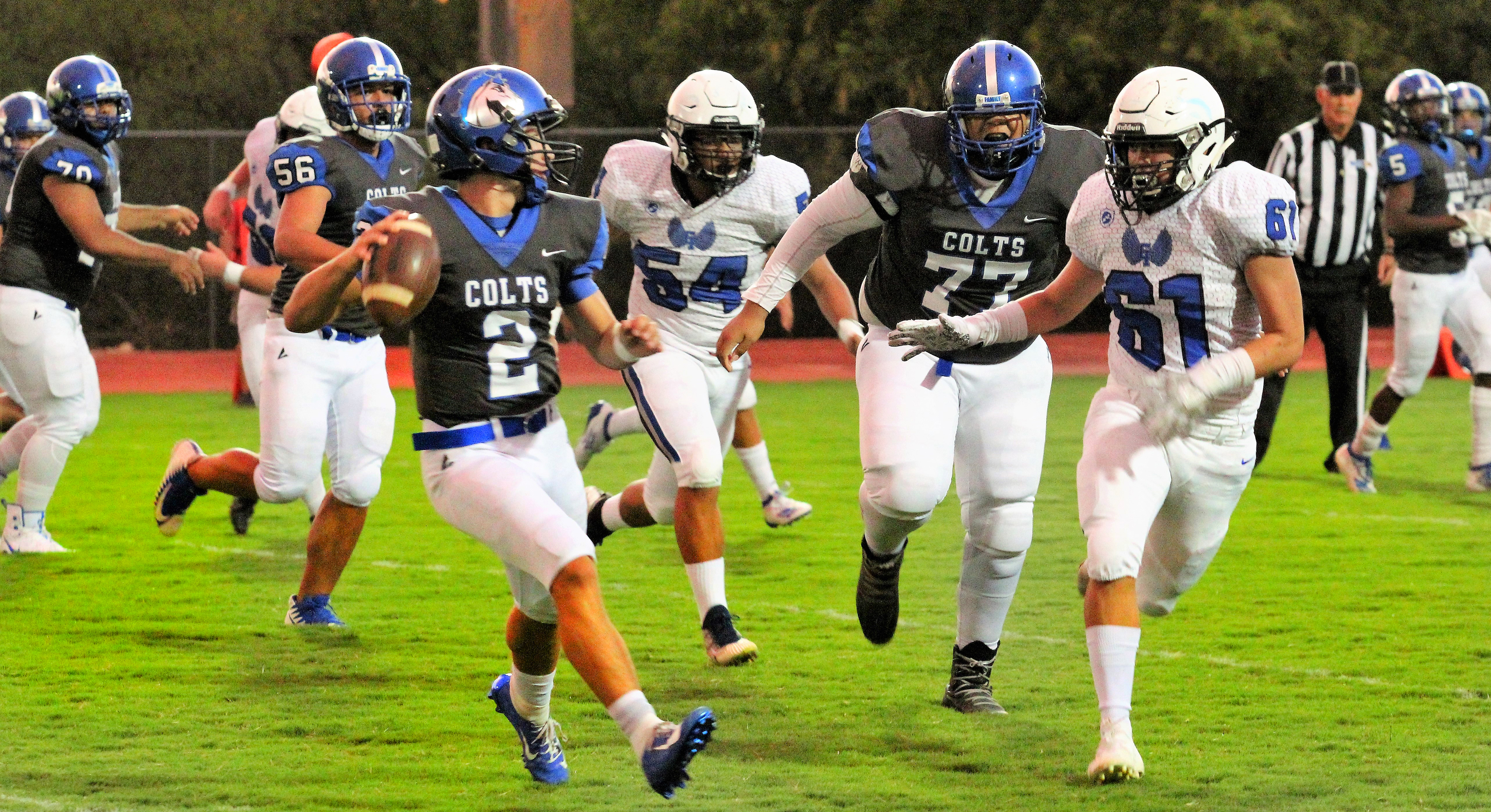 FRIDAY, AUGUST 23
Canyon del Oro 59, Flowing Wells 0
The Caballeros lost six of their top offensive players and 10 of their top defensive stoppers to graduation and that proved too much to overcome against the Dorados Friday night. Flowing Wells beat Canyon del Oro in a 38-37 thriller last year but that is now a distant memory to the Green and Gold thanks to a 59-0 win at home this year.
CDO is hoping to fill the void and jump to the top of the 4A rankings come playoff time.
Canyon del Oro holds a 22-15 advantage over Flowing Wells dating back to 1966 and that includes a current win streak of 8-1 dating back to 2004.
Tucson 43, Maryvale 0
The Badgers move to 1-0 in the 6A Metro Region thanks to a 43-0 statement over Maryvale. Tucson finished with a No. 20 ranking last year and missed the playoffs but the Open Division should bring new life this year.
Tucson leads the series 2-0, including a 63-6 victory over the Panthers last year.
The Coyotes rushed for over 300 yards and threw for almost 200 more to hold off the Blue Devils, 41-26. The game was tied 13-13 at the half.
Campo Verde holds a 2-0 record over Sunnyside.
Nogales 28, Cholla 27
The Apaches picked up a 28-27 win at Cholla.
Nogales holds 16-9 record over Cholla dating back to 1970 including nine wins in a row since 2005.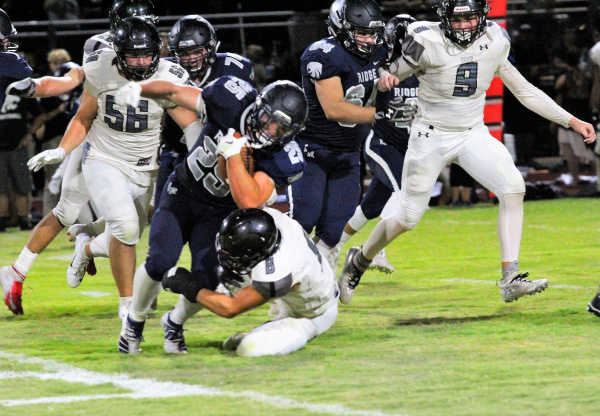 (Brandon Barrios is stopped after a short gain by Brandon Devoy/Andy Morales/AZPreps365.com)
Ironwood Ridge 21, Mountain View 7
Cameron Drescher put the Nighthawks on the board with a 30-yard interception return in the final second of the first quarter and then Drescher followed that up with a 48-yard TD reception from Jack Greenfield before the half. Still not done, Hudson Thompson caught a short TD to give the Nighthawks a 21-0 lead. The Mountain Lions scored in the third quarter but couldn't capitalize on several mistakes the rest of the way.
Mountain View started out 0-5 last year and missed the playoffs.
Ironwood Ridge holds an 11-2 record over Mountain View dating back to 2007.
Horizon 55, Marana 3
The Huskies dominated from beginning to end in a 55-3 win over the Tigers.
The series between the two teams is now tied at 1-1.
Rincon/UHS 26, Sierra Linda 8
The Rangers start out a season 1-0 for the first time since 2014. A 26-8 win over Sierra Linda avenges a 27-19 loss to the Bulldogs last year.
The series between the two teams is 1-1.
Buena 35, Catalina Foothills 6
The Colts dominated after a close first half. An 8-6 lead held until Jovoni Borbon hit Kemish Riley from 30 yards out with under a minute to go and then Riley pulled down a 91-yard TD pass to give the Colts a 22-6 lead at the half.
Buena went on to win 35-6.
Buena now holds a 3-1 record over Catalina Foothills since 1995 but the two teams did not play from 1997 to last year when the Falcons pulled out a 28-17 win.
Buckeye 52, Amphitheater 20
The Hawks beat Amphitheater 52-20 to open the season.
Buckeye holds a 2-0 record over Amphitheater thanks to a 51-7 win over the Panthers last year.
Casa Grande 52, Palo Verde 8
Casa Grande holds a 5-0 record on Palo Verde dating back to 1993 including a 49-0 win last year.
Pusch Ridge 42, Rio Rico 0
The Lions dominated in a 42-0 win over the Hawks at home.
Pusch Ridges holds a 3-1 record over Rio Rico dating back to 2011.
Sahuaro 55, Vista Grande 0
The Cougars jump out to a 1-0 lead in the 4A Kino Region thanks to a 55-0 win over the Spartans.
Sahuaro holds a 34-0 record over Vista Grande dating back to 2013 including a 56-13 win last year.
Santa Cruz 34, Sahuarita 18
It looks like the Dust Devils are back thanks to a 34-18 win over the Mustangs.
Santa Cruz holds a 12-11 record over Sahuarita dating back to 1974 and the team broke a 4-game losing streak to the Mustangs dating back to 2004.
Willcox/Bowie 28, Lordsburg (NM) 20
The Cowboys open up 1-0 thanks to a 28-20 win over Lordsburg.
Lordsburg holds a 12-6 record over Willcox dating back to 1959.
Yuma Catholic 62, San Manuel 7
It was all Shamrocks in a 62- 7 win over the Miners.
Yuma Catholic holds a 5-0 record over San Manuel dating back to 2007. The first three wins over the Miners came in the state playoffs in 2007, 2009 and 2011.
Valley Union 66, Cibecue 0
Valley Union beat Cibecue 66-0 in the first meeting between the two programs
The Wildcats didn't have a varsity program from 2012 to this year.
SATURDAY, AUGUST 24
Tanque Verde at Douglas
Game rescheduled due to weather conditions.
Tanque Verde holds a 1-0 lead on Douglas thanks to a forfeit from last year. The Bulldogs beat Tanque Verde 55-6 last year but the team had to forfeit six games last year.
Fort Thomas at Baboquivari (Region)
Game suspended Friday night after an 14-14 tie. Game will resume Saturday morning.
Fort Thomas holds a 2-1 record over Baboquivari dating back to 2015.
Mayer at St. David
Game was cancelled due to weather.
Mayer holds a 6-4 record over St. David dating back to 1988.
---