Chaparral girls swimming withstands strong showing from Xavier Prep, wins first meet of season
September 12, 2019 by Nicole Pinter, Arizona State University
---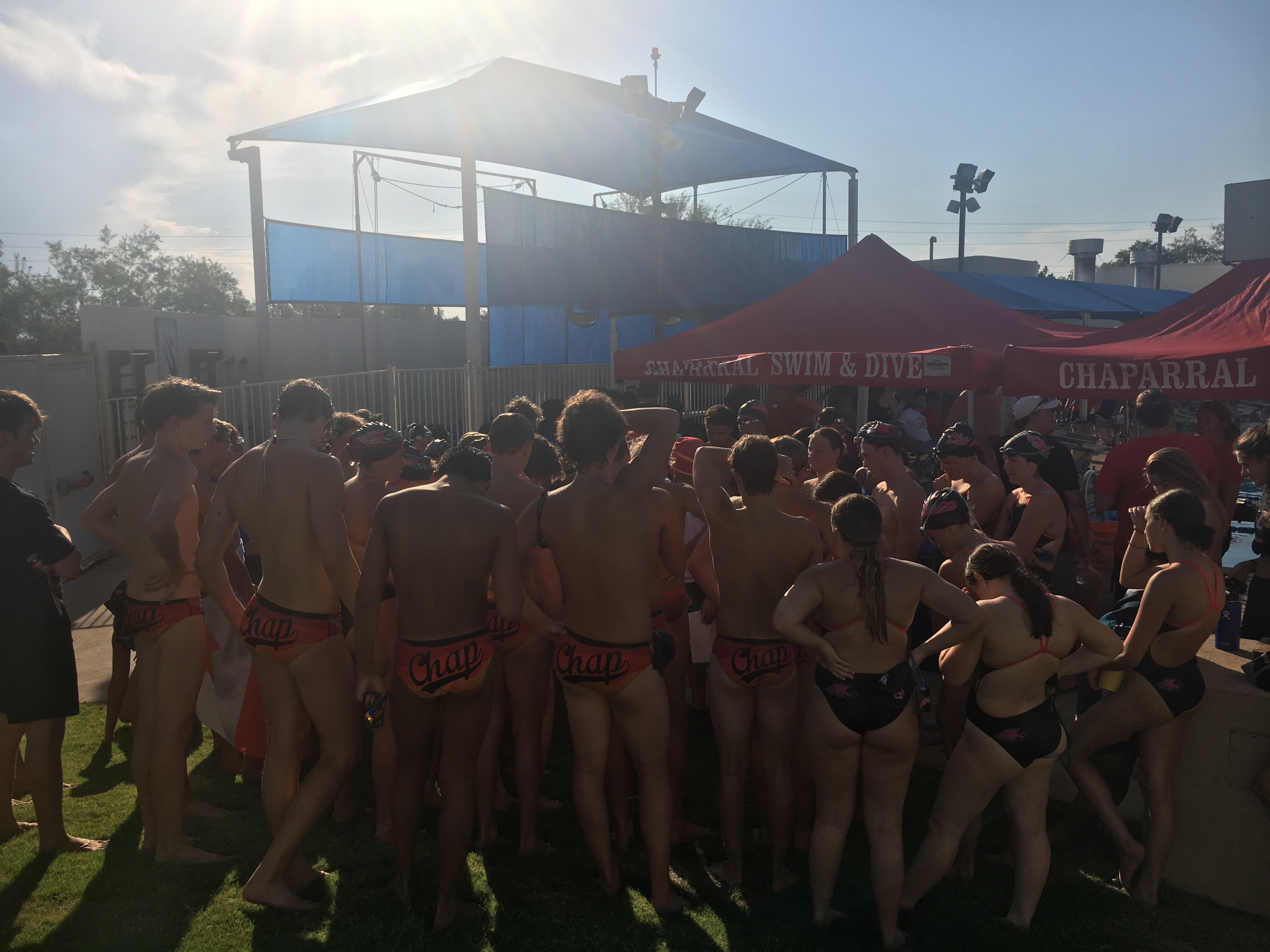 Nicole Pinter is a student journalist at Arizona State covering Chaparral High School for AZPreps365.com.
The Chaparral girls swimming team takes on Arcadia Thursday. It's the second meet of the season for the Firebirds, but their season-opening win gave a preview of what's to come.
In its first outing since being named the National Interscholastic Swimming Coaches Association (NISCA) champions in July, downing perennial powerhouse Carmel High School (Indiana), Chaparral was able to hold off a strong showing from Xavier Prep, 104-82, on Sept. 5 at Cactus Pool in Scottsdale.
"I think the result, even though we won, it was way too close for my liking and their liking and they know it, we have high expectations," Chaparral coach Richie Krzyzanowski said.
The day didn't start off exactly how they wanted to, as the Firebirds lost the 200-medley relay by less than two seconds.
The state champion and record holder in the event, junior Ashley Strouse quickly made up for it by dominating the 200 free. She wasted no time and took a commanding lead right from start, finishing first in 1:51.36. Strouse also won the 500 free easily, taking an immediate lead and keeping a smooth stroke with a steady kick the whole way through, winning by more than 10 seconds.
"They were fine," Strouse said. "I got back from a break a few days ago and got back into training right away, so it was good."
Fellow junior Riley Courtney also won both her individual events against Xavier Prep, first taking the 200-individual medley in 2:08.71. Sophomore Blakely Schuricht had a huge breastroke leg to come back and take third in 2:13.18.
"I was really happy with my performance," Courtney said. "In practice, we've been doing mainly a lot of kicking, so we haven't done very much aerobic, so I was really happy that I was able to still get up and go the speed that I was hoping to go."
Senior Chloe Zapata took second for the Firebirds in the 50 free in 25.41.
During the 15-minute break following the 50 free, Krzyzanowski gave his team an inspired speech.
"Taking that timeout, kind of recalibrate them, reset them up, and say hey it's all good," he said. "We got hit hard, we gotta respond: 'What are you gonna do about it?' It took us a little bit, but we finally got there."
Strouse said that Krzyzanowski wanted the team to step up and "be the team we set out to be."
Coming back from the break, sophomore Asha Bansal and Zapata took second and third respectively in the 100 fly.
Junior Sara Segneri was second in the 100 free at the first turn, but was out-touched by Xavier Prep at the finish, taking third in 55.44, just 0.27 seconds behind the winner.
Despite Strouse's domination in the 500 free, the Firebirds were down 57-53 heading into the final four events.
The 200-free relay was a close race until Strouse dove in, completely taking over and giving the Firebirds the win in 1:39.65.
Courtney was second in the 100 back until the last turn, taking the lead in the last 15 meters of the event.
"I kind of went into it with a really open mind, because I usually do breaststroke," Courtney said. "So I was just trying to work on the things that I know I can do well and push myself as hard as I could."
Schuricht lead the 100 breaststroke the whole way and won in 1:07.02.
This meet did not come down to the final relay, but the last race was still intense, going back and forth until, again, Strouse dove in and dominated to bring the win home for the Firebirds.
The season-opening victory was big for the Firebirds, but not satisfying. Krzyzanowski says he sees that they can improve "everywhere," and they look to start that with Arcadia.
"No matter what I saw, even with those few good races I saw today, the improvement is so great," Krzyzanowski said.
---