Amphi head coach Jorge Mendivil picks up 100th career win; Southern Arizona recap
September 7, 2019 by Andy Morales, AZPreps365
---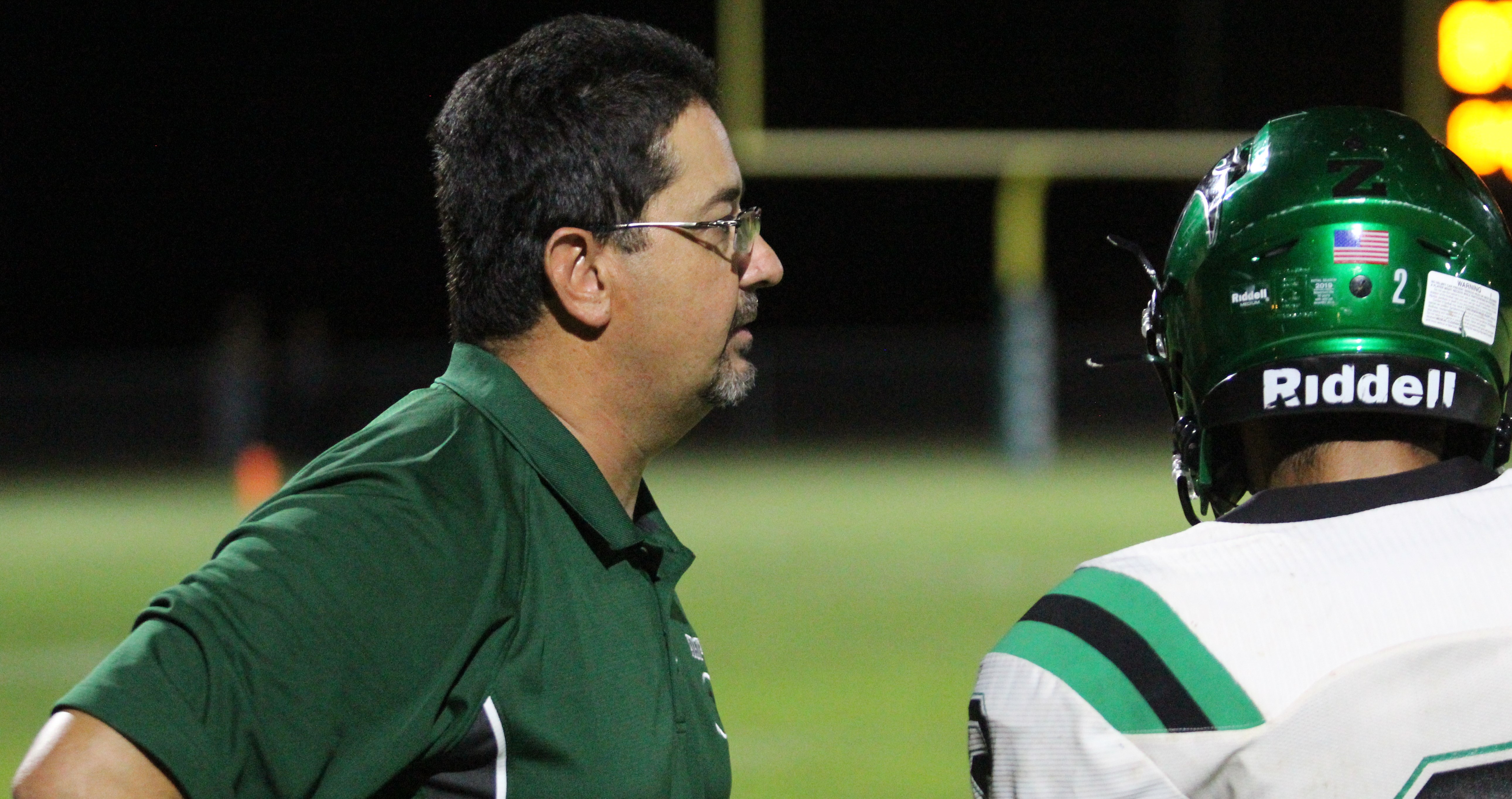 FRIDAY, SEPTEMBER 6
6A Tucson (2-1) 43, 6A Alhambra (0-3) 0
Tucson improved to 3-1 against Alhambra thanks to a 43-0 win at home. With 3-4 6A teams projected to move into the "Open Division," the Badgers are still in the 6A playoff mix and the team should treat each week as a playoff game from here.
5A Sunnyslope (1-1) 38, 5A Cienega (1-1) 0
Cienega beat Sunnyslope 35-7 last year in the first meeting between the two schools but Sunnyslope returned the favor with a 38-0 win this year. The Bobcats host Centennial next week.
5A Millennium (2-0) 35, 5A Ironwood Ridge (1-1) 20
Ironwood Ridge lost 30-27 to Millennium last year in the first meeting between the two programs and that loss was part of a three-game skid for the Nighthawks. A 35-20 loss this year brings up Campo Verde and Centennial.
5A Nogales (2-0) 29, 5A Desert View (1-1) 22
The Jaguars beat the Apaches 21-13 last year but Nogales came out on top 29-22 this Friday to move to 2-0.
5A Sunnyside (1-2) 34, 5A Rincon/UHS (1-1) 26
Sunnyside beat Rincon/University 34-26 to avoid going 0-3 for the first time since 1989.
5A Empire (1-1) 45, 5A Douglas (1-2) 17
Empire holds a 6-1 record over Douglas dating back to 2011 including a 45-17 win Friday night.. The Bulldogs are still trying to recover from an 8-2 season that was shifted to 2-8 after forced forfeits.
Palm Desert (CA) (2-1) 43, 5A Flowing Wells (0-3) 7
The Caballeros haven't started out 0-3 for the second time since 2013.
5A Higley (1-2) 38, 5A Mountain View (0-2) 13
Mountain Lions started the season out 0-5 last year and Higley made it to the semifinal round.
5A Cholla (1-2) 21, 4A Vista Grande (0-3) 7
Vista Grande beat Cholla 28-14 last year in the first meeting between the two programs but the Chargers tied things up with a21-7 win on Friday.
4A Catalina Foothills (1-2) 38, 5A Marana (0-3) 0
Marana holds a slim 8-7 lead over Catalina Foothills dating back to 1995 but a 38-0 loss to the Falcons moved the Tigers to 0-3 for the first time since 2012.
4A Salpointe (2-0) 68, 4A Desert Edge (2-1) 34
Salpointe beat Desert Edge 68-34 in another monster game for the Lancers. An Open Division spot might still eb available despite having only nine games on the schedule. Bijan Robinson collected 498 yards with six touchdowns and is sitting at 5,410 career rushing yards, 468 yards away from the "Big School" record (5,878-Marcus Thomas/Tolleson). The state record is 7,544 from 2A (Casey Jahn/NW Christian).
4A Canyon del Oro (3-0) 35, 4A Apache Junction (1-2) 9
The Dorados are 3-0 for the first time since 2010 thanks to a 35-9 win at home.
4A Pueblo (2-0) 28, 4A Casa Grande (1-2) 15
Pueblo is now 2-0 thanks to a big 28-15 win at Casa Grande.
4A Rio Rico (2-1) 41, 4A Catalina (0-2) 6
Catalina holds an 11-3 record over Rio Rico but the Hawks came up with a 41-6 win.
3A Sahuarita (1-1) 53, 4A Palo Verde (1-2) 14
Sahuarita holds a slim 6-4 lead over Palo Verde dating back to 2007 thanks to a 53-14 win.
4A Amphitheater (2-1) 51, 3A Tanque Verde (0-2) 7
Panther head coach Jorge Mendivil picked up career win 100 in a 51-7 win at Tanque Verde.
"It means I've been doing this for a long time," Mendivial said. "These guys know it takes a lot of hard work and it's definetly a milestone for sure."
Mendivil coached at San Manuel and Empire before movign over to Amphitheater.
"It's a great school with great kids and eladership," Mendivil added. "I see myslef staying here for a logn time."
4A Sahuaro (3-0) 47, 3A Sabino (1-1) 13
Sabino holds a 26-16 record over Sahuaro in this rivalry but the Cougars beat Sabino 47-13 Friday night for the second win for the Cougars in the series since 2014 and the third time since 2003. This game was the 41st Annual Rick Botkin Memorial Football Game for Sahuaro.
Balloons released in honor of Rick Botkin. The 41st Rick Botkin Memorial Football Game is the longest of it's kind in the nation. Botkin's parents holding the 2 and 5. Rick wore No. 25. pic.twitter.com/q3L9Thgds3

— Javier Morales (@JavierJMorales) September 7, 2019
4A Walden Grove (2-0) 27, 3A Pusch Ridge (1-1) 0
Pusch Ridge is 3-2 against Walden Grove but the Red Wolves are drawing even thanks to a 27-0 win Friday.
2A Benson (2-0) 48, 2A Morenci (1-1) 7
Morenci is 17-15 against Benson dating back to 1982 but the Bobcats went 2-0 for the first time since the 13-1 season of 2015 thanks to a 48-7 win.
2A San Manuel (1-2) 26, 2A Tombstone (1-1) 15
Tombstone holds an 8-7 record over San Manuel dating back to 2004. Big win for the Miners.
2A Pima (1-1) 28, 2A Willcox (1-1) 24
Pima picked up their third win 20 tries against Willcox with a 28-24 victory.
2A Bisbee (2-0) 36, 2A Globe (1-0) 8
Bisbee tied the series with Globe 9-9 dating back to 1963 with a 36-8 win.
2A Santa Rita (1-1) 48, 2A San Carlos (0-2) 0
Santa Rita lost 18-6 to San Carlos last year. The Eagles were on an 0-26 streak before the 48-0 win over San Carlos.
2A Round Valley (1-1) 48, 2A Santa Cruz (2-1) 13
Round Valley with a 48-13 win shakes up Santa Cruz.
1A Arete Prep (1-2) 40, 1A Baboquivari (2-1) 24
Baboquivari was hoping to start out 3-0 for the first time since 2003 but Arete Prep with the big win.
1A NFL Yet (2-0) 48, 1A St. David (1-1) 40
NFL Yet picks up first win against St. David in four tries.
1A Joseph City (1-0) 40, 1A Valley Union (1-2) 18
Valley Union is now tied 2-2 with Joseph City over the last four meetings.
BYE
Buena (1-1)
---