Week 4 Football Walk Through Sept. 13-14
September 10, 2019 by Les Willsey, AZPreps365
---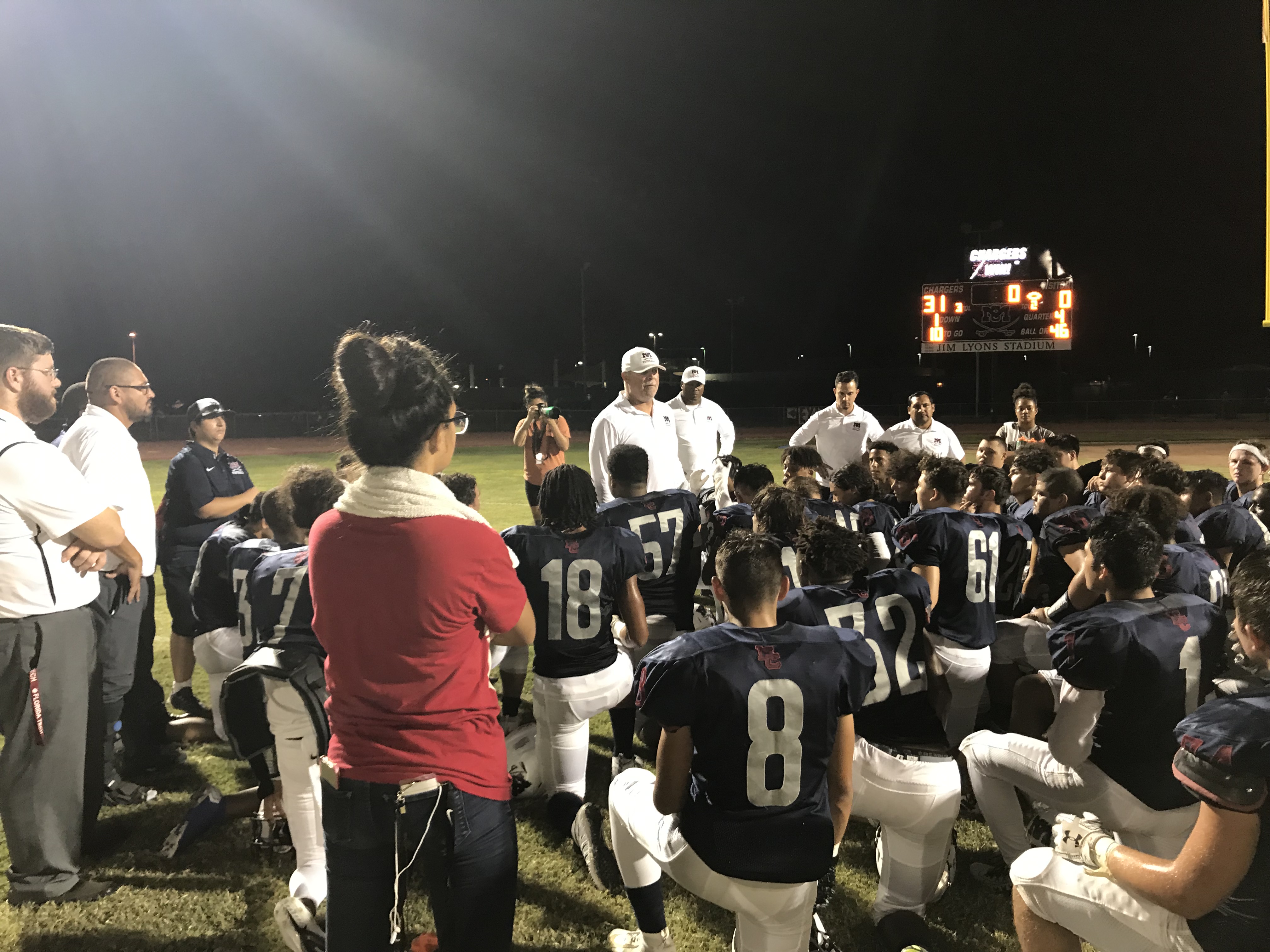 Three weeks of the football season have passed and competitive games remain on the short end of the ledger. Not that there was a huge expectation that routs wouldn't continue to rule the gridirons.
Looking at last week's games the 6A through 2A levels, there were 98 games. Thirty-one of those (32 percent) were decided by two touchdowns or less. Just 16 were decided by a touchdown or less (16 percent). And a whopping 59 games were decided by four TDs or more (60 percent).
Consider yourself fortunate if you have viewed a game that was relatively close for more than a half. Most programs are doing the best with what they have, but with some of the knee-jerk migration of players from struggling or average programs to the elite the disparity won't relax anytime soon.
6A
La Joya (1-1) at Basha (3-0) - Last year Basha won, 31-13
Corona del Sol (1-2) at Boulder Creek - Last year Boulder Creek won, 35-22
Brophy Prep (3-0) at Copper Canyon - Last year Brophy won, 42-6
Skyline (0-3) at Highland (2-1) - Last year Highland won, 31-13
Desert Ridge (2-1) at Liberty - Last year Liberty won, 21-14
Queen Creek (2-1) at Mesa Mtn. View - Last year Queen Creek won, 53-22
Sandra Day O'Connor (1-2) at Perry (2-1) - Last year Perry won, 75-68
Dobson (1-2) at Red Mountain (2-1) - Last year Red Mountain won, 60-0
Hamilton (3-0) at Tolleson (0-2) - Last year Hamilton won, 41-33
Mesa (1-2) at Trevor Browne (2-1) - Last year Mesa won, 45-20
Desert Vista (1-1) at Valley Vista (2-0) - Last year Desert Vista won, 48-20
Cibola (2-1) at Westwood (1-2) - Last year Westwood won, 34-26
Chandler (3-0) vs. Capital Christian, Calif. (2-1) - Sept. 14 - Did not play last year
5A
Notre Dame Prep (3-0) at Apollo - Last year NDP won, 63-21
North Canyon (0-3) at Cactus Shadows (1-2) - Last year Cactus Shadows won, 59-13
McClintock (2-1) at Central (0-3) - Last year McClintock won, 40-18
Goldwater (2-0) at Gilbert (1-2) - Last year Gilbert won, 29-6
Sunnyslope (1-1) at Horizon (2-1) - Last year Horizon won, 42-28
Campo Verde (3-0 at Ironwood Ridge (1-1) - Last year Campo Verde won, 17-13
South Mountain (1-2) at Maricopa (2-1) - Last year Maricopa won, 23-18
Casteel (2-1) at Marana Mtn. View (0-2) - Last year Casteel won, 56-0
Higley (1-2) at Ranier Beach WA (1-0) - Did not play last year
Desert Mountain (1-2) at Saguaro (2-1) - Last year Saguaro won, 59-28
Paradise Valley (2-0) at Shadow Mountain - Last year Paradise Valley won, 34-31
Williams Field (1-2) at Verrado (1-1) - Last year Williams Field won, 31-0
4A
Vista Grande (0-3) at Apache Junction 1-2 - Last year AJ won, 39-33
Mesquite (2-1) at Combs (1-1) - Last year Mesquite won, 61-0
Poston Butte (2-1) at Dysart (0-3) - Last year Poston Butte won, 50-44
Seton Catholic (1-1) at Mingus (0-3) - Last year Seton won, 36-26
Marcos de Niza (1-1) at Sahuaro (3-0) - Last year Sahuaro won 42-13
Arcadia (3-0) at St. Mary's (0-2) - Last year Arcadia won , 55-39
Flagstaff (2-0) at Tempe (1-1) - Last year Tempe won, 18-10
3A
Round Valley (1-1) at ALA Gilber North (2-1) - Last year Round Valley wonm 17-0
Phoenix Christian (3-0) at ALA Queen Creek - Last year ALA-QC won, 23-21
Odyssey Institute (2-0) at Arizona College Prep (2-1) - Last year Odyssey won, 48-0
Coronado (0-3) at Bourgade Catholic (1-1) - Last year Bourgade won, 42-20
Sahuarita (1-1) at Coolidge (3-0) - Last year Sahuarita won, 21-14
Blue Ridge (3-0) at Florence (1-1) - Last year Blue Ridge won, 35-22
Benjamin Franklin (3-0) at Northwest Christian (2-0) - Last year NWC won, 21-13
Gilbert Christian (2-1) at Scottsdale Christian (1-2) - Last year SCA won, 48-6
ALA-Ironwood (0-3) at Show Low (2-1) - Last year Show Low won, 40-6
Arizona Lutheran (3-0) at Valley Christian (2-0) - Last year Arizona Lutheran won, 23-21
2A
Tonopah Valley (1-1) at Chandler Prep (1-2) - Last year Tonopah Valley won, 52-3
Heritage Academy (0-3) at Tempe Prep (0-2) - Last year Tempe Prep won, 57-12
San Carlos (0-2) at Scottsdale Prep (2-1) - Last year Scottsdale Prep won, 19-15 (Sept. 14)
1A
Superior (1-1) at Arete Prep (2-1) - Last year Superior won, 72-15
---