Gilbert Christian's secondary rebounds after rough opener
September 10, 2019 by Hunter Hippel, Arizona State University
---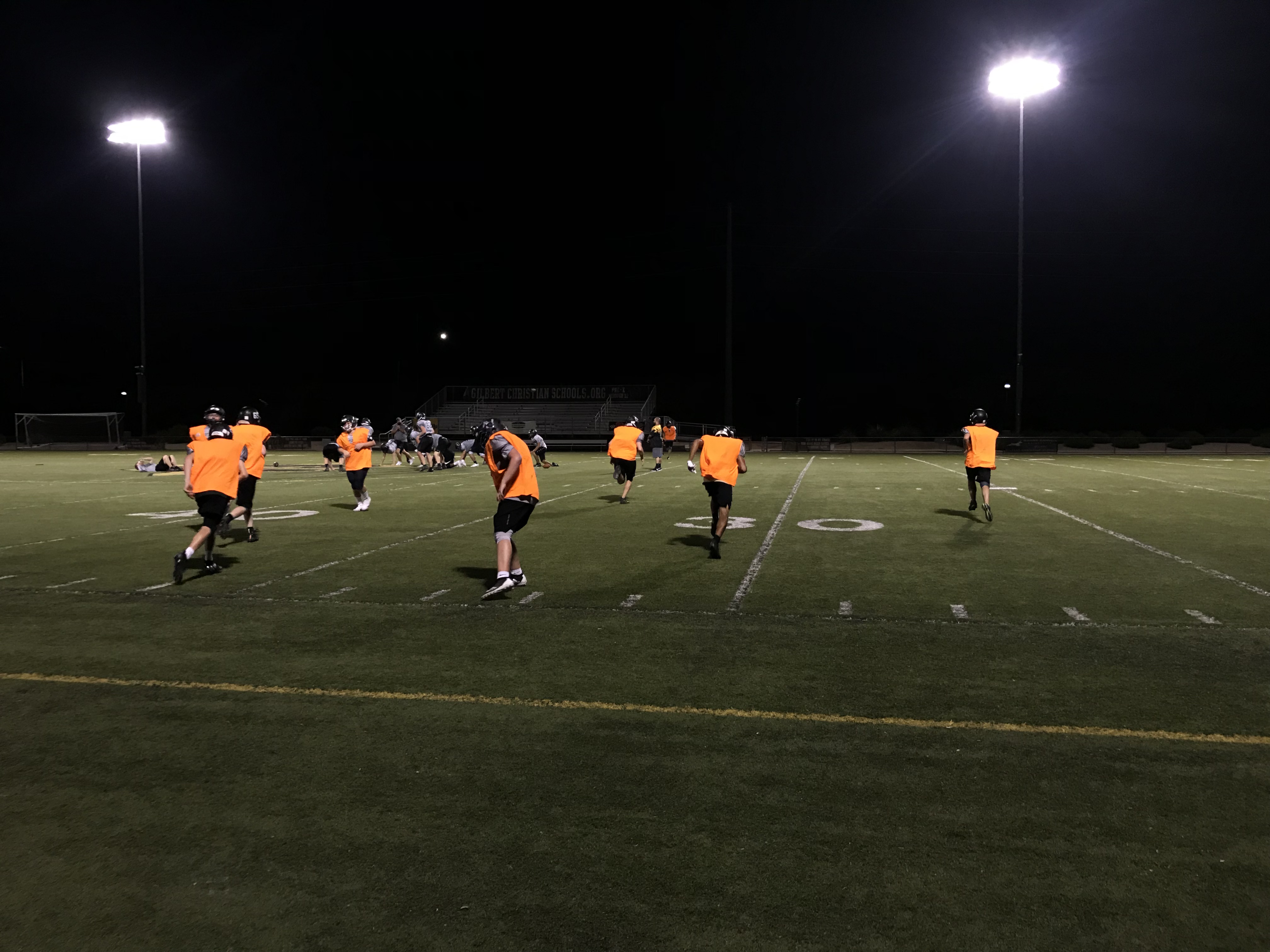 Hunter Hippel is an ASU Cronkite School of Journalism student assigned to cover Gilbert Christian High School.
Jack Ricedorff is not a welcome name around Gilbert Christian football.
The American Leadership Academy - Gilbert North quarterback has torched the Knights the last two years. Three weeks ago, Ricedorff threw for a whopping 443 yards and five touchdowns, completing 66.7% of his passes.
"It was a lack of communication," sophomore Gilbert Christian free safety Matthew Hershey said. "We were working by ourselves and not communicating with each other."
Junior defensive back Marcus McWilliams added that the nerves and the birth of a new season might have been the cause.
"It was our first game. We weren't as prepared," he said. "There were some nerves going into it because it was such a big, talked about team."
It was a showing the Knights secondary wanted to forget. And so far, they have.
Since that season-opening debacle against ALAGN, in which they lost 40-10, the Knights have gone 2-0. In doing so, the secondary has allowed a total of 250 passing yards, almost half as many as they allowed in Week 1 alone.
"[We've been] encouraging each other," Hershey said of the past two games. "I think we've done a good job of, whenever we do make a good play, rallying to each other and whoever made that play."
Supporting each other more hasn't been the only change. Defensive backs coach Brandon Cole adjusted some of the group's drills following the loss.
"He really went through drills with us and he helped us adjust to seeing those kind of routes and plays and how to make better reads," McWilliams said.
Cole didn't just change their performance on the field though. To him, it was a mindset.
"I had to challenge them," he said. "I hate to say, 'Bring the men out of them', but this is a rough sport, a man's game, and so I had to kind of challenge their man hood.
"'This is your homefield. Nobody should be able to walk in your house and disrespect you.'"
That message is what defensive coordinator Andy Montano thinks has been the reason for the secondary's improved play the past two weeks.
"I've gotta give a lot of credit to coach Cole," he said. "Coach Cole has been very instrumental in teaching the basics and teaching responsibilities and growing the defensive backs to the level they can be.
"Our overall philosophy has been one of growth because you know you can't become great overnight. As long as there's positive momentum, then there's always something to be gained."
With Scottsdale Christian coming this Friday - a team that's 1-2 but put up a 41-0 shutout in their last game against Scottsdale Preparatory Academy - the secondary knows it's going to have to abide by those same principles again.
"If we practice how we did in a game, it's going to help us play better on the field and communicate more with each other," McWilliams said.
---