Coronado's James a jack of all trades in his senior season
September 10, 2019 by Gareth Kwok, Arizona State University
---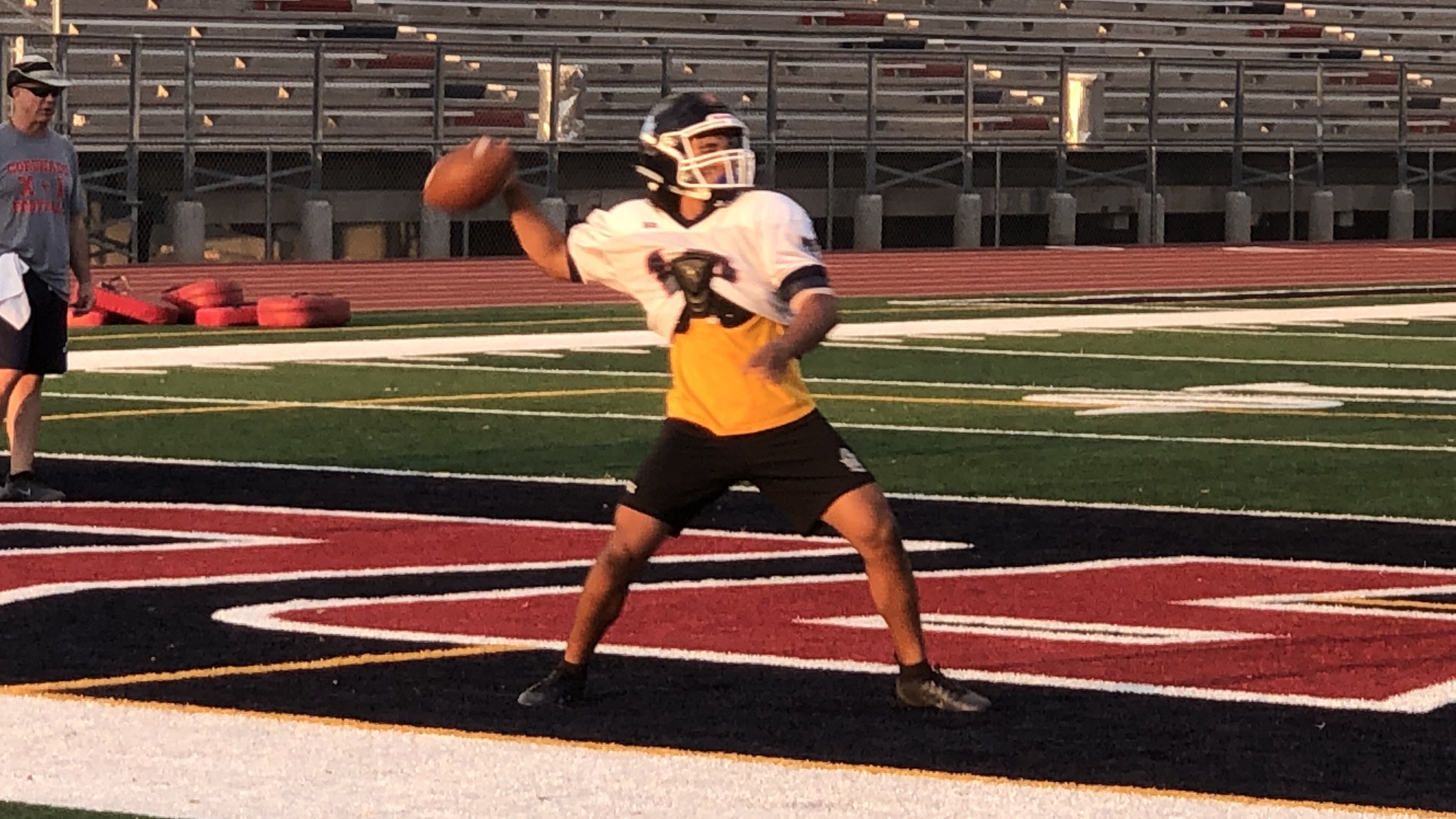 Gareth Kwok an ASU Cronkite School of Journalism student assigned to cover Coronado High School.
In practice, Coronado senior Mikel James fires pass after pass to his head coach Curt LeBlanc. He takes handoffs. He even blasts kick offs when the team practices its kickoff formation. In a game, James is never shy to take down ball carriers.
Welcome to James' life as a quarterback, ball carrier, kicker and safety. His versatility started in his sophomore year, his first season on varsity.
"Offensively, I have to think more technique and just knowing stuff," James said. "Defensively, I have to know technique and a lot of other things but I get to use my aggression and my passion for the game."
His favorite position is calling the shots under center.
"Most definitely," James said. "It's really fun, honestly."
But James said playing both can be difficult because his team, winless after three games, lacks depth and experience. Many of his teammates are still new to football.
"You got to work twice as hard, even three times as hard as a regular player at a bigger name school," James said. "We have to have more heart, skill, and talent."
LeBlanc, who's in his third year as coach, said he's seen James grow in his game and mentality.
"He's matured, physically and emotionally," LeBlanc said. "That's a testament to him and his work ethic. He's pushed himself to grow physically, emotionally and physiologically."
James has a shoulder injury, suffered in the second week of the season, but keeps playing despite some concern from LeBlanc.
"He's playing a key position but at the same time, that's the beauty of playing at this level," LeBlanc said. "You got kids that are going to play both sides of the ball who are going to get experience. He wants to do those types of things. You can only protect a kid for so much. You want to give them every opportunity to have fun and make plays."
James' teammates admire his positive energy on the sideline.
"He's always keeping the energy up," senior tight end Luis Esqueda said. "He's hyping us up all the time. Even if we are losing by thirty or forty, he still brings us up. He makes sure we stay grinding, no matter what."
The feeling is mutual for James, who will take the field Friday at Bourgade Catholic in search of the team's first win after three games.
"That's the best part about having a smaller roster and even being at a smaller school," James said. "Most of us play a lot of sports and so we all communicate and hang out during the day, which makes it more of a family."
---