Camelback's Tom Perez leaving his legacy on and off the field
September 10, 2019 by Gabrielle Ducharme, Arizona State University
---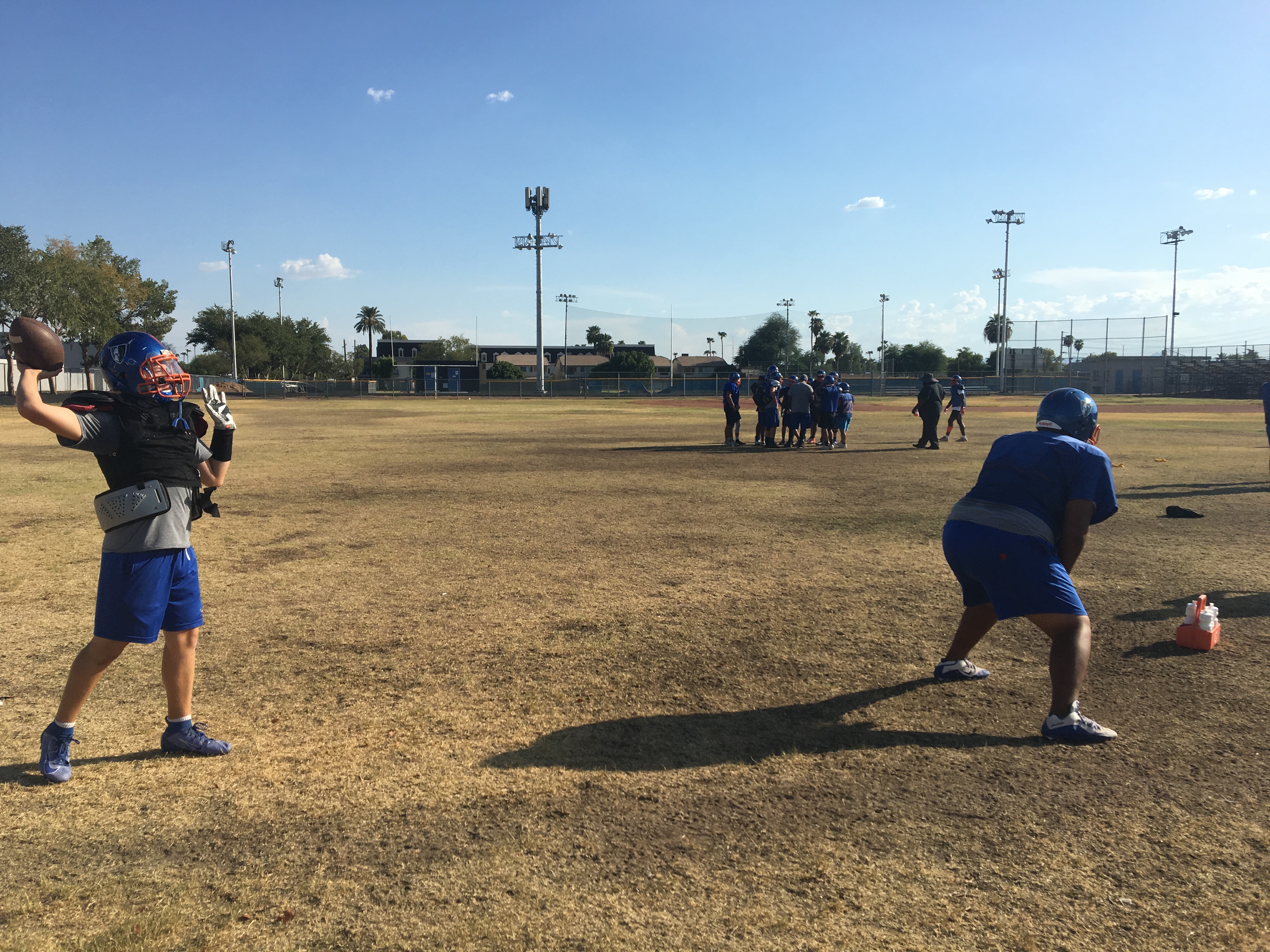 Gabrielle Ducharme is an ASU Cronkite School of Journalism student assigned to cover Camelback High School for AZPreps365.
It was the season opener and Camelback starting quarterback Tom Perez threw his first interception. Camelback was losing badly to Willow Canyon when the captain ran back to offensive coordinator Nicholas Ferrara with a smile on his face.
"He wasn't smiling because he was happy, he was smiling because he was like, 'Ok, I got you on the next play,'" Ferrara said. "That's what makes him a leader on the team."
Perez spent the last six years playing different positions. His road to varsity is defined by patience, leadership and perseverance. Qualities many have, but few harness.
He was 210 pounds in seventh grade when he first picked up a football. It began as a sport to pass the time but the athletic, muscular middle schooler quickly fell in love with the game. He played linebacker on junior varsity his freshman year. He made an impression from the beginning as a leader.
"It is crazy seeing videos of myself freshman year, I know I can do way better. I think the whole team got way better," Perez said. "We actually know how to use our talents. It's been a journey."
Perez patiently waited for his chance to run the offense. He made varsity his sophomore season as a linebacker. His junior year, Perez saw limited action as a quarterback on junior varsity.
Camelback brought in head coach Brandon McMutt, a biology teacher who developed a new philosophy and coaching staff for the 2019 season. Ferrara first noticed Perez in 2018 while he was coaching soccer.
"He was out here every single day of the winter, Monday through Friday," Ferrara said. "When we finally got the job and took over, he was the first one to step up."
Senior wide receiver Jerome Tillman and Perez began playing varsity their sophomore year. The duo has developed a close kinsmanship.
"On the field, we are like brothers, we throw the ball to each other, talk about how to pick apart the offense," Tillman said. "Off the field, we play video games… my favorite is Madden."
Camelback narrowly defeated rival North 34-28 on Aug 30. North tied the game with one minute, 10 seconds left but Perez marched his team down the field and threw a 30-yard touchdown pass to Tillman for the win. The Spartans take a 1-2 record in Friday's game against Ironwood.
Perez is motivated to transform a program that only won two games in 2018. Ferarra believes Perez is a "quintessential senior leader" who sets the example for younger players on the field.
While inexperienced players will struggle mentally during games when they throw interceptions, Perez perseveres.
"He knows that sometimes it is not gonna go our way, but we just need to keep going." Ferarra said.
Perez knows his days wearing the orange and blue are limited and plans on becoming a firefighter after high school. He believes his experience on the field will help him in his future career.
Ferrara has faith in Perez and believes he will go far. Ferrara says the quarterback is a strong student, has the respect of his teammates and that his time in football will translate well to the fire academy.
---