Seton Catholic seeking stability with reunion of former head coach
September 10, 2019 by Jake Santo, Arizona State University
---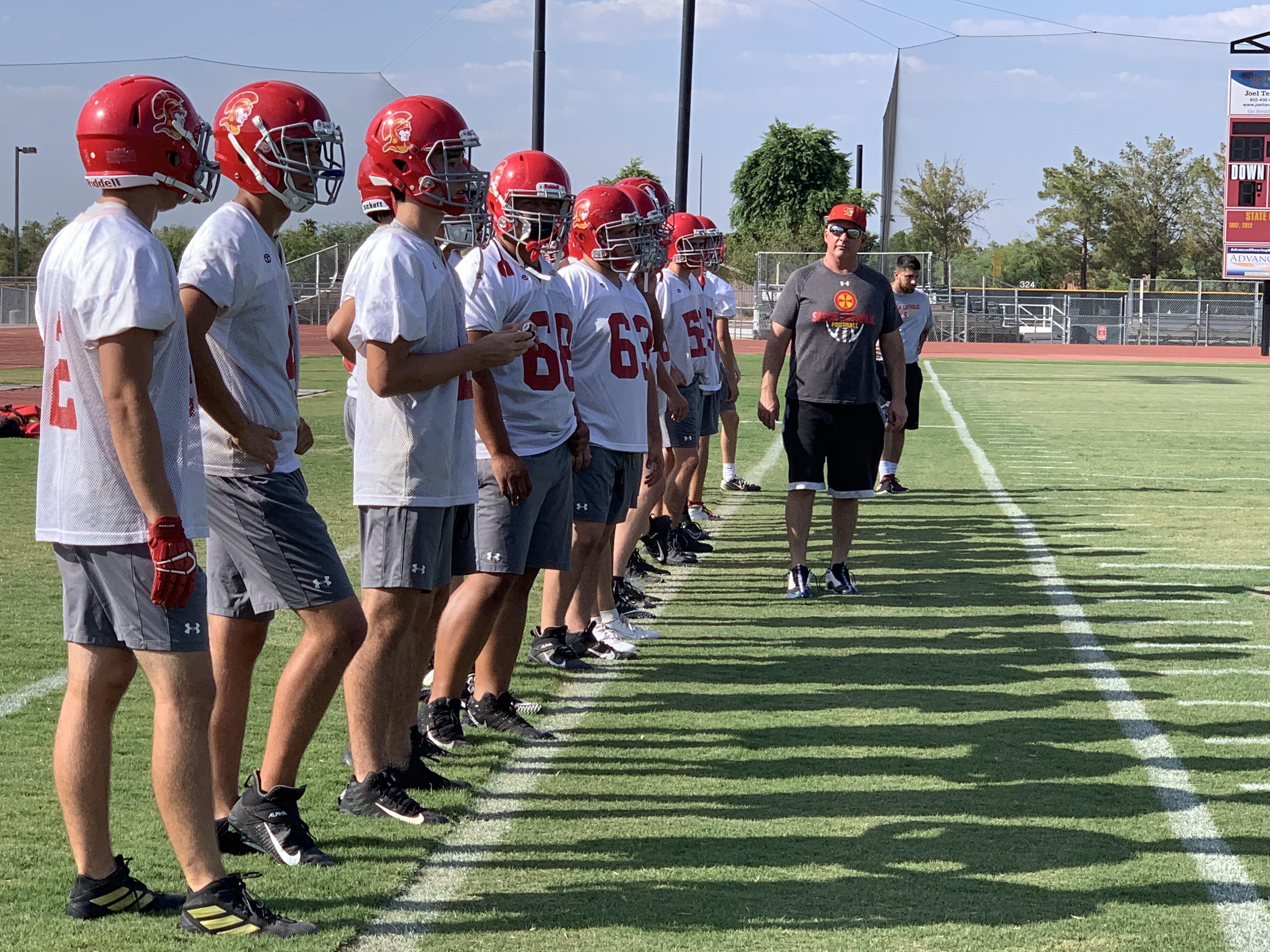 Jake Santo is an ASU Cronkite School of Journalism student assigned to cover Seton Catholic Prep for AZPrepes365.com
After first leaving Seton Catholic Prep 12 years ago, Pete Wahlheim knew he wanted to return to the school and community that felt most like home.
"When I left, I always thought if I had the opportunity to come back, that would be something I would really look at," said Wahlheim. "Here the community is so strong, the support is so strong that it makes my job much easier."
The Seton Catholic program had been rocked by a coaching carousel resulting in the team looking for its third head coach in three years. Former Seton Catholic coach Mike Chiurco left the team earlier this year after taking a position with Bruce Arians' staff and the NFL's Tampa Bay Buccaneers. The school looked to a former coach to bring energy and security to a team in desperate need of stability.
Wahlheim took over the reins of the program in late March, looking to instill confidence into a senior class accustomed to annual change.
"Going from coach to coach, it is very difficult to go with the new playbooks and coaching styles," said senior quarterback Joey LaLicata. "I think coach Wahlheim did a good job recognizing that it would be a struggle for us. He has been patient with us as we built our team."
Wahlheim knew the challenge he faced returning to Seton Catholic. He had been a part of the football renaissance at the school earlier in his career. Wahlheim coached Seton Catholic from 2000 to 2006 with an appearance in the 3A Arizona State Championship in 2003, losing to Show Low. Wahlheim left Seton in 2006 to challenge himself, moving up to coach 6A Gilbert Highland for 10 years before returning to Seton Catholic after a brief stop at Dobson.
Wahlheim has not noticed much of a change since his original stint with the Sentinels. The relocation of the football field and a new football specific building welcomed him in his return back to Seton. Many of the teachers and coaches at Seton from his original tenure are a part of the faculty today, as well.
"Generally, when you leave and come back after 12 years you tend not to know anybody, but there are tons of coaches and teachers who were here before," said Wahlheim. "Friendly faces and people who value being here are here for the long term. It made the transition easy."
The Seton Catholic coach has seen a considerable shift in the landscape of high school athletics with many student-athletes focusing entirely on one specific sport. This is a tendency many of the larger schools have preached in recent years when it has come to their athletes playing one specific sport. Wahlheim instilled the opposite approach to this trend, recruiting athletes playing different sports at the school to come out and try football. He said to be successful you need to find the best athletes at your school and convince them to be a part of your program.
With better relationships cultured throughout the school, Wahlheim has attracted more support from his players and fellow coaches. Newcomers to Seton Catholic have been firsthand witnesses to the difference provided by a supportive community. First-year offensive line coach Mario Ortega experienced the difference coming from the public school system to coaching under Wahlheim at Seton.
"At Seton numbers are down, academics are truly the focus here," said Ortega. "There is more parental support which is nice. And there is a lot more community sport here, as well."
As a teacher at Seton Catholic, Wahlheim understands the rigor the student-athlete faces. He watches his players every day, keeping a close eye on the day to day activities. Wahlheim has never been a coach at a school where he has not taught at. He said it helps build trust and a positive relationship with his players on and off the field.
With their short amount of time together as a group, Seton Catholic football team has formed a bond. The team currently has a 1-1 record, with an upcoming matchup at Mingus Union.
"I will tell you from day one, these kids have busted their tail," said Wahlheim. "We came in late, but we got a pretty good spring in. Our attendance is the summer was good. We went up to team camp and we had a good camp. They have done whatever I have asked them to do. We are not very good yet. But if they are willing to stay with the system, we will be pretty good at the end of this."
LaLicata said the players have high ambitions coming into this season.
"I'm expecting a good season this year," said LaLicata "Seeing ourselves against other schools, I think we are doing really well. And with the limited time to adjust to our coaches, I still think we are a top tier team in our division. I think we will do great."
---