Volleyball: Desert Ridge shrugs off 1st set loss, tops Skyline
September 10, 2019 by Les Willsey, AZPreps365
---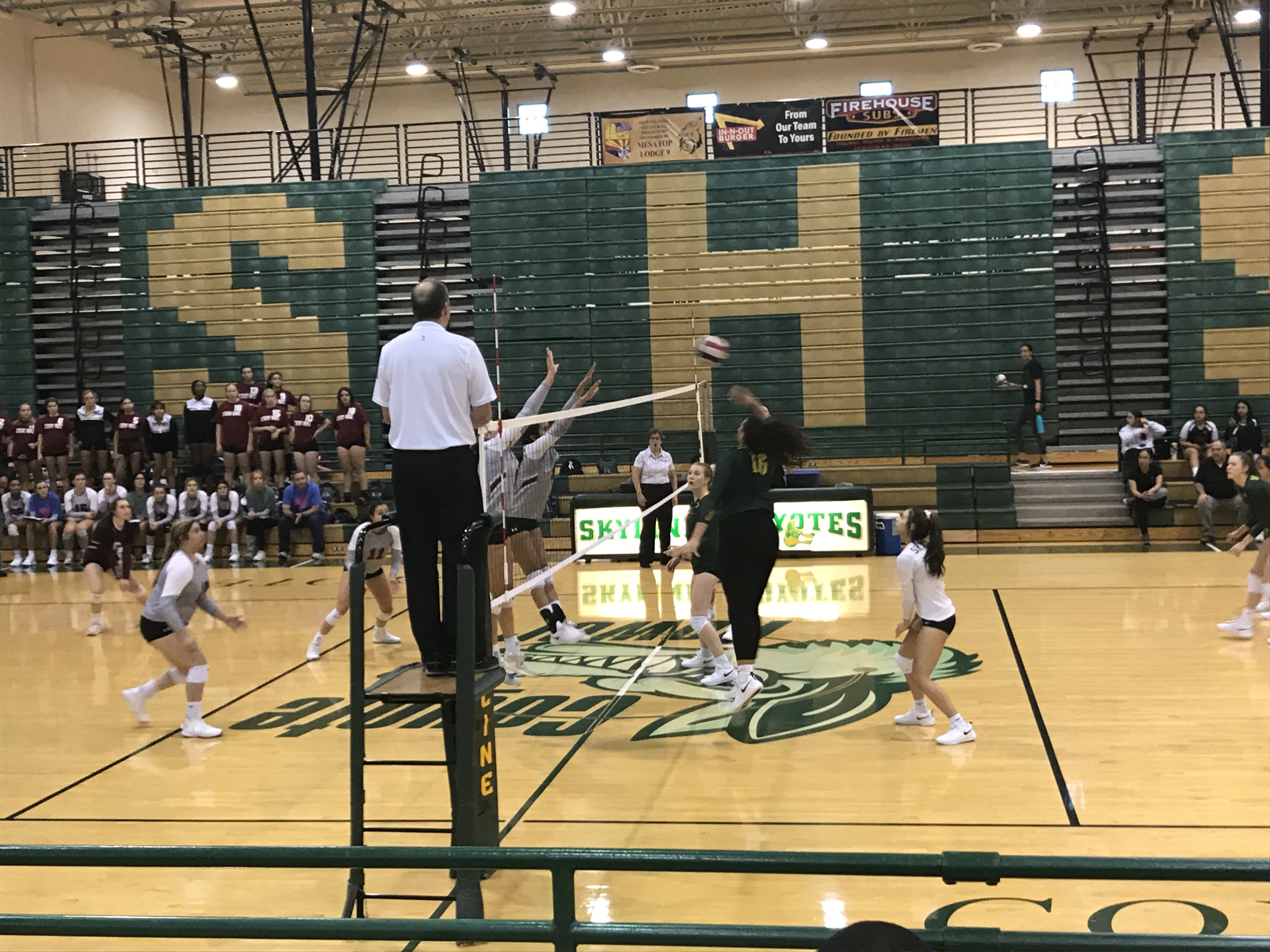 Sometimes in this week-old volleyball season it's taken Desert Ridge a little time to hit its stride in matches.
As long as the Jaguars continute to pile up wins that likely won't be a problem. Desert Ridge dropped the opening set to Skyline on Tuesday night, but played ahead virtually the rest of the evening in beating the host Coyotes, 3-1. Scores were 20-25, 25-18, 25-17, 25-17.
Desert Ridge improved to 10-1 overall, including a 7-0 mark this past weekend at the Wolfpack Invitational in Tucson against mostly smaller conference schools. The Jaguars didn't drop a set in the invite. They also have power-ranking wins over Basha, Mountain Ridge and Skyline.
"I was concerned with how we started," Desert Ridge coach Anthony Millanes, who is in his first year leading the Jaguars said "Skyline did pretty much what it wanted the first set, and we didn't help ourselves with our serving."
Six service errors in the opening set - five in a row after sideouts - dulled the Jaguars attempt to rally from a slow start. Desert Ridge led only twice by a point in the set.
The night was brighter from that point on. With senior outside hitter Amanda Jonovich leading the attack and getting bits and pieces of help offensively from teammates, Desert Ridge was pretty solid to the finish.
Jonovich, an all-Central Region first teamer last season, finished the night unofficially with a match-high 18 kills. Sadie Bluth added seven killds, Jada Blake five and Nineaka Jordan three. Setter Mariah Cable picked the right times to contribute a pair of dump kills.
"We have great senior leadership with (libero-defensive specialist) Gabby Dierking and Amanda, " Millanes said. "They play with great effort. Keep things calm on the court. They help keep me under control."
Skyline (1-3), which challenged Mesa High for the East Valley Region crown last year and seeks to do the same this year, was trying to rebound from a tight, three-set region loss to Mesa Mountain View on Monday. A 25-23, 25-23, 25-22 defeat is tough to swallow and return the next night. Skyline, Mountain View and Mesa are the top three contenders for the EV Region title this year.
Skyline, which struggled in most phases after the opening set particularly on the attack, was led by sisters Jasmyn and Demya Tate. Jasmyn Tate finished with 13 kills and four aces. Demya Tate added 11 kills.
Skyline coach Vee Hiapo used all her timeouts in the final three sets and burned them rather early trying to get her team to perform better or at least change momentum. It wasn't to be Tuesday.
---