Arizona Lutheran Academy takes on Tonopah Valley
September 13, 2019 by Emily Mullins, Arizona Lutheran Academy
---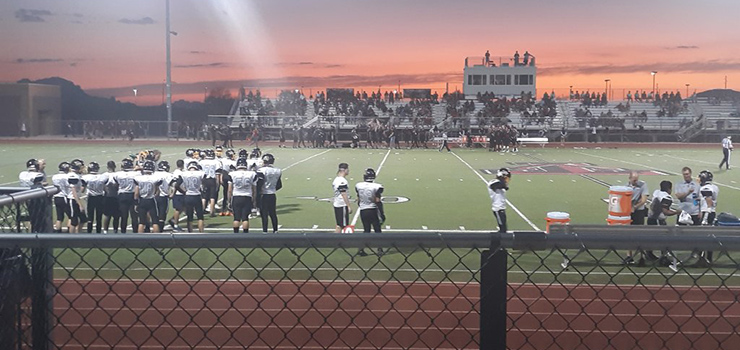 Emily Mullins attends Arizona Lutheran Academy (ALA) and is a member of the AIA's Student SID program.
With a sizable crowd watching from the stands, the ALA Coyote football team took the field against the Tonopah Valley Phoenix. The first quarter started off slowly with no score for almost the entire quarter. ALA was the first to put points up when #45 Trent Knutson scored with 2 minutes and 18 seconds left on the board. That wasn't ALA's last touchdown of the quarter, as #52 Joseph Perez picked a fumble and ran it into the end zone with 38 seconds left in the first quarter. Tonopah Valley, however, ended the quarter with 0 points on the board.
In the second quarter, Tonopah Valley's #3 CJ McClure put 6 points on the board with 4 minutes and 14 seconds left in the first half. ALA, however, didn't add to their 14 points, and the first half ended with ALA up by 8.
About halfway through the third quarter #7 Tyson Biciolis scored a touchdown, followed by an extra-point, bringing ALA to 21 points. Near the end of the third quarter, Tonopah's McClure scored his second touchdown of the evening. Tonopah Valley's final score of the night was 12 points, not succeeding in either attempt at a two-point conversion.
In the fourth quarter #20 Gabriel McKenny scored ALA's final touchdown of the game. Kicker #21 Luke Grippo was 4 for 4 on the night with extra point attempts, bringing the final score to ALA - 28/Tonopah Valley - 12.
When asked what he thought the team could improve upon, ALA co-captain Daniel Massadeh commented, "tackling, defense, and blocking." One of the team's coaches recapped, "It was a hard-fought win." Finally, a second co-captain, Aaron Bode, commented on the game saying, "It was a tough performance. We played through some grit. We showed good guts, and we came out with the win."
---