Seton Catholic named as best high school baseball field in Arizona
September 17, 2019 by Jake Santo, Arizona State University
---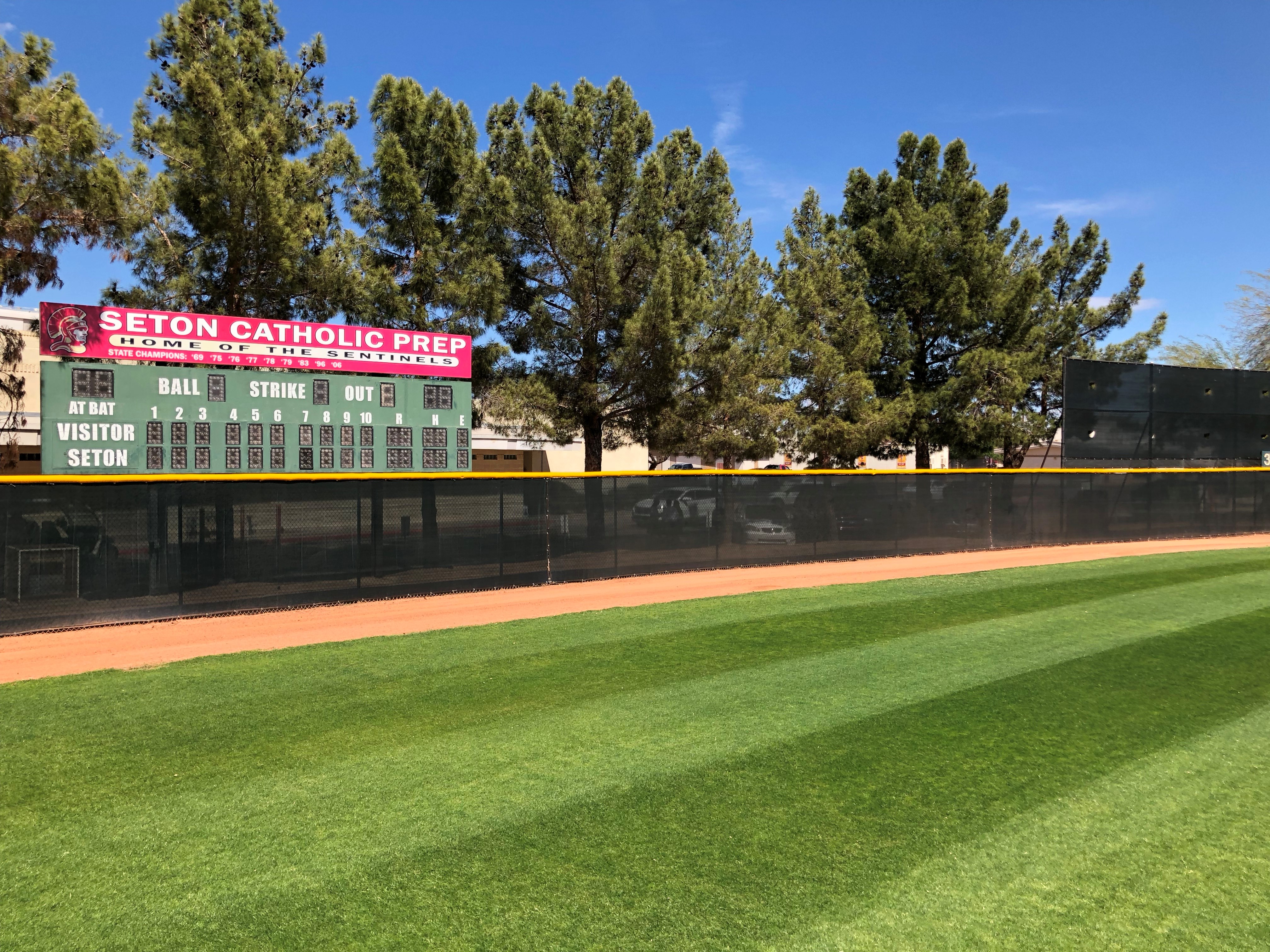 Jake Santo is an ASU Cronkite School of Journalism student assigned to cover Seton Catholic Prep for AZPreps365.com
Growing up outside a farm in rural Minnesota as a young child, Goose Gosewisch was exposed to what went into maintaining crops and the secrets behind successful farming in the cold weather, northern Midwest.
After moving to Arizona in 1988, and maintaining a residential and commercial landscaping business, Gosewisch acquired his start in working on athletic fields with Arizona State University's Packard Field, home of the Sun Devils baseball team at the time.
"Those five years are where I learned basically the athletic fields part of it, where you where you have to maintain, destroy to get that regrowth," said Gosewisch. Certain factors with types of organic fertilizers, non-organic fertilizers and the type of watering that you have to give it."
Gosewisch next stop was Seton Catholic to assist with their athletic facilities.
"He's just completely transformed the outside of their campus, our fields were, you know, they weren't in great shape," said Seton Athletic Director Matt Mayo. "They needed a lot of work. They needed somebody with the know-how to really know what to do, and Goose came in with, decades of experience. And from day one. I mean, just things immediately started to change."
In 2018, the school was awarded the Arizona Field of the Year by the National High School Baseball Coaches Association for the changes to the baseball field. Recently, Seton Catholic was awarded this award for the second consecutive year and also received the Region 7 Field of the Year Honors and will compete for the National Field of the Year later this year.
"I didn't think that a 4A school would get recognized very well," said Gosewisch "And when we got last year as 4A school, I felt honored. And then when we got the overall state, I felt good that we can beat out a 5A and a 6A school. For us to receive it was an honor, but mostly about that, as a private school and being 4A, it's hard sometimes that compete with the bigger campuses have 5A and 6A schools, and therefore that take a little extra effort, a little extra time on the day weekends and so forth. But it was a great, great feeling."
Gosewisch said the field in horrendous shape when he first arrived.
"I hired a couple of ASU former students that have worked for me at Packard Stadium who had graduated, and we started going forward with the rebuilding of most of the fields," said Gosewisch. "They hadn't been fertilized, it hadn't been maintained to a degree where you're analyzing water coverage, or soil testing to find out what organics they were missing. I started with baseball, quickly moved to football. Softball was a rebuild and didn't take very long, that turned out pretty well."
Gosewisch and his team set out on an aggressive approach to resurrect a once substandard field maintenance program into a top tier athletic campus.
The biggest project undertaken was the complete refurbishment of the baseball field. Five years ago, the outfield did not have a warning track like most high school fields. Using old infield dirt, they tore 11 inches thick into the ground and installed a new irrigation system along the new warning track. Additional changes have included a new scoreboard, fencing, all-net backstops with a brick wall, changes to the dugout and padding along the dugouts and fences around the field.
The biggest challenge remains trying to maintain these facilities year in and year out. Communication with various coaches about when to be on or off the field has been an integral part.
Seton football coach Pete Wahlheim said the maintenance staff impacts the playing surface the team uses for practices and gamedays.
"He's on top of before I even have a request, but the football field is fairly new," said Wahlheim. "And our practice fields are fairly new. He said if he if I'd stay off it for a little bit, he'd have it ready to go day one and he did so. Some of those guys are unsung, you know, you know guys that that work with our grass or our grounds or whatever it is and super important for us and for our kids. I just appreciate the fact that he's on top of it he to more than anything else takes it takes a ton of pride in what he does."
The maintenance crew is still looking to create new places where Seton students can develop as student-athletes.
"The next thing is probably a beach volleyball court because this sport is expanded so much," said Gosewisch. "We need four courts, two for girls and two for boys and we will find a location for that and start developing that. And then I feel that our track situation has really come along with the new track surface put in. We now are putting in Javelin runways, and discus and shot put with throwing surfaces that will really make it a top line. Track field for state meets coming up in the future."
Gosewisch's expertise and experience, have paid off for the school and their facilities.
"He's just a blessing, we're really lucky to have him," said Mayo. "We love Goose. we love the grounds department and what they do. In their role, they've made the school a better place. They have made it a safe place for our kids."
---