AIA partners with PlayVS to build esports programs at member schools
September 18, 2019 by Seth Polansky, AZPreps365
---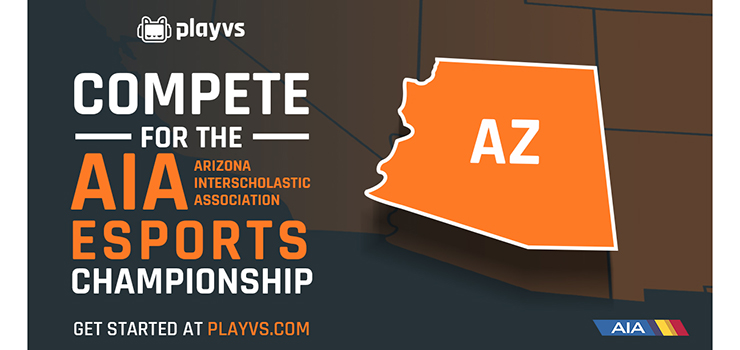 LOS ANGELES, CA – September 18, 2019 – Today, PlayVS furthers its mission to bring esports to high schools nationwide by announcing Arizona as the newest addition to its roster of partnered states. The current waitlist to build an interscholastic esports program with PlayVS is over 13,000 schools long -- 68% of all high schools -- and spans across all 50 US states. This puts esports on par with traditional programs like football, which is available in 14,247 schools.
"As we prepare to establish the first esports competitions in the state of Arizona, recognized by the Arizona Interscholastic Association with all the opportunities and potential that implies, the very real possibility that I could coach a team of young gamers to a state championship in some of the most popular video games seems like a fantasy made reality," said Michael S. Marmolejo, Co-Chair AIA Esports Advisory Committee, Carl Hayden Community High School. "Yet even more exciting is the fact that students all across the state of Arizona will soon have the opportunity to experience competition on the state high school level in their favorite video games, and that colleges will be taking note of our outstanding esports athletes.
"The addition of esports as an AIA activity exponentially increases the opportunities for students to take part in extracurriculars and represent their schools," said David Hines, Executive Director, AIA. "Many of them wouldn't necessarily suit up and play varsity sports. This allows for a large portion of high schoolers to be competitive in an area thought to be recreational, and to utilize much-needed teamwork skills."
"Esports provides a new opportunity for students to become athletes," said Dr. Clint Kennedy, Director of Education & Acquisition at PlayVS. "It opens the door to scholarships, recognition, and newfound communities on campus. We are excited to work directly with teachers and schools to build out their esports programs this fall."
During the first year of PlayVS' 'Seasons,' esports teams had an average of 15 players per program, with one in three players participating in their first-ever school activity. More than 70% of the students who participated said they found a community to connect with, and more than 40% plan on using their esports experience to apply for colleges and universities.
The cost to participate -- $64 per player -- is paid for by a parent/guardian or, in most cases, the school. This cost provides students with a full suite of unlocked, in-game content (valued at over $700) and access to the full games themselves (each valued at $20-$60). Most schools already have the required computer equipment in existing labs or libraries, making esports a simple, low-cost/high-benefit program to get off the ground. Schools can register their teams for this upcoming fall season by signing up at PlayVS.com. Non-association member schools are able to compete in a PlayVS regional league. The deadline for schools to register for this upcoming Fall season is Oct. 11.
For more information on PlayVS, please visit https://www.playvs.com/.
About PlayVS
PlayVS is the premier high school esports provider, in partnership with the NFHS and 17 state associations. Its product is the single destination where players come together to compete, fans gather to spectate and coaches manage their programs. Through partnerships with top game publishers, PlayVS powers inclusive league and State Championship play across the nation. For more information, visit www.playvs.com.
About AIA
The AIA is a voluntary association of public and private Arizona high schools. Since 1913, the organization of 274 members has created and sustained interscholastic activities that encourage maximum student participation by providing AIA member schools with an even playing field to ensure fair and equitable competition. The AIA believes that providing interscholastic activities for Arizona high school students creates personal development opportunities with a balanced focus on academics and extracurricular activities.
Through its Arizona member schools, the AIA reaches more than 110,000 participants in high school activity programs. The organization hosts 5,000 championship contests and maintains officiating for more than 45,000 regular season games. For more information, visit www.aiaonline.org and www.azpreps365.com.
---