Camelback swimmers making an impact with small team
September 19, 2019 by Gabrielle Ducharme, Arizona State University
---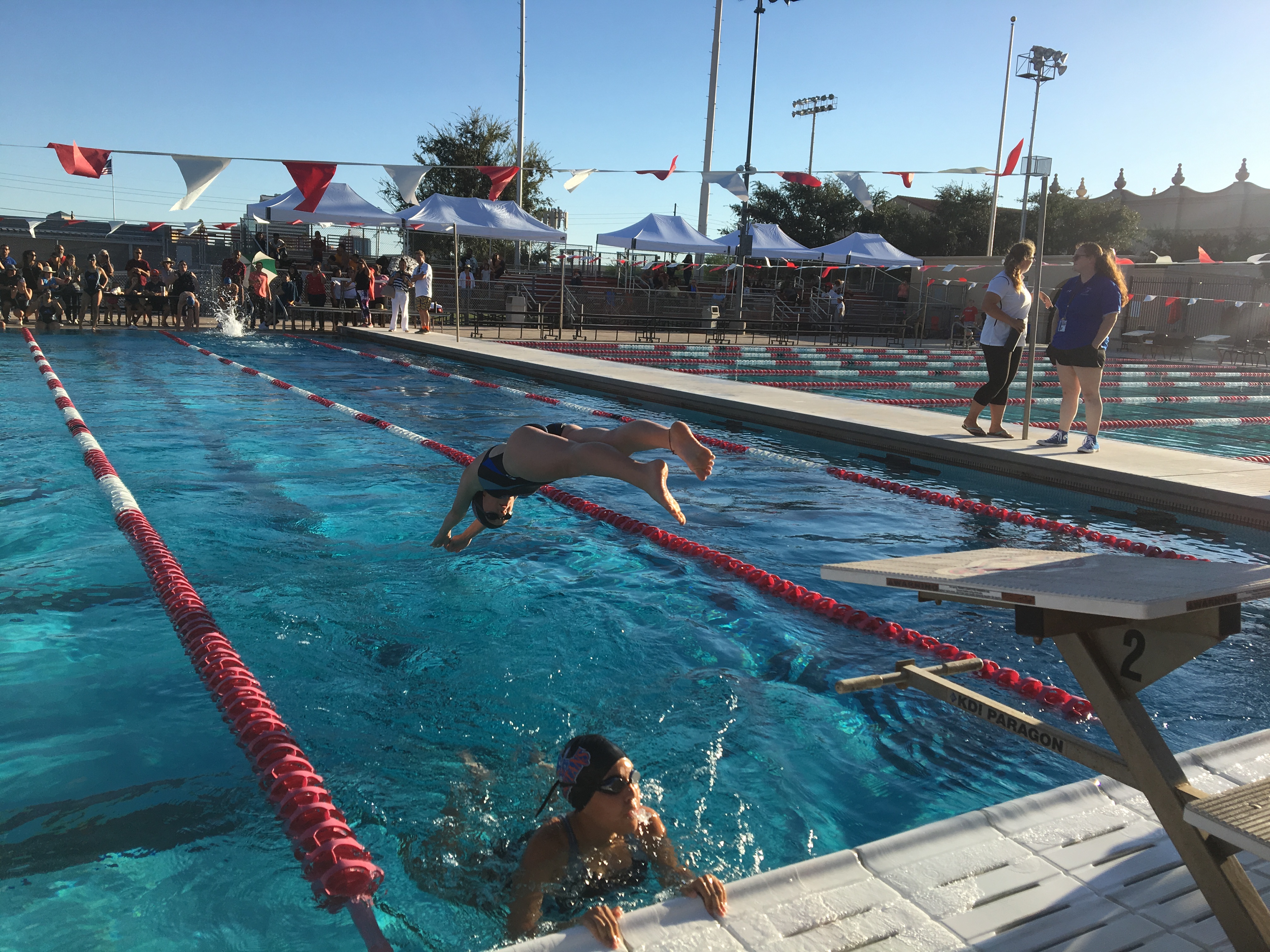 Gabrielle Ducharme is an ASU Cronkite School of Journalism student assigned to cover Camelback High School for AZPreps365.
Crystal Yost and Jonathan Gomez started the Camelback swim team three years ago with only nine swimmers.
Yost is a special education teacher and sells coffee in her classroom on Fridays to raise money and awareness about the Spartan swim team. Gomez is also a softball coach, and recruits players through that.
It has worked.
The swim team has doubled in size over the last two years to over 30 swimmers, including senior captain Juan Ramos. He was most recently named the Camelback Student Athlete of the Week.
Ramos competed in the 50 freestyle Thursday in a five-team Phoenix Union District meet at Brophy, where he produced a best time. His teammates cheered for him and tackled him as he hopped out of the water. He said he dropped about two seconds from his last meet.
"It's a small team, but all the swimmers that we have, they're amazing, the team chemistry is really good," Ramos said. "If we do something wrong, we build each other up."
North won the boys and girls divisions with 110 points and 54, respectively. Camelback scored 20 points in the boys division and 19 in the girls. The Spartans had 25 swimmers at the meet and competed in a few events such as the 50 freestyle and 200 freestyle relay.
"That's amazing because they are up against kids who have swam for four years and swam club," Yost said. "This is most of their first years swimming so I am just tremendously proud of them."
The Camelback girls team won the 200 girls free relay with a time of 2.38.62, defeating second place by just under three seconds.
"Each and every swimmer on that relay is just swimming their hearts out," Gomez said. "That is just their dedication, leaving everything in the pool. They are hungry, they want to compete."
Camelback had five swimmers compete in the 50 free and all had best times, including junior Sarah Seitz. She has never swam before this season, but dropped six seconds since Camelback's first meet two weeks ago.
"It's pretty crazy, just to think that was once my time." Seitz said "It is all a mindset thing, too. I mostly just try to keep the excitement going, turn the nerves into adrenaline and the butterflies into speed."
Camelback only practices at Brophy two days a week, then splits the rest of the week with the five other high school teams and the Grand Canyon University Swim Team.
In a sport where milliseconds can separate the best teams from the rest, this meet was defined by two things: pizza and friendship. All of the coaches came together to purchase pizzas for the swimmers to eat following the competition.
One swimmer said this was his favorite meet of the year because he enjoyed being able to connect with swimmers from different teams.
---