Chaparral and Saguaro football prepare for next chapter in rivalry
September 20, 2019 by Chas Messman, Arizona State University
---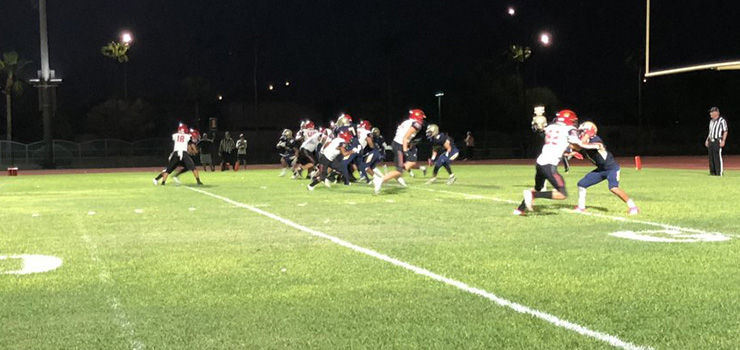 Chas Messman is a student journalist at Arizona State covering Chaparral High School for AZPreps365.com.
The Friday showdown between the Chaparral Firebirds and the Saguaro Sabercats is one of the biggest games in Arizona high school football this week. The Firebirds come into this matchup with a 2-1 record and are now ranked No. 18 in the state by MaxPreps. The reigning state champion Sabercats are 3-1 on the year and are the top-ranked team in Arizona by MaxPreps.
Chaparral is coming off of a bye week. Prior to their week off, the Firebirds won back-to-back games in explosive fashion. They shut out Desert Mountain 48-0, and the following week, the Firebirds scored every time their offense possessed the ball in a 75-35 win vs La Joya.
Over the first few weeks of any season, there will always be some busted assignments or misreads. Despite the lopsided score, the beginning to Chaparral's season has been no different according to coaching staff. The Firebirds used the week off to iron out these little kinks and improve on their discipline: factors that could really make the difference against a top team like Saguaro.
"It's really about guys being in the right spots and playing assignment-sound football," said Chaparral head coach Brent Barnes.
Top-ranked Saguaro is also coming off of two straight blowout wins. The Sabercats beat Faith Lutheran 49-6 in the Polynesian Classic in Las Vegas. Then, they defeated Desert Mountain 55-9 last week. Coming into this game, head coach Jason Mohns stressed to his team the importance of individual matchups.
"We've really made a point to create some competitive situations at practice with our guys," said Mohns. "We feel that if we can win the physical battle, we can feel pretty good about our chances."
A year ago, this game came down to the wire with the Sabercats finishing on top, 45-37. All signs are pointing towards another thrilling matchup this time around. These are two of the most talented teams in the state. Between the two schools, they have 12 of the top 50 players in Arizona from the class of 2020, according to 247 Sports, with four of them in the top 10. Kelee Ringo, the Saguaro standout cornerback, is rated as the No. 1 player in Arizona.
With talent all over the field, Barnes understands that when opportunities arise, the Firebirds need to take advantage of them. "We are going to need to run the ball to be successful," he said. "When we have chances to hit things in the passing game and other things, we need to land them."
The Sabercats have put a major focus on neutralizing the high-powered offense of the Firebirds. "They have a quick strike offense that can take the top off of a defense and hit some home run plays," Mohns said. "We have to limit the big plays and dominate the line of scrimmage."
One of the biggest question marks heading into this game has to be the health of Chaparral's starting quarterback and future Ohio State Buckeye, Jack Miller. The top-rated quarterback in the state, Miller threw for 363 yards and two touchdowns in last year's matchup. His availability to play on Friday is still uncertain. If Miller, who missed the previous game, is unable to suit up, the Chaparral coaching staff has confidence in sophomore Brayten Silbor. Silbor threw for 203 yards and three touchdowns in his start against La Joya.
"When things get off script, Jack, who has four years of varsity experience, can make a play to keep you in it. So that will be a challenge for anyone without a ton of experience like a Brayten," Barnes said. "When things operate as scripted or as planned, Brayten is capable of doing really anything you ask of him."
While it is up in the air on who will be under center for Chaparral, there is no question regarding the Sabercats starting quarterback, Tyler Beverett. The Bucknell commit has 731 passing yards and eight passing touchdowns so far this season. "He's played in big environments before. He won a state championship last year and won this game as well," Mohns said. "This game won't be too big for him. He will be able to settle our team down and run our offense."
This is the type of game that the players look forward to all season.
"We are coming in hot for Saguaro," said senior cornerback Kamdan Hightower following Chaparral's last win. "We are gonna be ready, and we are coming hard."
---