XC: A banner day for Highland at 47th Doug Conley Invitational
September 21, 2019 by Les Willsey, AZPreps365
---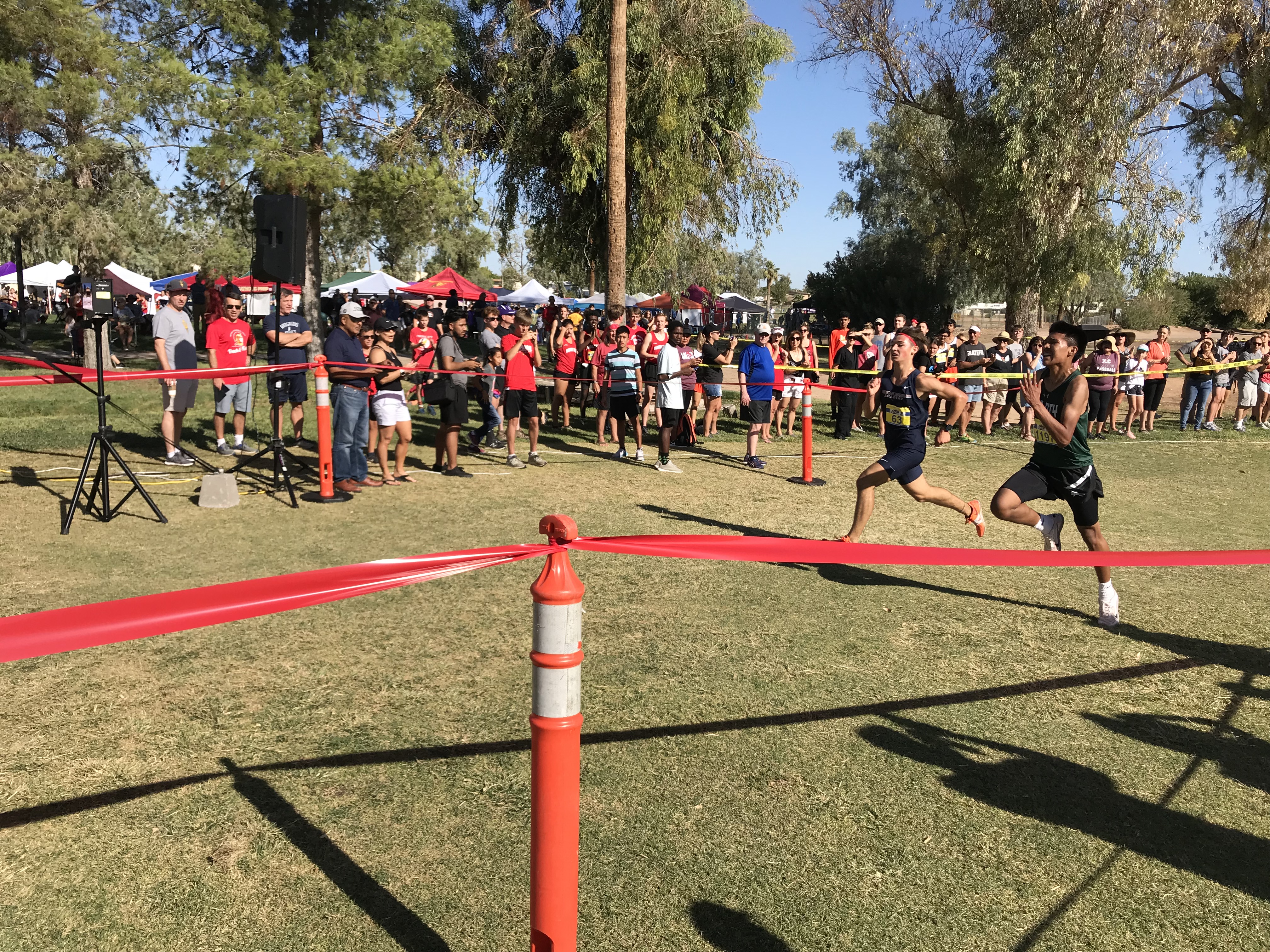 Highland's cross country teams began the proceedings Saturday morning at the 47th Doug Conley Invitational dominating the opening non-varsity races. A couple hours later the Hawks closed the meet in similar fashion.
Led by individual elite race champions Caroline McLeskey and Caden Resendez, Highland repeated as girls champ with the Leo Daschbach-less boys claiming the that title at Shalimar Country Club in Tempe.
McLeskey, a senior, defended her 2018 title finishing with a time of 17 minutes, 43 seconds over the 5,000-meter course. McLeskey ran well in her estimation despite some recent physical issues. Her time was 27 seconds faster than runner-up and Chaparral senior Tiaree Towler (Chaparral) and 45 seconds better than third-place Brynna McQuillen of Vista Grande. Towler was the individual champ last week at the Fountain Hills Invitational and McQuillen won the Ojo Rojo Invitational last week in Chandler.
"I've had some minor knee issues lately," McLeskey said. "I felt I ran OK today. It was nice to win it a second time."
Highland's girls totated 60 points for first in the elite division. The Hawks were followed by runner-up Red Mountain with 74 and third-place Prescott with 89 points. Scoring points for Highland along with McLeskey were Marina Dear, Emma Finchem, Kathryn Sewell and Story Alexander.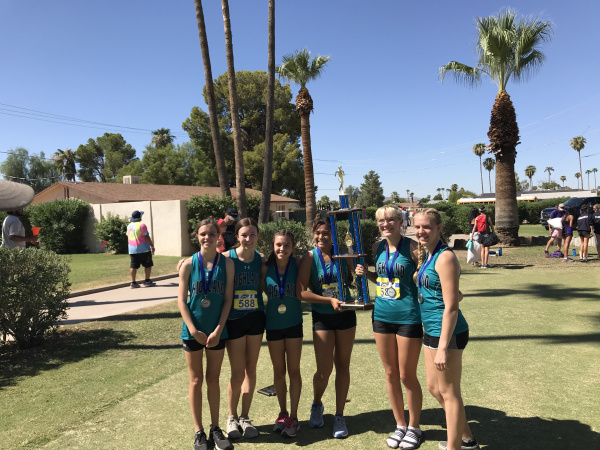 Highland's girls display the championship trophy for the elite race at Doug Conley on Saturday. (AzPreps365 photo).
The meet's defending boys individual champ, Highland's Dashbach, was not on hand to defend his title. He was on a recruiting visit to Colorado. So up popped fellow senior Resendez to take on Daschbach's role as leader of the pack.
"I was happy with the way I ran, but it was a little scary," Resendez said. "I wasn't sure if I might have gotten out too fast and worried toward the end someone might be coming up on me. I'm excited for our team today. They all did so good."
Resendez' winning time was 15:39, which wasn't far off the course record Daschbach set last year of 15:35. The closest competitors to Resendez were teammates Ernest Green and Sam Green, 15:57 and 15:59, respectively. Highland posted a team score of 35 to best second-place Mesa Mountain View (76) and third-place Prescott (140). Highland's Carter Mayes and Jagger Zlotoff scored for the Hawks along with Resendez and the Greens.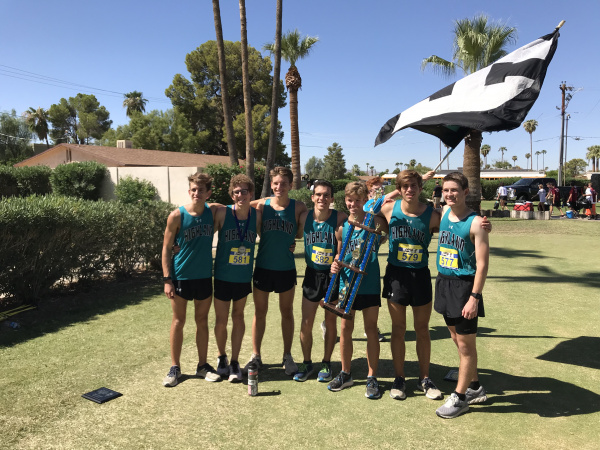 Highland's boys team holds its trophy and school flag to signify its elite boys title at Doug Conley on Saturday .(AzPreps365 photo)
Winning the boys non-varsity race and non-varsity girls race was Highland. Highland finished 1-2-3-4-7 in the girls race and 1-2-3-4-5 in boys race. Girls winner was Kayla Case and and boys winner was Brandon Ericson. The team titles in the girls invitational race went to Cactus Shadows with Chaparral on top in boys invitational. The individual winners of those races were Evelynne Carr (American Leadership Queen Creek) and Demetrius Daw (Tuba City).
---