Pinnacle boys swim team finishes fifth at Brophy/Xavier Invitational
September 21, 2019 by Trevor Leaf, Arizona State University
---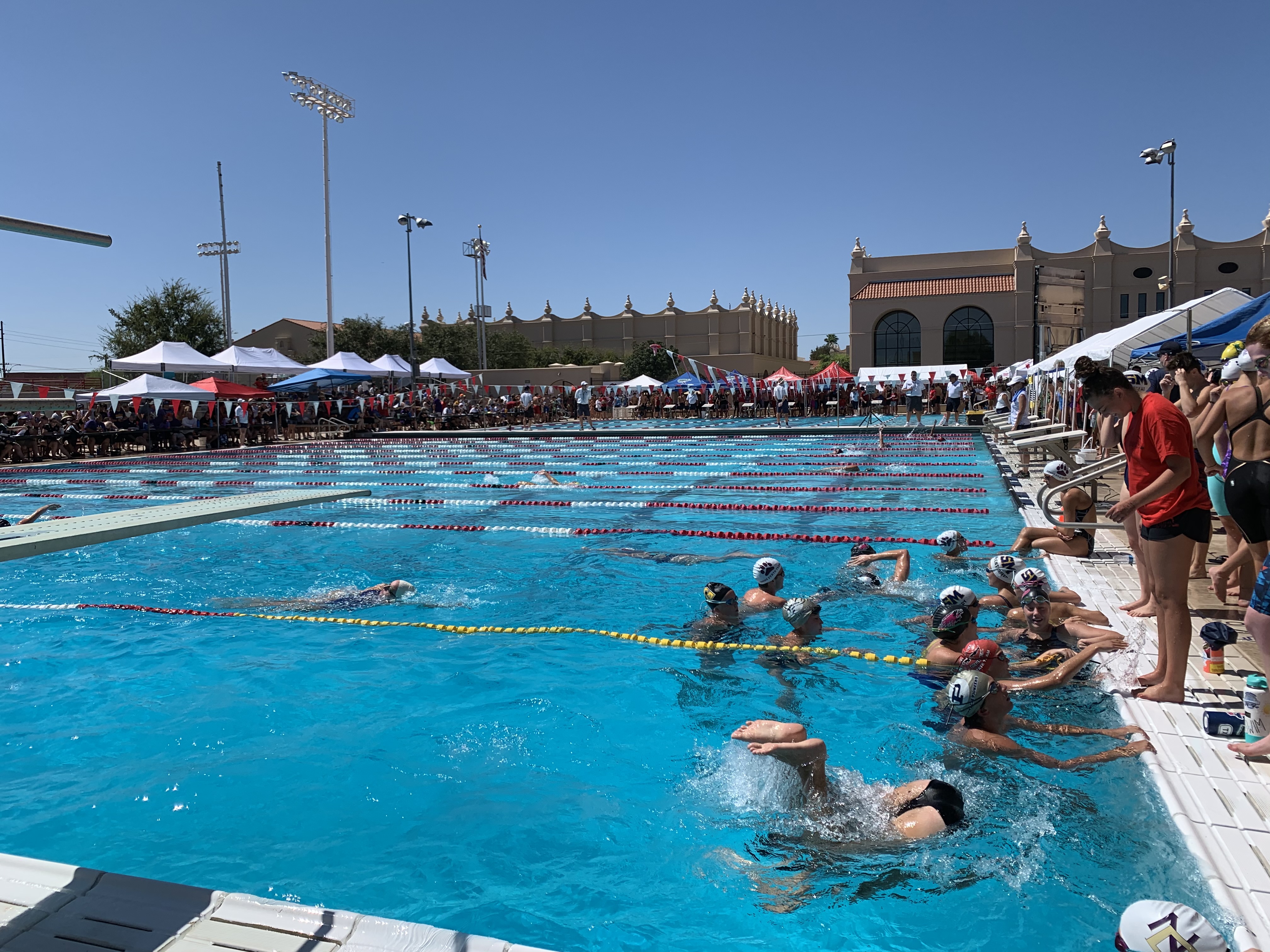 Trevor Leaf is an ASU Cronkite School of Journalism student assigned to cover Pinnacle High School for AZPreps365.com
With 34 teams competing, the Pinnacle boys swim team turned in their best performance of the season and took fifth place Saturday in the 31st annual Brophy Xavier Invitational.
Brophy won the event with 457.50 points. Pinnacle finished with 130 points.
During the meet, Pinnacle clinched a place in state for the 200-yard freestyle relay with a final time of 1:28:98. The first of four in the relay for Pinnacle is junior Nick Hughes who was at a lost for words when asked about his teammates performance saying, "They were just fast."
"It's what we expected," head coach Eric Goldstone said.
"I am excited for state this year, " Hughes said. 'I was there as an alternate last year and wasn't too happy about it, so it will be nice to go there this year and participate with my team."
The top individual performance for Pinnacle came from senior captain Carter Koshar. Koshar posted a time of 21.76 seconds in the 50-yard freestyle, landing him in third place overall and collecting 16 points for Pinnacle. Koshar also participated in the 100-yard freestyle, finishing fifth out of 142 swimmers.
Pinnacle had a strong showing in the 100-yard backstroke with Sam Robinson taking third with a time of 1:11:98 and teammate Bo Winters finished .04 seconds behind him in fourth.
In the 400-yard freestyle relay, the Pinnacle swimmers clinched fifth, which contributed 28 points to their total.
Junior Aaron Rosen finished third in the 100-yard butterfly, posting a time of 52.18 seconds. Rosen also took fourth place out of 58 participants in the 200-yard freestyle, giving Pinnacle 15 points.
Saturday's fifth place finish comes with a little sigh of relief for the Pinnacle boys swim team after they dropped the first two meets of the season.
"We're pleased with our performance overall," Goldstone said. "We're trying to get people qualified for state. We didn't have all of our swimmers, but people stepped up and swam their best times today."
Pinnacle will now have two weeks off before its next meet on Oct. 3 at Desert Mountain.
"For our next invite we have people that are really training hard," Goldstone said. "They need to taper off so they can swim their best. Some of our swimmers kind of got tired because they are in the middle of building up their endurance."
"Today was definitely a good step in the right direction for our team," senior captain Amanee Vazquez said. "After dropping the first two meets of the season it was nice to come out today with a top-five finish."
---